Daily Fantasy Baseball 2015: Best MLB DraftKings Picks, Advice for August 12 – Bleacher Report
Wednesday is getaway day for a number of MLB teams, which means most daily fantasy baseball contests are divided into day and night games. On the plus side, there are a number of quality options regardless of when you sign up.
Here is a breakdown of the best overall picks in each set of games.
Afternoon Contests
Chris Heston, SP, San Francisco Giants ($9,000)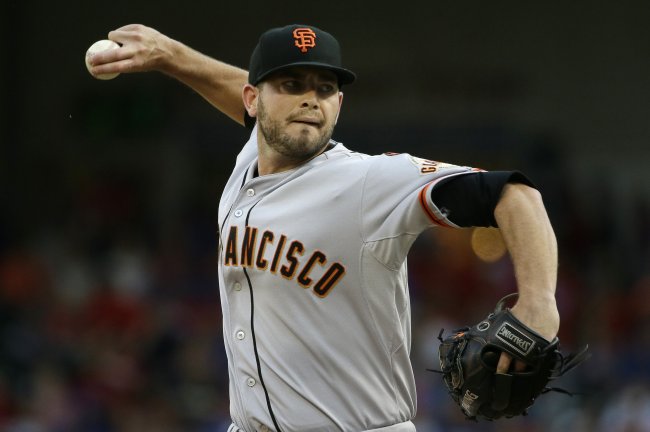 LM Otero/Associated Press

A lack of elite options raises the price for a number of mediocre pitchers, so it will be tough to get your money's worth on the mound. Still, Chris Heston is arguably the best option overall thanks to his performance at home this season.
At AT&T Park—which ESPN.com rates as the best pitcher's stadium in baseball this season—Heston has a 2.57 ERA compared to a 4.45 ERA on the road. The Houston Astros have a good offense but still strike out more than anyone else in the American League. This could allow Heston to come through with a quality fantasy performance.
Chris Davis, 1B, Baltimore Orioles ($4,300)
With the help of an awesome mustache, Chris Davis has been red-hot in August:
Chris Davis & Adam Jones homer as Orioles beat Mariners, 3-2. Davis now has 5 HR & 12 RBI in 9 games in August. pic.twitter.com/OvbjJ4TLwq

— SportsCenter (@SportsCenter) August 11, 2015
He is now over 30 home runs on the season for the third time in four years and doesn't appear to be slowing down anytime soon. Seattle Mariners starter Hisashi Iwakuma has looked better as of late but still only has a 4.41 ERA thanks in part to 12 home runs allowed in 10 starts. Davis has a good chance of continuing his recent streak.
Robinson Cano, 2B, Seattle Mariners ($3,800)
Orioles starter Kevin Gausman has struggled immensely on the road lately, allowing 17 earned runs in 15.1 innings over his last three games. If he can't turn it around, this could be an opportunity for just about everyone on the Seattle Mariners to put up some big numbers on Wednesday.
This includes Robinson Cano, who has been much better after the All-Star break. With better batting numbers and increased power, he is finally starting to resemble the player we are used to seeing.
Night Contests
Jacob deGrom, SP, New York Mets ($11,400)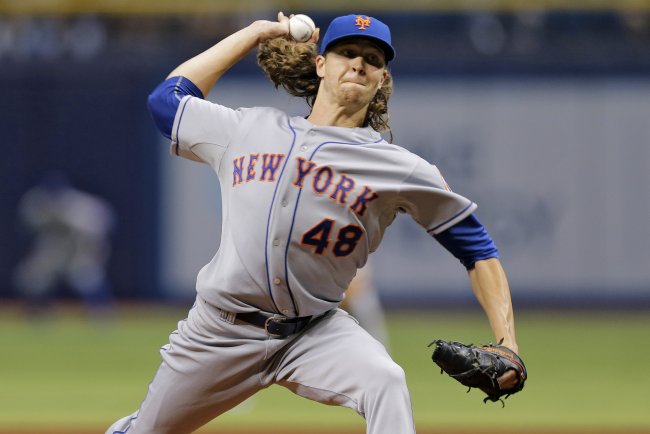 Chris O'Meara/Associated Press

There is no shortage of elite pitching options, but Gerrit Cole and Michael Wacha could struggle against tough lineups in a head-to-head battle. As for Clayton Kershaw, the cost at $14,200 might be simply too expensive to justify.
Danny Salazar is a good bet thanks to his high strikeout totals, but Jacob deGrom remains the best option on the board. He has been dominant at home (1.60 ERA, 24.5 fantasy points per game) and has at least seven strikeouts in each of his last five starts.
There is no such thing as a sure thing in baseball, but deGrom might be the safest option for the cost.
Carlos Gonzalez, OF, Colorado Rockies ($4,000)
When you have more home runs since the All-Star break than entire teams, you are obviously red-hot. That is the case with Carlos Gonzalez, who has clearly been the best power hitter in baseball in the league's second half.
It's at the point that his teammates are trying to get some of the heat to rub off on them:
That #CarGo, so hot right now. #CarGo.

???????????? pic.twitter.com/TC3VH7Bttj

— Colorado Rockies (@Rockies) August 11, 2015
Usually, it's smart to avoid a Rockies hitter on the road, especially against an elite pitcher like deGrom. However, Gonzalez has simply been too good to avoid at this price.
Ian Desmond, SS, Washington Nationals ($3,100)
As good as Clayton Kershaw has been this season, the Pittsburgh Pirates showed he isn't unhittable while totaling nine hits and four runs against the MVP. This gives hope for Ian Desmond, who is making up for his terrible first half of the season with a strong second half.
Desmond provides potential for home runs and steals as well as runs and RBI in a deep lineup. Add in more success against lefties, and the shortstop could be a great bargain pick in this one.
Note: All prices and fantasy score info courtesy of DraftKings. Unless otherwise noted, all stats courtesy of Baseball-Reference.com. 
---
DraftKings is hosting one-day MLB contests! Claim your free entry by clicking on the link and making a first-time deposit!
Follow Rob Goldberg on Twitter for daily fantasy advice and nonstop sports.
CommentsWrite a Reply or Comment:
You must be logged in to post a comment.