Daily Fantasy Baseball 2015: MLB DraftKings Bargain Buys, Sleepers for August 27 – Bleacher Report
When only five afternoon and six evening games frequent the schedule, DraftKings makes it much tougher on players to pinpoint bargains for their daily fantasy baseball lineups.
On a normal evening, Carlos Rodon would represent an intriguing mid-level pitching play against the lefty-heavy Seattle Mariners. On Thursday, however, anyone who wants the erratic Chicago White Sox southpaw will have to cough up $9,800. Rather than meet DraftKings' lofty demands, scroll to the bottom of the price listings and pair the evening's top choice (Gerrit Cole at $13,200) with the cheapest option.
The afternoon is even tougher, as Yordano Ventura ($9,600) is the only decent option after Zack Greinke. Playing both, however, leaves a minuscule $3,325 per hitter, tempting earlier contestants to take an extreme risk on an all-or-nothing hurler.
Afternoon
SP Matt Shoemaker, Los Angeles Angels ($6,400) at Detroit Tigers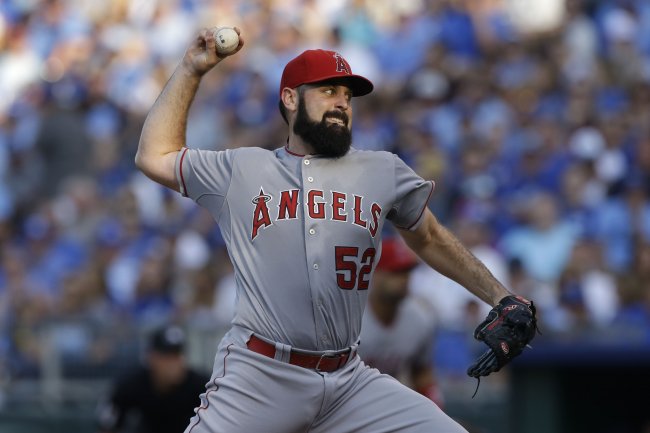 Orlin Wagner/Associated Press

This could end horribly. Demoted after relinquishing 13 runs over his past two starts, Matt Shoemaker returns to face Miguel Cabrera's Detroit Tigers, as confirmed by MLB.com's Alden Gonzalez:
It's official: Matt Shoemaker will start tomorrow.

— Alden Gonzalez (@Alden_Gonzalez) August 26, 2015
He seemed to have finally turned the corner before those meltdown outings, tossing three consecutive scoreless starts with 27 strikeouts. His 21.0 strikeout percentage places second among the afternoon's starters behind Greinke's 23.7.
There's huge downside here, but there are no safe fallbacks. When the alternatives are Yovani Gallardo or Marco Estrada in Arlington and Chris Tillman against the Kansas City Royals, tournament contestants need to take the plunge.
2B/3B Justin Turner ($3,700) and OF Andre Ethier ($3,400), Los Angeles Dodgers at Cincinnati Reds
Righty-killers Justin Turner and Andre Ethier remain cheap against Anthony DeSclafani, who has allowed 26 hits over his past three outings. His .343 weighted on-base average (wOBA) against lefties is especially appealing for Ethier, who doesn't get enough platitudes for his platoon success.
As always, players must wait out the Dodgers' lineup card. If given the nod instead of or alongside Turner, Kike Hernandez makes a great bargain at second base or shortstop for $2,800. 
OF Will Venable, Texas Rangers ($3,100) vs. Toronto Blue Jays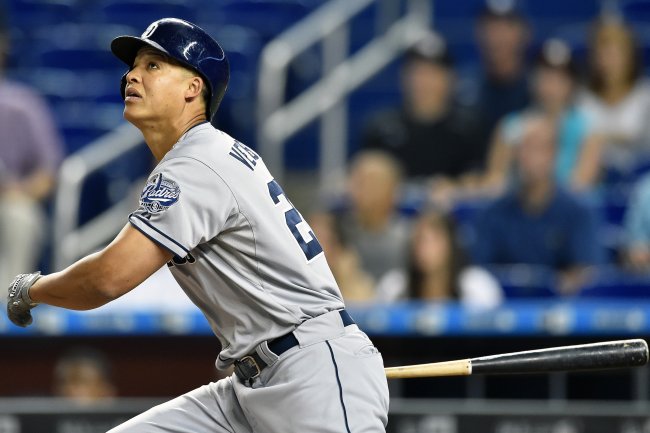 Ronald C. Modra/Sports Imagery/Getty Images

A career .258/.323/.425 hitter against righties, Will Venable finally escaped Petco Park, finding refuge with the Texas Rangers in the hitter-friendly Globe Life Park in Arlington. On the road, his wOBA jumps from .302 to a solid .330. 
If he starts at left field against Estrada, he'll get a righty with a 51.3 fly-ball percentage and 4.78 expected fielding independent pitching (xFIP), which normalizes expected homers based on fly balls. 
OF Shane Victorino, Los Angeles Angels ($2,700) at Detroit Tigers
Shane Victorino has batted leadoff in the Los Angeles Angels' last two games against lefties, so expect similar treatment against former teammate Randy Wolf. While the 39-year-old veteran had a solid start in his 2015 debut, he hasn't netted an ERA below 5.00 since 2011.
The Flyin' Hawaiian isn't exactly rolling, but he sports a .329 wOBA against lefties this year. Throw in prominent lineup placement and a great matchup, and he's worth a look for $2,700. 
Evening
SP Roenis Elias, Seattle Mariners ($6,500) at Chicago White Sox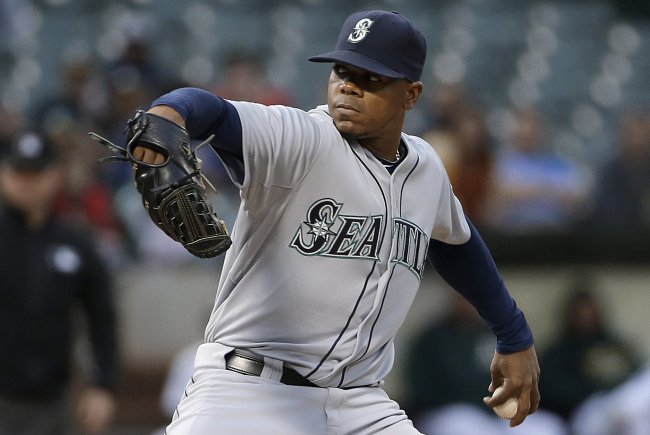 Jeff Chiu/Associated Press

Instead of paying an inflated price for Rodon, Drew Smyly ($10,900) or Joe Ross ($10,100), bottom out for Roenis Elias, who requires a meager $6,500 investment despite his great matchup.
The Chicago White Sox rank last in wOBA against lefties, amassing an MLB-low 15 homers off southpaws. Aside from Avisail Garcia, their entire offense turns into mush when combating lefties. Even Jose Abreu has a middling .299 wOBA against them. 
Making his first start since July 2, Elias has recorded nine quality starts in 13 tries. He also relinquished seven homers in two separate June outings, so there's a reason he's cheap. There's nothing exciting about his 4.22 ERA and 4.53 FIP, but his 7.29 strikeouts and 2.96 walks per nine innings are solid enough to take a shot in the dark.
C Francisco Cervelli, Pittsburgh Pirates ($3,600) at Miami Marlins
Anyone unwilling to fork up $4,700 on Travis d'Arnaud should instead turn to Francisco Cervelli, who is hitting .375/.418/.569 against lefties leading up to his clash against rookie southpaw Justin Nicolino. Although a tad too average-dependent for comfort, this is a cheap catcher with the platoon advantage in a condensed slate. 
3B Evan Longoria, Tampa Bay Rays ($3,800) vs. Minnesota Twins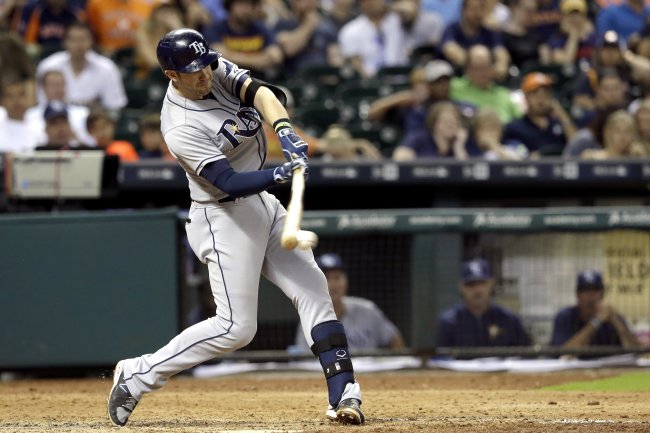 Pat Sullivan/Associated Press

Evan Longoria isn't what he used to be…against righties. His struggles, however, have not carried over against southpaws, whom he continues to demolish:
Evan Longoria's 2015 Splits

| | | |
| --- | --- | --- |
| Stat | vs. LHP | vs. RHP |
| PA | 120 | 397 |
| AVG | .359 | .245 |
| OBP | .433 | .302 |
| SLG | .553 | .380 |
| wOBA | .414 | .297 |
| BB % | 12.5 | 6.5 |
| K % | 15.8 | 21.2 |
FanGraphs.com
Tommy Milone carries a 4.71 FIP and stark splits of his own. While stifling lefties to a .274 slugging percentage, righties have achieved much more success, slugging .492 with 16 doubles and a dozen homers. Be grateful for brand value not inflating Longoria's price.
OF Michael Conforto, New York Mets ($3,800) at Philadelphia Phillies
Enjoying abysmal pitching in hitter parks, the New York Mets have scored 64 runs over their past six games against the Colorado Rockies and Philadelphia Phillies. While Aaron Harang represents an upgrade over their recent opponents, he's still a vulnerable target with a 4.67 ERA and 43.1 fly-ball percentage.
Most Mets are expensive, but Michael Conforto costs a reasonable $3,800 due to his lack of starter security. On Thursday night, however, the rookie outfielder should get an opportunity to embellish his .381 wOBA against righties given Harang's troubles against lefties. 
Super-Cheap Stack: Philadelphia Phillies vs. New York Mets (LHP Jon Niese)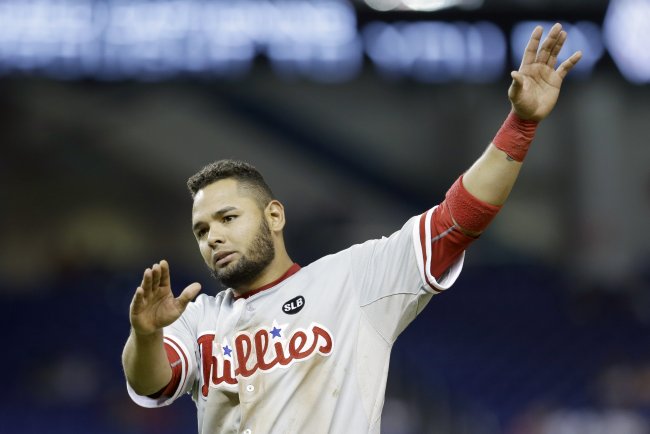 Alan Diaz/Associated Press

Looking for dirt-cheap bats? Some Philadelphia hitters have raked lefties in a limited sample size, and they cost nothing at home against Jon Niese.
Phillies for Thursday Consideration

| | | | |
| --- | --- | --- | --- |
| POS | Player | DK Price | wOBA vs. LHP |
| C | Cameron Rupp/Carlos Ruiz | $3,000/$2,500 | .443/.405 |
| 1B/OF | Darin Ruf | $2,100 | .420 |
| 3B/SS | Andres Blanco | $2,500 | .460 |
FanGraphs.com; Prices via DraftKings.com
Saving on one or more of those position players clears up space for expensive Mets counterparts like d'Arnaud, Yoenis Cespedes and/or Curtis Granderson.
Note: All advanced statistics, updated as of Wednesday night, are courtesy of FanGraphs.
---
DraftKings is hosting one-day MLB contests! Claim your free entry by clicking on the link and making a first-time deposit!
CommentsWrite a Reply or Comment:
You must be logged in to post a comment.