Daily Fantasy Baseball 2015: MLB DraftKings Late-Season Pickups for September 4 – Bleacher Report
Even if you have been playing daily fantasy baseball all season long, there are still new players who can surprise you with big-time efforts. This is especially true in September with young studs getting their first glimpses of the majors.
Here is a look at the top options for September 4 with players who might have been a bit off the radar to this point.
Luis Severino, SP, New York Yankees ($9,400)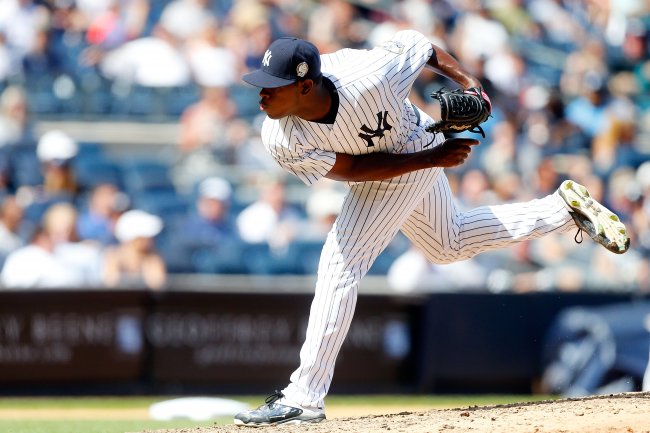 Jim McIsaac/Getty Images

Although he has only made five career starts for the New York Yankees, Luis Severino has been a model of consistency. He has yet to allow more than three earned runs in a single game, and he has reached at least 20 fantasy points on DraftKings in four of his five appearances.
Even with a recent surge, the Tampa Bay Rays are still near the bottom of the league in runs scored this season. This represents a great matchup for Severino to try to improve his already outstanding 2.17 ERA.
J.A. Happ, SP, Pittsburgh Pirates ($6,600)
He's not a new name, but he is probably someone you have rarely considered to be a quality fantasy option this season. J.A. Happ is 7-7 with a 4.10 ERA this season, but most of the struggles came in 21 games with the Seattle Mariners. In five starts with the Pittsburgh Pirates, the lefty has excelled to the tune of a 1.98 ERA and 24 strikeouts in 27.1 innings.
Over his last three starts, the pitcher has allowed only a single run and 11 total hits.
While the St. Louis Cardinals are ordinarily an intimidating matchup, they only have a .237 batting average as a team against left-handed pitchers (compared to .264 against righties). With players like Jason Heyward, Matt Carpenter and Kolten Wong effectively neutralized, Happ can put together another quality outing.
Franklin Gutierrez, OF, Seattle Mariners ($4,500)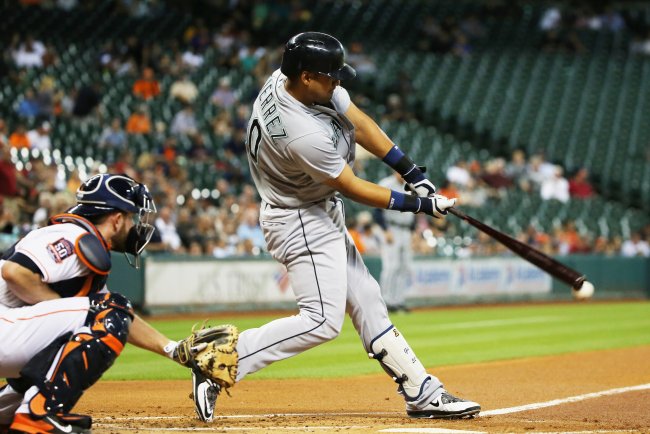 Scott Halleran/Getty Images

At the age of 32, Franklin Gutierrez is in the midst of one of the best stretches of his career. Injuries have limited the outfielder to just 44 games this season, but since the All-Star break, he has 10 home runs with a .323 batting average. His OPS of 1.092 in this stretch ranks fourth in the majors among players with at least 100 plate appearances.
Although he is starting to get pricey on DraftKings, his recent production more than justifies the cost.
Ryan Goins, 2B, Toronto Blue Jays ($2,900)
It seems that any player the Toronto Blue Jays put in their lineup ends up hitting. Ryan Goins is the latest example, as the 27-year-old utility player has been on a tear in recent weeks.
Always known for tremendous defence, Ryan Goins now supplying productive hitting for #BlueJays since All-star break pic.twitter.com/0awLMnIGQu

— StatsCentre (@StatsCentre) September 2, 2015
He is currently in the midst of a 12-game hitting streak, which includes a walk-off home run earlier in the week. Considering how many opportunities for runs and RBI this lineup provides, Goins is a great cheap option for Friday's contests.
Jason Bourgeois, OF, Cincinnati Reds ($2,500)
The Cincinnati Reds have been awful this season, but there is fantasy value in hitting leadoff in front of Jay Bruce, Joey Votto, Brandon Phillips and Todd Frazier. That's where Jason Bourgeois finds himself as of late as the team's newest full-time center fielder.
Since getting regular work in mid-August, Bourgeois has raised his average from .175 to .260 entering Friday. This includes three multihit games in his last five starts.
Against Milwaukee Brewers starter Matt Garza, who has allowed 19 combined earned runs in his last three outings, the journeyman outfielder has a chance to be productive.
Note: All prices and fantasy score info courtesy of DraftKings. Unless otherwise noted, all stats courtesy of Baseball-Reference.com.
---
DraftKings is hosting one-day MLB contests! Claim your free entry by clicking on the link and making a first-time deposit!
Follow Rob Goldberg on Twitter for daily fantasy advice and nonstop sports.
CommentsWrite a Reply or Comment:
You must be logged in to post a comment.