Daily Fantasy Baseball 2015: MLB DraftKings Strategy, Primer for August 21 – Bleacher Report
There is a ton of big-time pitching available in Friday's daily fantasy baseball contests, which leaves you with plenty of options. However, don't think you need to draft the highest-priced players to have the best team.
Here is a look at some of the best and worst picks for August 21.
Players to Draft
Felix Hernandez, SP, Seattle Mariners ($9,900)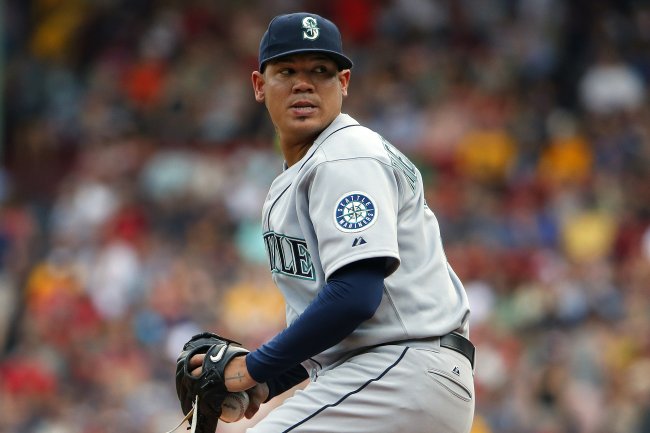 Winslow Townson/Associated Press

Yes, Felix Hernandez is coming off arguably the worst start of his career, allowing 10 earned runs to the Boston Red Sox in 2.1 innings. However, he allowed just two runs in seven innings the game before, which is more of what we expect from the former Cy Young winner.
Most importantly, Hernandez will return to his home stadium Friday, where he has been much better this year. He will also go from facing one of the top offenses in baseball to one of the worst in the Chicago White Sox.
While players such as Chris Sale ($13,200) and David Price ($12,300) have been great lately with high strikeout totals, King Felix represents the best value on the board.
Jimmy Nelson, SP, Milwaukee Brewers ($8,200)
For those looking for a cheaper pitching option, it doesn't get much better than Jimmy Nelson. The 26-year-old starter has had a great second half of the year, totaling a 1.99 ERA with a 3-0 record in six starts since the All-Star break.
Meanwhile, Nelson has shown off his consistency by totaling at least 17 fantasy points in each of his last seven starts. There is no reason to doubt his ability to keep it going Friday.
Paul Goldschmidt, 1B, Arizona Diamondbacks ($5,600)
Paul Goldschmidt is great against any pitcher. However, he has been even better against lefties, with a career OPS well over 1.000. This is bad news for Cincinnati Reds starter David Holmberg, who allowed seven runs and three home runs in his last start.
If you are going to spend big on a hitter, Goldschmidt is the one you want.
Ryan Braun, OF, Milwaukee Brewers ($4,300)
It's been an up-and-down year for Ryan Braun, but he has been solid as of late with a .333 batting average and a .971 OPS in August. Not only does he have three home runs, but he also has three stolen bases in this stretch, showing he is capable of adding fantasy points in a number of ways.
A matchup against Gio Gonzalez gives him a good chance at another big day.
Travis Shaw, 1B/3B, Boston Red Sox ($3,800)
While he might not be a household name yet, few players in the league have been hotter over the past week. In the last seven games, Travis Shaw has a .500 batting average (15-for-30), four home runs and eight RBI.
You might as well put him on your team while he is still this cheap.
Players to Avoid
Johnny Cueto, SP, Kansas City Royals ($10,000)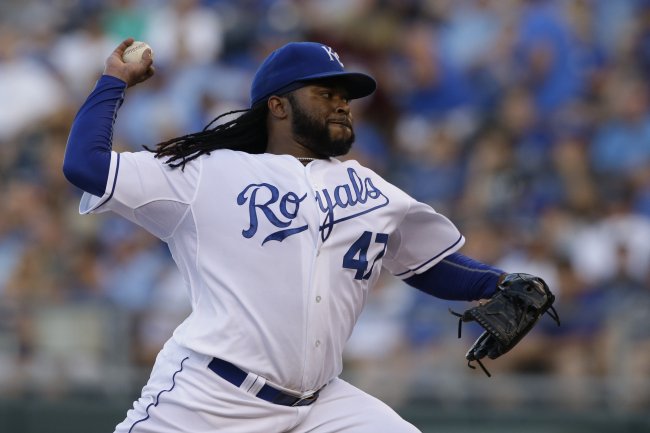 Orlin Wagner/Associated Press

The problem is not Johnny Cueto but the matchup. The Boston Red Sox are in last place, but they have one of the hottest offenses in baseball, averaging 9.4 runs in the last seven games. Playing in the third-biggest hitter's park in the majors, according to ESPN.com, it makes sense to pass on the ace pitcher this week. 
Lucas Duda, 1B, New York Mets ($5,000)
Ordinarily, any trip to Coors Field is good for hitters, but Lucas Duda has been ice-cold lately. He is batting .218 in his last 10 games with no home runs, which came around a few days off due to a sore back. 
Considering he is batting just .199 on the road this year with three home runs (compared to .295 and 18 home runs at home), Duda is not worth putting in your lineup.
Team to Stack
Colorado Rockies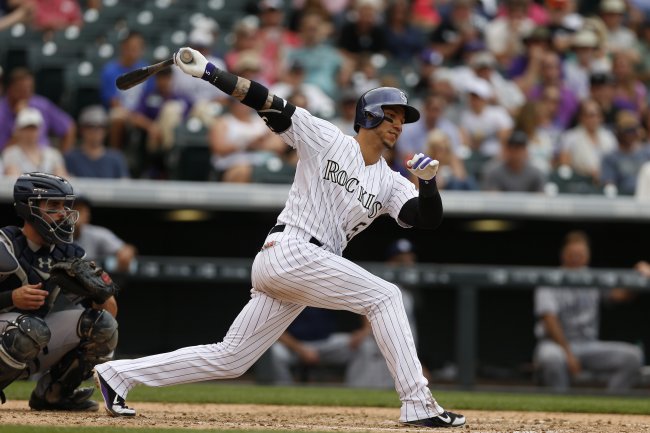 David Zalubowski/Associated Press

Consistency has been a major problem for New York Mets starter Bartolo Colon, who has allowed five or more earned runs in five games this year. He also has a 5.03 road ERA, which likely won't get any better at Coors Field, which is a tough hitter's park.
Add this to the fact that Colon has allowed lefties to hit .302 against him this year, and this could be a huge game for Carlos Gonzalez, Charlie Blackmon, Ben Paulsen and others.
Note: All prices and fantasy score info courtesy of DraftKings. Unless otherwise noted, all stats courtesy of Baseball-Reference.com. 
---
DraftKings is hosting one-day MLB contests! Claim your free entry by clicking on the link and making a first-time deposit!
Follow Rob Goldberg on Twitter for daily fantasy advice and nonstop sports.
CommentsWrite a Reply or Comment:
You must be logged in to post a comment.