Daily Fantasy Baseball 2015: MLB DraftKings Strategy, Primer for August 28 – Bleacher Report
It almost feels like Opening Day with so many aces on the mound. There will be no shortage of elite pitching options in Friday's daily fantasy baseball contests, so the challenge will be picking the right ones and balancing your lineup to help you come out on top.
Here is a look at the best and worst options across the board for August 28.
Players to Draft
Michael Wacha, SP, St. Louis Cardinals ($10,300)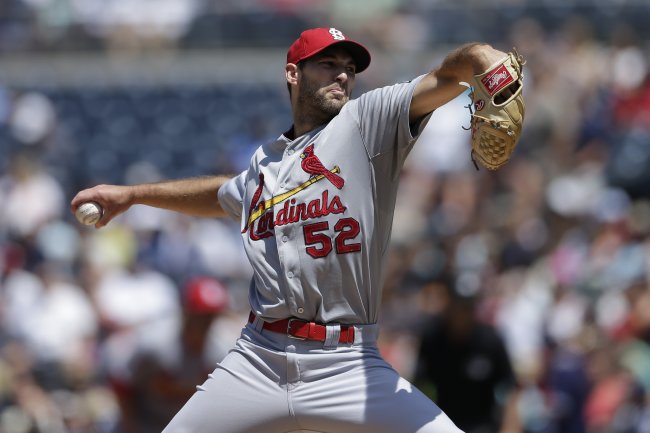 Gregory Bull/Associated Press

As good as Clayton Kershaw has been, it might not be worth spending the $14,400 when there are a total of eight players valued at $10,000 or more. Instead, you could save some money and go with the safest pick of the top names: Michael Wacha.
The Cardinals starter comes into the day at 15-4 with a 2.80 ERA after allowing just four runs in his previous five starts combined. This includes a bit of a disappointing performance his last time out, not because he allowed one run in six innings, but because he snapped a streak of 14 straight starts with at least five strikeouts.
Pitching in AT&T Park, which has been the best stadium for pitchers this season, according to ESPN.com, Wacha is as close to a sure thing as you can find for this price.
Raisel Iglesias, SP, Cincinnati Reds ($7,800)
He is coming off the best start of his career, and it wasn't a fluke. Raisel Iglesias struck out 13 batters over seven innings against the Arizona Diamondbacks, allowing just one earned run and three hits.
This continues an excellent August for Iglesias that includes a 1.93 ERA and .145 opponent batting average in five starts. While he has struggled on the road at times this year, the fact he has two quality starts away from home this month should ease concerns.
With an average of 24.4 fantasy points per game in this stretch, he is well worth this relatively inexpensive price tag.
Nelson Cruz, OF, Seattle Mariners ($5,600)

David Zalubowski/Associated Press

If you are going to spend money on a hitter, it might as well be Nelson Cruz. Obviously, the outfielder has been one of the best sluggers in baseball this season and is always worth a spot on your team, but he has been especially good lately with three home runs in his last seven games.
Considering he has destroyed lefties this year to the tune of a .371 batting average and 1.170 OPS, veteran southpaw John Danks could be in trouble. 
Mike Moustakas, 3B, Kansas City Royals ($4,100)
After going through a bit of a slump, Mike Moustakas has been tearing the cover off the ball lately. During his current eight-game hitting streak, the third baseman is batting .452 (14-for-31) with four home runs, four doubles and 12 RBI.
Right-handed pitcher Erasmo Ramirez has pitched well lately but should be no threat to slow down Moustakas.
Wilmer Flores, 2B/SS, New York Mets ($3,600)
After almost being traded at the deadline, Wilmer Flores has made his second chance count for the New York Mets. Since crying on the field July 29, the middle infielder has batted .329 with four home runs and 14 RBI in 22 games.
You will have to make sure he is in the starting lineup, but this shouldn't be a problem against left-handed starter Henry Owens.
Players to Avoid
Max Scherzer, SP, Washington Nationals ($12,500)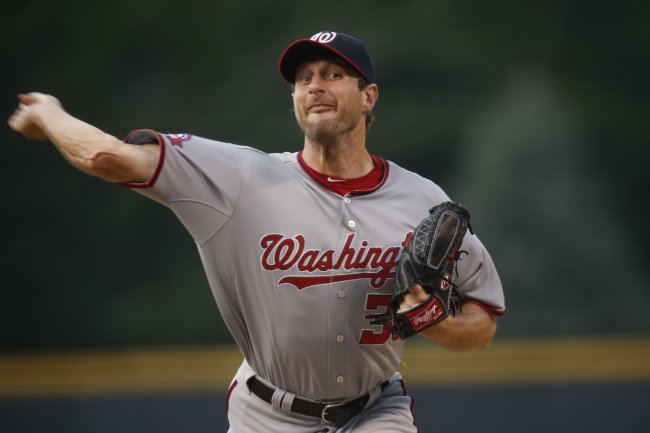 David Zalubowski/Associated Press

While Max Scherzer was worth almost any price earlier in the year, this has not been the case as of late. The Nationals ace is just 0-2 with a 6.86 ERA in August, allowing at least three runs in all four starts.
Obviously, Scherzer has the talent to put together a dominant performance against the inconsistent Miami Marlins offense. However, it is just not worth the risk with so many quality options available.
Paul Goldschmidt, 1B, Arizona Diamondbacks ($5,400)
Like many top hitters across the board Friday, Paul Goldschmidt simply has a difficult matchup. In this case, it is Oakland Athletics starter Sonny Gray, who has allowed only five home runs to right-handed hitters this season in 292 at-bats.
He is almost always a great bet to score points, but Goldschmidt is unlikely to have his best performance in this game.
Team to Stack
Toronto Blue Jays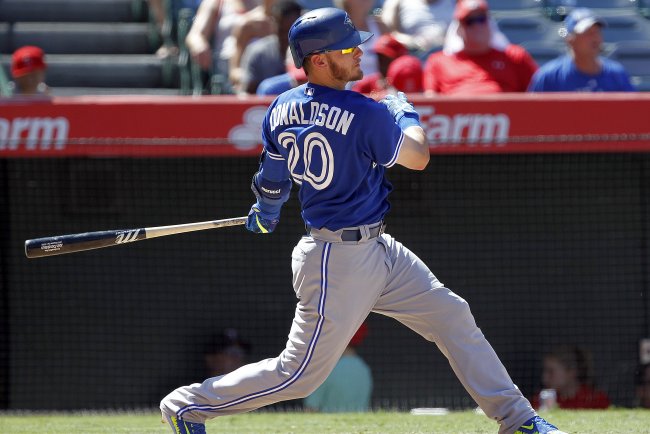 Alex Gallardo/Associated Press

With the No. 1 offense in baseball, the Toronto Blue Jays are always a good choice to stack. When the predominately right-handed lineup is facing a lefty starter, it is an even better option. When that starter is Matt Boyd, a rookie with a career ERA of 7.04 in seven appearances, you shouldn't even need to think twice.
The 24-year-old started the year in Toronto, but his former team might not be too nice to him on Friday.
Note: All prices and fantasy score info courtesy of DraftKings. Unless otherwise noted, all stats courtesy of Baseball-Reference.com.
---
DraftKings is hosting one-day MLB contests! Claim your free entry by clicking on the link and making a first-time deposit!
Follow Rob Goldberg on Twitter for daily fantasy advice and nonstop sports.
CommentsWrite a Reply or Comment:
You must be logged in to post a comment.