Daily Fantasy Baseball 2015: MLB DraftKings Strategy, Primer for August 9 – Bleacher Report
Of all the aces operating on Sunday, none can take Max Scherzer's spot as the top DraftKings selection.
While the alternatives face tough matchups, the National League Cy Young candidate gets the Colorado Rockies away from Coors Field. Not the easiest tilt, but they're not an offense to avoid on the road against an ace. Roll with Scherzer despite a few recent hiccups.
After ponying up $13,200 for the Washington Nationals ace, look at these players to fill Sunday's lineup.  
SP Shelby Miller, Atlanta Braves ($8,800) vs. Miami Marlins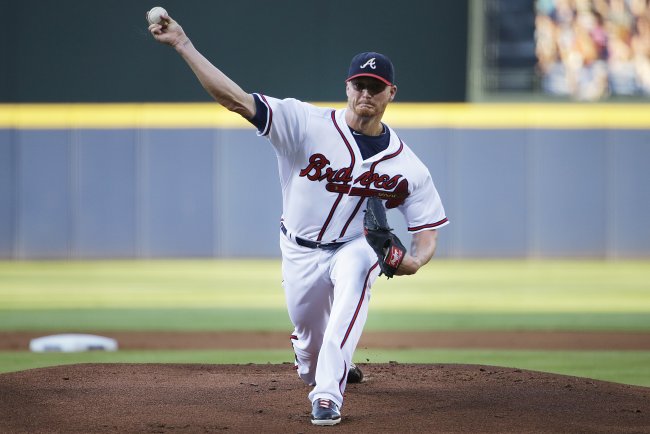 David Goldman/Associated Press

Shelby Miller sold his soul to the baseball devil earlier this season, and the regression gods have unsurprisingly caught up to his charade. His 1.48 ERA has risen to 2.44, and the Atlanta Braves righty has a ways to go before catching up to his 3.92 skill-interactive ERA (SIERA).  
Shely Miller's Regression

| | | |
| --- | --- | --- |
| | April-May 31 | June 1-Present |
| IP | 67.0 | 73.0 |
| ERA | 1.48 | 3.33 |
| WHIP | 0.88 | 1.41 |
| K/9 | 6.66 | 8.01 |
| BB/9 | 2.42 | 3.33 |
FanGraphs.com
So why invest in a sinking stock? The 24-year-old has enjoyed a 1.97 ERA at home, where his unappetizing strikeout percentage jumps to 23.2. Also, he achieved his torrid start by stifling the Miami Marlins to one run over 19 innings. 
That was back when they had a healthy Giancarlo Stanton and a dangerous yet slumping Marcell Ozuna. Now they're batting Casey McGehee fourth with Ichiro Suzuki and Derek Dietrich starting in the outfield. Give Miller one last spin before he limps to the finish line.
Stack No. 1: Los Angeles Dodgers at Pittsburgh Pirates (RHP Charlie Morton)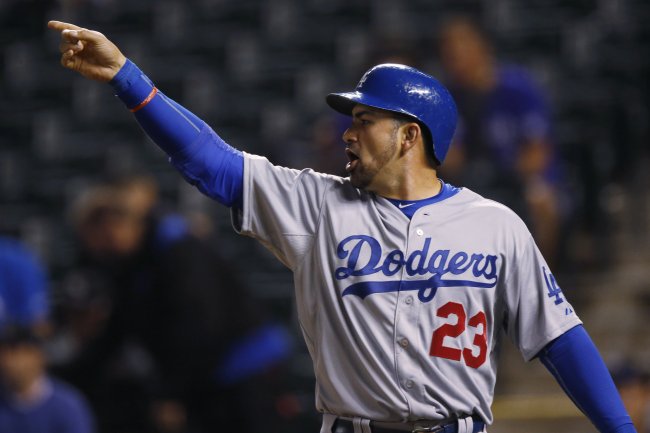 David Zalubowski/Associated Press

This seems to happen a lot. Someone in charge of DraftKings pricing hates the Los Angeles Dodgers, constantly putting them on clearance sale against exploitable right-handed pitchers.
Brandishing a 4.19 ERA and a 14.6 strikeout percentage, Charlie Morton is nothing special. Surely not good enough to dip Adrian Gonzalez below $4,000 ($3,800) and Yasmani Grandal at $3,400. Andre Ethier wields an .872 OPS against righties, but he's available for $2,900.
Mired in slumps, Joc Pederson and Yasiel Puig's deflated prices ($3,700 and $3,100, respectively) make more sense. But their upside is tantalizing against a contact pitcher with a 32.8 hard-hit percentage.
Stack No. 2 : Detroit Tigers vs. Boston Red Sox (LHP Henry Owens)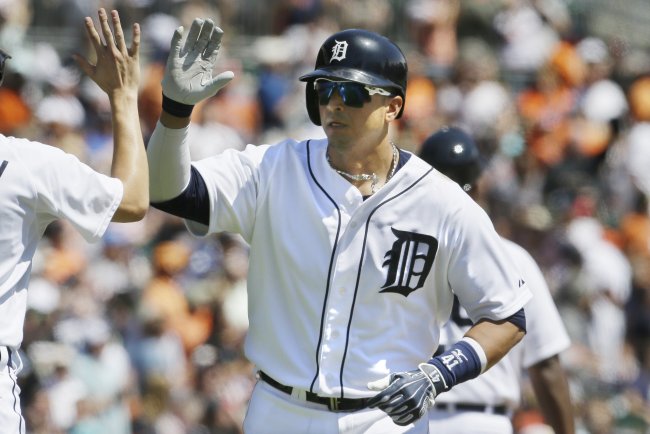 Carlos Osorio/Associated Press

Henry Owens held his own during a difficult MLB debut, allowing three runs with five strikeouts through five innings at Yankee Stadium. The Boston Red Sox rookie isn't someone to circle and routinely pick on, but he's beatable.
So are the Detroit Tigers minus Miguel Cabrera, but several of their remaining bats post favorable splits against southpaws, making them an interesting, cheap Sunday stack the day after trouncing Wade Miley.
Detroit Tigers' Sunday DraftKings Prices

| | | |
| --- | --- | --- |
| Player | DK Price | wOBA vs. LHP |
| C James McCann | $2,800 | .449 |
| 1B Victor Martinez | $3,400 | .372 |
| 3B Nick Castellanos | $3,100 | .389 |
| SS/3B Jose Iglesias | $3,100 | .397 |
| 1B/3B Jefry Marte | $2,500 | .397 |
| OF Rajai Davis | $3,200 | .327 |
FanGraphs.com, Prices via DraftKings.com
While in danger of sitting the day game after a night clash, James McCann provides a perfect catcher punt if starting. A career .307/.376/.488 hitter against lefties, Victor Martinez's price lags behind due to his .623 OPS against righties this season.
Rajai Davis and Jose Iglesias receive primary positioning in the batting order versus southpaws, and Nick Castellanos has recorded five of his 11 homers after the All-Star break. Everyone besides J.D. Martinez ($4,700) and Ian Kinsler ($4,300) comes at a great value, a huge plus for anyone riding Scherzer.
1B Chris Davis ($4,200) and 3B Manny Machado ($4,400) at L.A. Angels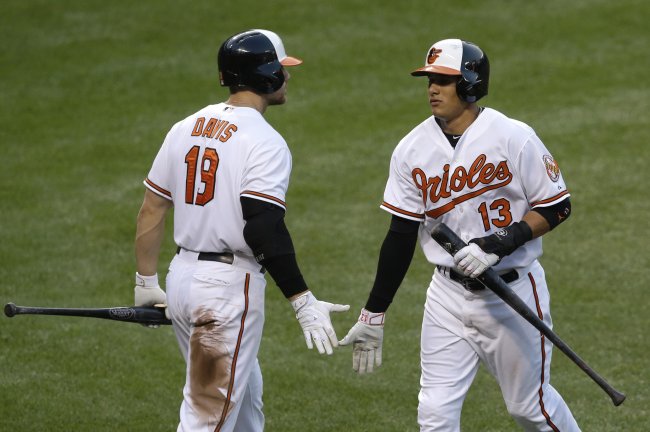 Patrick Semansky/Associated Press

It doesn't matter how many games Jered Weaver won in 2012. (For that matter, it really doesn't matter how many victories any pitcher compiles ever.) The decaying 32-year-old returns from the disabled list with a 4.75 ERA, 4.79 fielding independent pitching (FIP) and 8.2 strikeout percentage.
Toss those same numbers on an unknown hurler fighting to preserve a rotation spot, and his top opponents will cost $5,000 and up. Due to Weaver's past success, however, Chris Davis and Manny Machado aren't saddled with hefty price tags.
Weaver's career 47.5 fly-ball percentage makes him a vulnerable target for the Baltimore Orioles' corner infielders. Davis has crushed six homers over the past 10 days. Meanwhile, Machado costs as much as Nolan Arenado, who faces Scherzer away from Coors.
3B/SS Jung Ho Kang, Pittsburgh Pirates ($3,300) vs. L.A. Dodgers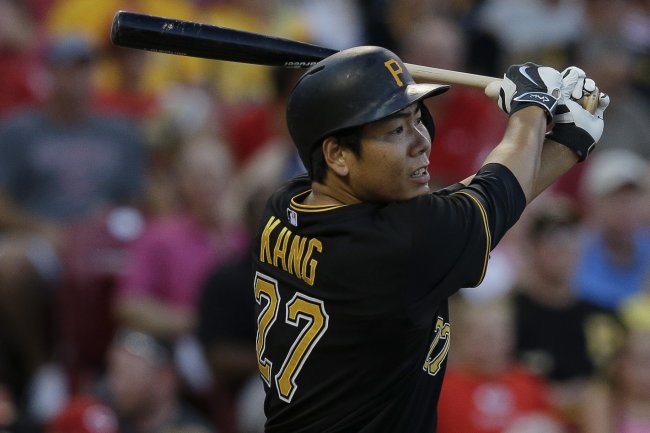 John Minchillo/Associated Press

Even with a cold August, Jung Ho Kang's .355 weighted on-base average (wOBA) ties Troy Tulowitzki for second among shortstops behind Carlos Correa. He's hitting .281/.379/.491 against lefties, but he receives little attention with only eight home runs and five stolen bases to his name.
Alex Wood is a solid southpaw, but righties are hitting .301/.364/.419 off him during a letdown season. For a soaring shortstop with favorable splits, $3,300 sure seems like a bargain for Kang.
OFs Justin Upton ($4,300) and Matt Kemp ($3,800), San Diego Padres vs. Philadelphia Phillies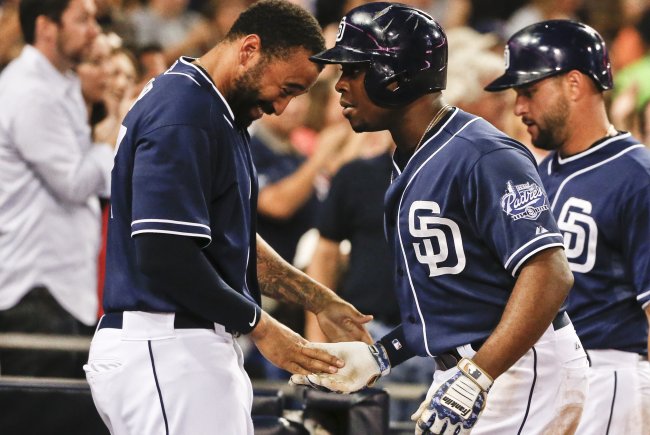 Lenny Ignelzi/Associated Press

Not much needs to be written here. Jerome Williams relinquishes a .404 wOBA against righties, so not even Petco Park and the stumbling San Diego Padres can save him. As long as the Philadelphia Phillies keep trotting him out, he's prime picking.
San Diego's only slugger with an OPS over .800 against righties, Justin Upton is best equipped to take advantage. Matt Kemp has shown life after the All-Star break, hitting .280/.356/.453 with a 10.3 walk percentage and 17.2 strikeout percentage.
Anyone wanting more than the pairing should look to Yangervis Solarte, who is eligible at second base for $3,300 with 12 hits in eight August games.
OF David Peralta, Arizona Diamondbacks ($3,400) vs. Cincinnati Reds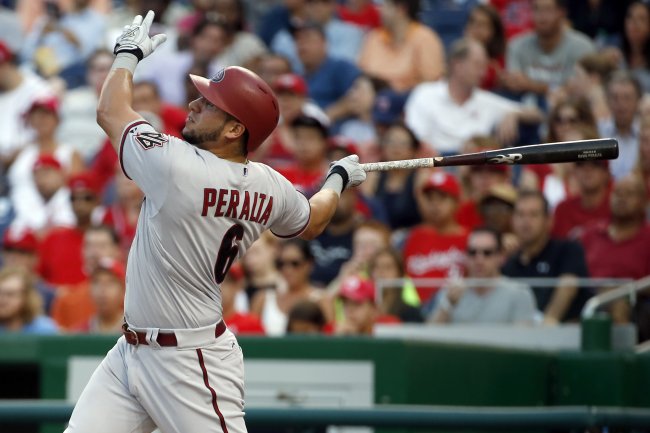 Alex Brandon/Associated Press

Although Anthony DeSclafani racked up a season-high nine strikeouts during his last start, he still sports an unassuming 17.7 strikeout percentage and 3.89 FIP. He has also surrendered nine of his 11 homers to lefties, who boast a .341 wOBA against the Cincinnati Reds starter.
Looks like the perfect adversary for David Peralta, who exclusively terrorizes right-handed pitchers with a .520 slugging percentage. Despite his stellar splits and cushy spot behind Paul Goldschmidt in the Arizona Diamondbacks lineup, his price frequently falters. 
Take advantage now, as a big Sunday will cause DraftKings to later correct course again.
Note: All advanced statistics are courtesy of FanGraphs  
---
DraftKings is hosting one-day MLB contests! Claim your free entry by clicking on the link and making a first-time deposit!
CommentsWrite a Reply or Comment:
You must be logged in to post a comment.