Inside Baseball: 13 big free agents still looking for deals; more MLB notes – CBSSports.com
Never before has there been such a great collection of star free agents who remain unsigned heading into the new year. With only hours to go before the clock strikes 2016, still available are no less than a trio of All-Star-caliber outfielders, one of baseball's most feared sluggers, a quartet of excellent starting pitchers, some very fine infielders and more — enough top-notch players to fill half a big-league roster.
Meantime, a bunch of pundits and prognosticators seem to be worrying about all these unsigned players, quite possibly needlessly. While deals signed to this point are bigger than ever — how about an outfielder like Jason Heyward with 13 home runs getting $184 million and two opt-outs, and a pitcher like Scott Kazmir who seemed to be or was retired a few years ago getting $48 million over three years, and an opt-out of his own — some are foolishly suggesting there aren't going to be any more big deals.
Some are flat out saying there aren't going to be any more $100 million-plus deals (besides, presumably slugger Chris Davis, who hasn't yet taken the Orioles' $154 million bid), and still others are wondering whether a few of the free agents might be stuck without a landing spot and may even find themselves in the uncomfortable spot of having to consider a one-year deal and in effect starting over next winter. That's not too likely. As things stand, there are no perfect teams.
While there are surely some unsigned free agents who are growing a little antsy, there are also teams with big needs, and there's still big money to be spent in this $9 billion game. And while some teams have suggested they won't play for the big boys, you can never be too sure. Minds change, and mystery teams surface.
Angels owner Arte Moreno recently said aloud that he didn't intend to sign one of the big outfielders remaining, but word is that the Angels are still in contact with the big guys — Yoenis Cespedes, Justin Upton and perhaps Alex Gordon, too. It's quite likely someone over there's still thinking about it.
Cardinals GM John Mozeliak recently said he didn't anticipate any "dynamic"-type signings after missing out on their own guy Heyward. But it wasn't long after that the Cardinals snapped up solid starting pitcher Mike Leake for $80 million. One man's dynamic is another person's routine, I suppose. There may not be another $200 million offer forthcoming, that's true, but now there's some buzz the Cardinals may also be looking again at a big bat at first or in the outfield, where this winter they already lost Jon Jay and Peter Bourjos in addition to Heyward.
The Tigers also have been on record at different times denying that they are "looking at" the big outfielders, and one Tigers-connected person on Wednesday still put it as "doubtful" they'd go big for an outfielder. But they've surprised folks before. They are also known to love Cespedes (and Gordon, too), and their owner Mike Ilitch is one of the best in the business; consistently, Mr. I puts winning above all else.
The Nationals are yet another team that can't be ruled out in the outfield market, as they also tried with their own $200 million bid for Heyward, and they probably could use someone to bat behind MVP Bryce Harper going forward. Cespedes, who hits righties as well as lefties, would seem like a potential fit. One Nats-connected person, speaking about the possibility of Cespedes, said, "Probably not, at least not at the moment." Which doesn't exactly shut the door on Cespedes.
The Giants are yet another teams that's still surveying the outfield market. It isn't certain whether they'd sign another megadeal after spending $220 million on Johnny Cueto and Jeff Samardzija. But they appear to be testing the waters, at the least.
Add all those maybes to the White Sox, Orioles and Royals, three teams that are clearly in the outfield market, and there's probably a lot of needless angst, at least for the top outfielders. So while some players may be getting nervous — one top player on this list recently admitted he'd heard "nothing" lately — the reality is, there's plenty of time left, and no one will have to take up a collection for any of these. It's possible, of course, that a player or two won't get exactly what they sought. But that's nothing new.
Here goes, our baker's dozen of frontline free agents to go …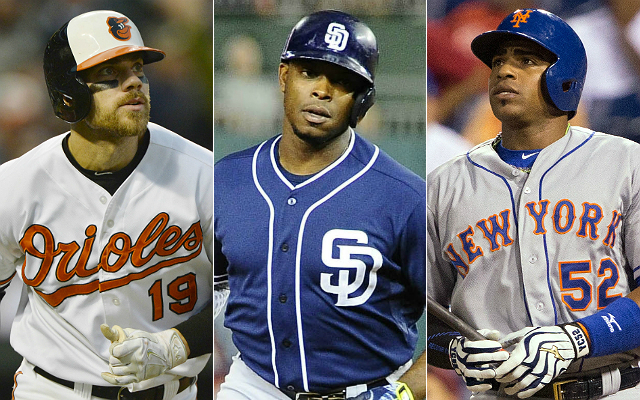 1. Chris Davis: He's been staring at that $154 million, seven-year offer from his old Orioles team forever, it seems. Meantime, the Orioles have started to look at some other options, though it isn't known how anxious the Orioles are to turn away from Davis. Word is that owner Peter Angelos badly wants Davis back. And while some wonder whether Angelos may start to lose his patience at some point, any claim that the offer is off the table seems a little shaky since the O's almost surely would do that same $154 million deal if Davis came back to them.
Angelos may simply fear bidding against himself. But he can't know if Davis has anything comparable or close — he'd fit the Angels, Cardinals or Astros (though Los Angeles/Anaheim and St. Louis people have downplayed that possibility, and no one believes Houston would pony up that sort of money; one Astros-connected person said, succinctly, "not in our plans" about Davis). The Blue Jays and Red Sox are two more teams that have been tied to Davis, and agent Scott Boras recently met with Hal Steinbrenner in Tampa, though that may be an even bigger longshot than the others.
As for the Davis camp, they are believed to have a higher AAV in mind, one that exceeds what non-homer hitters Heyward ($23M per), Jacoby Ellsbury ($21.9M per) and Hanley Ramirez ($22M) got. Meanwhile, the O's have talked to Upton (from adjacent Virginia) and Cespedes (who hits righties well and could fit). Obviously Davis, who's hit 126 homers since 2013, works best in that their main desire is a big lefty bat; in fact, he's hit more home runs than Heyward and Gordon combined over the last three years.
2. Yoenis Cespedes: There are still about six to seven teams involved, thanks to a field that is actually widening based on his uncanny ability to hit right-handers. Cespedes interestingly enough posted a sterling .909 OPS vs. right-handers in 2015, 104 points higher than the lefty-swinging Gordon even and 208 points higher (double that Gordon number) than the league average right-handed hitter.
The White Sox, Orioles, Giants and Angels were mentioned as possibilities by Jesse Sanchez of MLB.com, and CBS Sports can verify that quartet. Plus, add at least a couple other possibilities, with the Tigers and Cardinals believed to at least be weighing runs at a big outfielder, and the Nationals thought to be an outside possibility to do so. Sanchez also mentioned that the Rangers are "monitoring" Cespedes. The Rangers definitely like Upton and want to become more right-handed, but for now there are said to be budget issues, making such a run unlikely. The Nationals are another team that could fit, and they still should have money left over from their failed attempt to sign Heyward.
Whatever knocks he takes, Cespedes is maybe the best speed-power-arm combination in baseball, and whether he has four or five teams, or even seven teams, interested, he's probably going to be able to get a sizable deal.
3. Justin Upton: His market has been remarkably quiet. But no one should assume that's because this 28-year-old who hit 26 home runs in 2015 is about to strike out in free agency. He's been tied to the Orioles — and the Norfolk, Va. product is said to like that idea — and also the Giants and Angels (though a lefty bat fits both those teams better). Any of the second-place finishers for Cespedes could become involved, as well. Agent Larry Reynolds got $75.2 million for Upton's older, less talented and less focused brother Melvin. So he should ultimately do well for the former No. 1 overall pick (just ahead of Gordon in the legendary 2005 draft).
Of the four big free-agent outfielders, Upton actually leads in WRC+ (weighted runs created plus) over the last three years, with 127 to 117 for Heyward, 116 for Cespedes and 115 for Gordon. Upton is also one of 10 players with at least 15 homers in the last eight seasons, and the only dual threat of the group (113 steals; none of the others has even 70 steals). And his five 15-15 seasons in that span is tied for most in the majors. Plus, he's logged at least 149 games each of the last five years, and to the surprise of some, he's finished third in Gold Glove voting in the NL the last two. Even though things seem quiet and he may not match some big early predictions, there's no reason he shouldn't score here.
4. Wei-Yin Chen: The Royals and Nationals are both interested. Kansas City may even favor spending as big for him as Gordon, their own free-agent outfielder. The Giants, Cardinals and Dodgers all checked in, but the Giants signed Samardzija and Cueto, the Cardinals inked Leake and the Dodgers may prefer a right-hander after signing the lefty Kazmir (and one without a draft choice attached). The Orioles could also easily circle back, as well; after all, he's their No. 1 pitcher.
5. Alex Gordon: The Royals made a four-year offer (Jim Bowden of ESPN reported it to be for about $12 million to $13 million a year), and afterward, word came from Gordon's camp to Kansas City that as things stood then the Royals had "no chance" to retain their star left fielder. The Cardinals, Angels, Dodgers, White Sox and Orioles all have been tied to Gordon, with the Angels, White Sox and Orioles all believed to favor a lefty bat like Gordon. The Nationals are yet another team that would fit — though the South Siders of Chicago may be the favorite here.
6. Yovani Gallardo: This terrifically talented and tough right-hander showed last year that he could succeed in a hitters' park in the American League, which opened things up for him. The Astros, Royals and Orioles — three AL teams — have been known to be in the hunt for a while, the Blue Jays checked in recently and the Dodgers still make sense (though they seem intent on keeping that draft pick, even if it's pick No. 26). Considering what a great hitter Gallardo is, the National League might work best, though for now the suitors are mostly in the junior circuit.
7. Ian Desmond: A lot of folks will point to the big Nats deal he once turned down. But that was before an uncharacteristically rough season, and an unpredictably strange lack of shortstop interest that has put him in a tougher spot. It's not necessarily a great sign that word has come out that teams are considering other positions for him, but the reality is, he will be a starting shortstop somewhere; it would be a waste to put this elite talent elsewhere.
The Padres still need a shortstop, and that may be the most logical landing spot at this point. One person with Padres connections, however, wondered whether an investment of "$60 million to $70 million" (his estimate) made sense for a team not expected to contend this year. However, their top guys, president Mike Dee and GM A.J. Preller, don't seem like the types to sit out the winter, especially where there's a potential prime opportunity like this.
Desmond has the highest cumulative WAR of any major-league shortstop since 2010 at 15.1 (followed by Troy Tulowitzki at 14.1, Jhonny Peralta at 13.1, Brandon Crawford at 12.0 and Andrelton Simmons at 11.8). Desmond is also one of three shortstops in history to go 20-20 three consecutive seasons (Alex Rodriguez and Hanley Ramirez are the others) and one of only eight shortstops in history to reach 100-plus homers and 100-plus steals through their age-29 season (besides Ramirez and Rodriguez, some of the others are Derek Jeter, Jimmy Rollins, Alan Trammell and Robin Yount). Desmond also is known for durability (he's the only MLB player with 90 homers, 100 steals and 750 games played over the last five seasons). But all that being said, there has to be a fit.
Two possible dark horses: the White Sox, who like to lie in the weeds, have unproven Tyler Saladino at shortstop for now; and the Rockies, which might be a good spot for Desmond to go and rebuild his value, have a domestic issue with Jose Reyes.
8. Gerardo Parra: This fine-defending versatile outfielder is said to have "seven or eight" teams in on him, including the under-the-radar Rockies. Colorado has been reported here and elsewhere to be considering a trade for Carlos Gonzalez and by ESPN's Jerry Crasnick to be looking at trades for their other incumbent outfielders, as well. Colorado, meantime, is said to be a serious pursuer here. The Royals also make sense for Parra, as do the Nats, who have more work to do and GM Mike Rizzo, who acquired Parra for the Diamondbacks and is said to be a fan.
9. Kenta Maeda: It's known that the Dodgers met with the Japanese pitcher, who has some impressive numbers over there and no draft compensation attached to him (that's big for the Dodgers). Los Angeles is still looking around after signing Scott Kazmir. Some scouts see him as a mid-rotation starter, but while few other teams have been connected to him thus far, that doesn't mean there aren't any. Cross the Yankees off, though; they aren't interested.
10. Dexter Fowler: He had a terrific second half for the Cubs, especially offensively, and the Cubs, Nationals, Giants and Royals all could work. Not a lot of buzz so far, though.
11. Howie Kendrick: He's had a remarkably quiet market, but he is an excellent hitter who's also a clubhouse plus. The Royals, Diamondbacks and both Los Angeles teams look like they make the most sense, but Dodgers GM Farhan Zaidi told Dodgers writers they're probably OK with Ki'ke Hernandez and Chase Utley there.
12. Ian Kennedy: Some wondered whether he should have taken the qualifying offer. But he is an innings-logger (at least 80 innings the last five years) who posted a higher strikeout rate than any free-agent starter besides David Price. He's been connected to the Royals, Tigers and Brewers, and the Nats, who can be connected to almost anyone at the moment, could make sense, as well.
13. Denard Span: He's said to have worked out for some teams, and agent Scott Boras recently told Jon Paul Morosi and Mike Ferrin on Sirius that he expected Span to sign "in the near future." The Royals have interest, and a positive history with Boras, as do the Nats and the Giants. The Cubs could also work if they decided to move Heyward to right field and found a taker for Jorge Soler.
More Inside Baseball…
Team
News
The Orioles much prefer to add a left-handed hitter. They are the one team that showed interest in Andre Ethier last spring, before Ethier put together a nice season, so he could become an option if the free agents don't work out, as hoped … Pedro Alvarez remains on the radar, and he could ultimately wind up there, though it could be interesting to try to work something out while the Davis situation is unsettled since Alvarez is also repped by Scott Boras. It's also possible Batimore could sign both lefty sluggers … Baltimore is looking at Gallardo but hasn't given up entirely on Chen, who they like very much.
Some speculate the Orioles could be the one potential landing spot for Hanley Ramirez since O's GM Dan Duquette originally acquired him for Boston. But such a move — and this is only speculation — could give Boston room to sign Chris Davis.
They'd like to trade Adam LaRoche, but his $12 million salary isn't low … Part of the reason for the interest in the outfield could be unmet expectations by Avisail Garcia, who has an option left … Jimmy Rollins wouldn't be a bad fit for them. He's still one of the game's best defenders. Bruce Levine mentioned a possible return for Alexei Ramirez, but while he has talent, there seems to be a weary attitude toward his instinctual issues. Desmond would be a huge plus, though.
It seems clear the Reds were determined to make Chapman an ex-Red, but Eric Jagielo is seen as a "great kid" who may hit 25 home runs (the questions are whether he'll stay healthy and ultimately be a third baseman), and Rookie Davis was a beloved young man in the Yankees organization who's seen as a No. 4 starter potentially … Reds people don't seem too happy with Brandon Phillips for invoking his 10-and-5 rights and vetoing the trade to the Nats. While little was coming back in the deal, Cincinnati wanted to clear the money and also the space for young Jose Peraza to play. Phillips really "(hurt) us," one Reds-connected person said. While he has every right to reject the trade, he'll have a hard time convincing anyone winning is his priority after rejecting a trade to the Nats, a team with a real chance in 2016 … Todd Frazier loved Cincinnati and was hoping for a long time to do a long-term deal with the Reds. He was said willing to give a hometown discount, but while the Reds had made an offer in a previous year, they never made him an extension offer this year … Kyle Lohse could make sense for Cincinnati, which needs a veteran in that rotation of rookies and near-rookies … Some scouts do like Scott Schebler, who came in the Frazier trade. Schebler could be an answer in left field, a trouble spot for them lately.
Colorado had a chance or two to trade Jose Reyes shortly after acquiring him, but the Rockies asked for big-time prospects back. Now they are stuck … One rival GM, noting that the Rockies don't seem intent on shopping star Carlos Gonzalez, questioned that strategy. "This is the perfect time to trade Gonzalez. He's coming off a great season." … Based on his history pitching in Coors Field, the Rockies might want to consider Ian Kennedy. Of all pitchers who've started at least 10 games there, he has the lowest ERA (3.16), with Ubaldo Jimenez next at 3.67 and Tom Glavine third at 3.68. Kennedy has the lowest WHIP, too, at 1.18, ahead of two Hall of Famers (Randy Johnson at 1.20, Greg Maddux at 1.25).
While Royals people have been told they have "no chance" to re-sign Alex Gordon as things stood following their initial offer, it doesn't appear they are giving up — though it is seen as a long shot currently … The Royals are feeling sticker shock seeing some of the free-agent prices. They seem to like Chen best among the pitchers out there, but Ian Kennedy may fit the budget better … They have considered Span and Austin Jackson, as they favor great defense in the outfield … Most folks believe a two-year deal will eventually be worked out to bring back Greg Holland, the star closer before Wade Davis became their star closer. Holland is expected to miss the 2016 season after late-season Tommy John surgery.
The Angels are said to be looking for cost-efficient controllable guys like their own Kole Calhoun at the moment. There aren't many that fit that bill who are available (Marcell Ozuna, maybe?), so the Angels shouldn't be ruled out as a team that could turn to one of the big free agents.
The Dodgers could open the season with five lefty starters after signing Kazmir (Clayton Kershaw, Brett Anderson, Hyun-Jin Ryu and Alex Wood are the others). According to Joel Sherman of the New York Post, the only three teams to employ three lefty starters for at least 15 games were the 1989 Phillies, the '83 Yankees and '51 Red Sox … Baseball president Andrew Friedman had Kazmir in Tampa, and GM Farhan Zaidi had him in Oakland … The signing of Kazmir shows how much interest LA has in retaining its pick, as the Dodgers passed over a younger, better Chen and others, and gave Kazmir a bigger deal than most expected ($48 million for three years) with a one-year opt-out, which is advantageous since the free-agent pitching crop is unusually weak next winter … LA will continue to look at the starting pitching market, presumably with a righty in mind. Brandon McCarthy also should be ready by the summer … The Dodgers deserve admiration for "moving on" after the Chapman issue came to light shortly after their agreed-upon trade.
Multiple attempts in recent years have been made to buy the Marlins, and sources say Venezuelan multi-billionaire Gustavo Cisneros is said to have made at least one of the attempts. Jeffrey Loria has shown no inclination to sell, however. "No interest in selling," club president David Samson texted back, succinctly affirming the widely-held belief … The Marlins are still searching for young starting pitching. While they like the "Cleveland guys," they don't seem to have enough to get one of them … They wanted Corey Seager back in a Jose Fernandez trade, and that appears to be a non-starter … They took a shot to acquire Miami resident Aroldis Chapman before the Yankees got him, as Ken Rosenthal of FOX Sports reported.
Minnesota could still use a proven lefty in the pen. But some scouts like Brandon Kintzler, a righty reliever, as a nice "sleeper" pickup from the Brewers.
Rival teams say everyone with the Brewers is available, including catcher Jonathan Lucroy and shortstop Jean Segura. There hasn't been much buzz about a Ryan Braun trade, but he may be seen as overpriced now. It would make sense to trade Segura since they have a terrific shortstop prospect in Orlando Arcia. However, there aren't a lot of teams looking for shortstops. Texas is one team that's been tied to Lucroy. The Braves were another, at least at one time.
They considered Span on a one-year deal before signing Alejandro De Aza. But Span prefers to get a multi-year deal and has been impressing teams in workouts near his Tampa home. He had hip surgery last summer, so a one-year deal actually would make some sense to rebuild value. But he wants two, or more.
There's practically no chance the Yankees will trade Andrew Miller. They asked the Astros for Lance McCullers Jr. for Miller, and Houston quickly rebuffed that attempt. They'd want a No. 1 pitcher in a Miller deal … Word is going around that a long suspension is unlikely in the case of Aroldis Chapman's alleged domestic violence incident. MLB is taking the domestic violence issue very seriously but word is the evidence may be thin in this case. The Yankees aren't saying anything beyond that they did their "due diligence" in making the trade. But suffice it to say, they wouldn't have made the deal if they thought he was in for a long suspension … They are considering this a one-year trial run. And there's skepticism how it will go. Chapman is known around Miami as a real late-night guy, so folks wonder whether New York is the best place for him … They certainly got Chapman for less, as the price dropped precipitously after the domestic-incident revelation. The Reds sought either Luis Severino or Aaron Judge last year … According to Daren Willman of MLB.com, Chapman threw 1,241 pitches of 100-plus mph since 2011, compared to 1,187 for everyone else in MLB … One interesting question to ask is how much the Yankees improved. They were 66-3 when leading after six innings last year, 73-2 leading after seven and 81-0 leading after eight … One positive is that Miller is the type who's flexible and will be OK with setting up … GianPaul Conti, the young local ballplayer with the leukemia diagnosis who received calls of encouragement from Alex Rodriguez and Mets catcher Anthony Recker, is said to be healthy again. His mother Talin Conti wrote to say he was back to "the kid he was before the diagnosis" and "living life to the fullest."
Orioles assistant GM Ned Rice is expected to jump to the Orioles to serve the same role for Matt Klentak, one of his best friends, as Roch Kubatko of MASN first reported. Those two plus club president Andy MacPhail and assistant GM Scott Proefrock all worked for the Orioles together at one time … Catching prospect Jorge Alfaro has rehired Beverly Hills Sports Council.
The Pirates are one of "eight to ten" teams to show interest in Justin Masterson, who's said to be recovering nicely after shoulder surgery. He's a good low-risk bet. Especially for a team like the Pirates, who have bet wisely lately.
Joe Strauss, the longtime beat writer and columnist with the St. Louis Post-Dispatch, died of complications related to leukemia this week. He was one of the best in the business. Here is the terrific news story by his Post-Dispatch colleague Derrick Goold and here's one by Kubatko, who recalled when Strauss, a "lovable curmudgeon," showed him the ropes in Baltimore. Strauss was 54.
Matt Kemp, according to one rival executive, has a value that's nullified by a contract where only the 2015 season was paid down by the Dodgers. (LA paid $15 million of $18 million last year.) … Fernando Rodney remains on their radar … Nobuhiro Matsuda will stay in Japan for sure at this point, is the word. He is believed to have $20 million over four years from Softbank … Some think it's only a matter of time before the Padres go for Jurickson Profar. Two of his greatest supporters in Texas were Preller and scouting guru Don Welke.
They are looking at the outfield, and if they don't sign one of the bigger hitters (Cespedes, Upton or Gordon), it's possible they may look at Span or Austin Jackson.
Toronto checked in recently on Gallardo, though the Jays are still seen as a long shot to spend big on another starter after adding J.A. Happ and Marco Estrada.
Some in the Nats camp are concerned about the defense of Daniel Murphy. But $37.5 million for three years seems like a bargain that's too good to pass up … No one should be surprised the Nats added Stephen Drew on a $3 million, one-year deal (plus $1.25 million in incentives). GM Mike Rizzo scored by picking Drew in the 2004 MLB draft. Folks scoff at Drew's low recent batting averages, but he hit 17 home runs in a part-time role with the Yankees in 2016.
CommentsWrite a Reply or Comment:
You must be logged in to post a comment.