Inside Baseball: 25 heroes for 2015; plus notes from all over MLB – CBSSports.com
There have been many, many great performances in 2015, but here are 25 of the best of them.
Here goes, our 25 heroes of 2015 …
1. Alex Anthopoulos, Blue Jays GM.
Not only did he win the winter, he won the summer, too. It was his relentless pursuit of Josh Donaldson, a player who wasn't believed to be available, that netted the probable AL MVP. Then at the deadline, he disregarded the Jays' .500 record and landed the best pitcher (David Price) and best position player (Troy Tulowitzki). Hat tips for getting all those prospects in the first place to do those megadeals go to scouting director Andrew Tinnish, top evaluator Dana Brown and director of Latin operations Ismael Cruz.
2. Joe Maddon, Cubs manager.
He's helped the young Cubs believe they can make waves on Waveland a full year before their time and also raised the level of postgame discourse to unprecedented levels. Cubs president of baseball operations Theo Epstein, who could easily make the list for his Jake Arrieta trade alone (and a lot more), says he's everything they could have hoped for, specifically citing his how "authentic" Maddon is.
3. Zack Greinke, Dodgers pitcher.
He's conjured images of Hall of Famer Greg Maddux, befuddling hitter after hitter without throwing 95 mph. He devised brilliant game plans and executed them perfectly. While some may suggest the batting average with runners in scoring position (the .149 mark is unreal) implies good fortune, one Dodgers person insisted it's all part of the plan. A huge payday awaits: While he's going on 32, folks remember that Maddux lasted a very long time. So don't rule out a five- or six-year deal if that's what he seeks.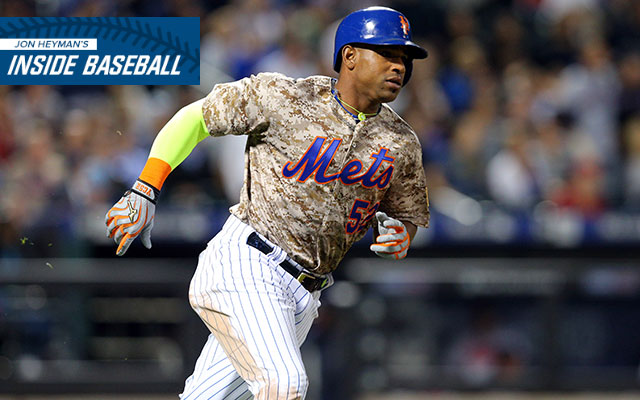 4. Yoenis Cespedes , Mets OF.
He injected immediate life into the team from Queens, helping turn the Mets into the most fun and interesting club throughout August, and putting them into position to win the NL East and make the playoffs for the first time since the Shea Stadium days (they'd never previously had even one winning season in Citi Field). The estimate here is, he's made himself an extra $75 million on the free-agent market, as well.
5. Neal Huntington, Pirates GM.
While his moves haven't all been of the headline-grabbing variety, they've all worked. Every last one of them. It's almost like that winter of 2012-13 that fellow Amherst grad Ben Cherington had with Boston, where every deal paid dividends. In Huntington's case, he also did it on a shoestring budget, gathering Jung Ho Kang, Francisco Liriano, Francisco Cervelli, J.A. Happ, Joe Blanton, A.J. Burnett and even Aramis Ramirez, who's needed with Kang out. Practically a perfect season.
6. Bryce Harper, Nats OF.
Someone's trying to make a controversy out of the NL MVP. He has a 1.136 OPS, best since Barry Bonds in 2004. No debate here.
7. Dee Gordon, Marlins 2B.
He's turned himself into one of the best two-way infielders around in his home state, providing beleaguered Marlins fans something to cheer about in a year of injury and disappointment. He's on his way to leading the NL in hits (190) and has a shot at the stolen-base title (he is 53 to 57 for idle Billy Hamilton) and perhaps the batting-average title (.332 to .339 for Harper), and one competing coach opines there's no match defensively at second base, either. As his longtime agent Rick Thurman pointed out, just imagine if he started seriously playing baseball sooner than his senior year in high school. This winter the Marlins will try to lock him up. As a plus, he's a fine young man. The Miami Herald wrote about how he aims to honor his deceased mother, who was murdered when he was a young boy.
8. Sandy Alderson, Mets GM.
He had the best deadline performance in the NL, making the big Cespedes deal after the Carlos Gomez deal didn't work out, and also bringing in Kelly Johnson, Juan Uribe, Addison Reed and Tyler Clippard. Between all the injury returnees, the Mets turned into a new team in the second half. One communication quibble: Manager Terry Collins and the Mets dugout appeared not to know Wilmer Flores was being traded (before the Mets decided to back out of the Gomez deal) and the Matt Harvey situation probably should have been cleared up sometime before agent Scott Boras sent him an August email (though there probably was never an easy solution to the playoff innings, which could range anywhere from five to 50). Still, NL Executive of the Year material.
9. Kris Bryant, Cubs 3B.
In this year of the rookie, to no one's surprise he's been the best one. Bryant shrugged off his slightly late start to do whatever figured he'd do (and more). He's the slugger folks expected, but he's also a much better all-around player. The setter of Cubs rookie records for home runs and RBI could still try to challenge the timing of his callup, though there's no precedent to suggest the Cubs couldn't wait until the very date they delayed his free agency by a year until after 2021, which is what they did. Can't blame them a bit for wanting to keep this guy around.
10. Bartolo Colon, Mets SP.
He not only gave the Mets wins and innings, he provided great entertainment with his hitting, baserunning and even fielding (the behind-the-back flip was a classic). He also set the record for scoreless innings in his age group, and earned another year (or two) somewhere, though maybe not with the pitching-rich Mets again.
11. Jeff Banister, Rangers manager.
He told his troops they can't hang their heads the day Yu Darvish went down in spring training, and they actually bought it. This old rookie manager is a real find for the Rangers. GM Jon Daniels couldn't believe how great Banister was in the interview, and he called Pirates manager Clint Hurdle, Banister's boss in Pittsburgh (and Daniels' old hitting coach in Texas) and basically asked, "This guy seems too good. What am I missing?" And the gregarious Hurdle responded in his own inimitable style. Hurdle bellowed, "Damn it, J.D. I didn't send you a boy. I sent you a grown-ass man!"
12. Josh Donaldson, Blue Jays 3B.
The pickup of the winter also is currently the slight front-runner for AL MVP. And that's not easy in the Mike Trout era (Trout should be second this year). Beyond all the monster stats, Donaldson's brought an intensity to the Jays, who feature a much improved clubhouse all around.
13. Paul Goldschmidt and A.J. Pollock, Diamondbacks 1B and CF.
These two all-around stars quietly have led the top offense in the NL. Can't blame Arizona for wanting to lock up Pollock and extend franchise player Goldschmidt further. Both were acquired in the extremely fruitful 2009 draft, Pollock as their second pick in the first round and Goldschmidt in the ninth round.
14. Buster Posey, Giants catcher.
The underappreciated all-time great continues to hit like few catchers in history. While he very likely isn't going to match Derek Jeter's fourth World Series title in his first five seasons, he's having a career most like Jeter's, which isn't a bad compliment.
15. Anthony Rizzo, Cubs 1B.
He catches balls while standing on the tarp, he does interviews while eating hot wings and he leads this great young Cubs team. He's also one HBP away from becoming the second 30-30 man in history (30 homers, 30 HBPs) after Don Baylor.
16. Dayton Moore, Royals GM.
The winning formula of drafting/development, defense and bullpen has helped win the first division crown since 1985 and made the Royals the best team in the American League this year (though the Blue Jays have quietly closed to within two games now) after they won the AL pennant in 2014. What did PECOTA predict? 72 wins? Silly. (And Bill Pecota was a Royal, too.)
17. Carlos Correa, Astros SS.
He's another great one in the year of the rookie. Folks have said he's the next A-Rod in terms of ability, and that seems about right.
18. Jake Arrieta, Cubs SP.
He's been practically unhittable in the second half. In any other year, he's the Cy Young winner. The Cubs determined early on to let him be himself, and if that meant throwing across his body so be it, while Orioles people tried to discourage that. The only change Cubs development people made was to move him a few inches on the rubber to the third-base side. Arrieta deserves a lot of the credit, too, as he's a guy who works every day to get better.
19. Ray Searage, Pirates pitching coach.
He must be doing some sort of magical work over there, because every pitcher who goes there starts to thrive. Sometimes it's immediate, too, as was the case with Happ. "He's good because he listens to them first, watches them next, then shares his observations," Hurdle said. "He cares." Hat tip to his partner in the pen, Euclides Rojas.
20. Lorenzo Cain, Royals CF.
Brandon McCarthy remarked via Twitter that Cain would become the first center fielder to catch a ball in foul territory, and that says it perfectly. Quite likely the best defensive player in the game (though Andrelton Simmons, Manny Machado and Adeiny Hechavarria aren't bad).
21. Paul Molitor, Twins manager.
Nobody thought the Twins would go anywhere beyond the Twin Ciities this year, especially after they started 1-6 and lost Ervin Santana for 80 games right at the start of things. And many also wondered whether a Hall-of-Fame player could manage (the last good one was Frank Robinson). He proved everyone wrong.
22. Alex Rodriguez, Yankees DH.
He's not only the Comeback Player of the Year but he somehow resurrected a reputation that badly needed it. While compromising and giving the milestone home-run money to his charities wasn't his idea, he readily agreed. It was the right thing to do since it's debatable whether it was earned completely legitimately.
23. Chip Hale, Diamondbacks manager.
He's got the Diamondbacks hustling and playing like few others. All around, it's a terrific crop of first-year managers.
24. Marcus Stroman, Blue Jays SP.
When he suffered a torn ACL during pitchers' fielding practice in spring training, no one gave him a chance to come back. And yet he made it back in time to become a major factor in the regular season, thanks to his rigorous training program at Duke, where he also worked to get a degree while he was at it. He's one big reason the Jays look like a World Series favorite.
25. Francisco Cervelli, Pirates C.
Replacing his old teammate Russell Martin in Pittsburgh, Cervelli stepped up his game big-time. He stole more strikes with his terrific pitch framing than just about anyone else while putting together a terrific offensive season. Martin was very good in Toronto, but for about $80 million more in guaranteed dollars (over five years).
Around the Majors …
The D-Backs' winter goals are to add a top starter (though maybe not the very top starter) and a top closer. There is said to be some money to spend for a pitcher, though not David Price type of money … One big boost: In his return from Tommy John surgery, Patrick Corbin looks like his old self.
People with the Braves love Craig Kimbrel, so a return to Atlanta at some point shouldn't be ruled out. That deal was only done to be rid of Melvin Upton, Jr. (then B.J.). Atlanta's bullpen was one of the worst in the game this year, though it should be boosted by a return to health for Jason Grilli, Chris Withrow and Shae Simmons … The Braves have been publicly linked to Cespedes. But while they very much like Cespedes, they aren't deluded to the point of thinking that's realistic for them … The Braves have showed a willingness to trade almost anyone. One guy who isn't going anywhere, sources say, is Freddie Freeman.
The Orioles figure to lose top free agents Chris Davis, Wei-Yin Chen and Matt Wieters via free agency. But Darren O'Day might be a tough one, too. Based on his performance in recent years, it's possible he could get a closing job elsewhere. The Orioles made a pass at a new contract for O'Day, but they will of course not extend a qualifying offer to him and he may wind up finding a closing job elsewhere. O'Day, who has been brilliant since coming to the O's after being discarded by the Angels and Mets, should find the market to his liking. He will close while Zach Britton (lat) is out, and it could be like a tryout for future teams. The Orioles are pleased with Brad Brach and former shortstop Mychal Givens, and they could possibly replace him in the set-up role … Orioles people will extend the qualifying offer to Chris Davis and Wei-Yin Chen, who have had terrific years, but realistically probably can't afford to keep them. They are said to be rethinking a qualifying offer for Matt Wieters after a rough season following Tommy John surgery. He's a switch-hitting backstop with power, and if he has no qualifying offer attached (it's not decided) he could still score big as a free agent … Hunter Harvey experienced elbow discomfort after attempting to throw following a nine-week rest and will seek second opinions, including one from noted surgeon James Andrews … The Orioles have made a lot of great moves over the past few years (GM Dan Duquette was a deserved Executive of the Year in 2014, and the team consistently exceeded expectations until this year; they just got back to .500 after sweeping the Nats this week), but there has been serious angst over the decision to let Arrieta go in a trade. They knew he had serious talent, but Arrieta was up and down between Triple-A and the majors for four years, and some Orioles people wondered if he had a confidence issue since he seemed to be much better with the bases empty but would let things fall apart in games more than they thought he should have. Many there grew frustrated by their inability to unlock his talent. Anyway, there's reason to believe he never would have reached these heights with them since he spent parts of those four years with the Orioles in the majors and it wasn't happening. Interestingly, his ERAs his four years with the Orioles began with a 4, 5, 6 and a 7. In Chicago, his ERA was in the 3s the first year, the 2s last year and is 1.88 this year. So he's run the ERA gamut from 7 to 1.
The Red Sox hope Clay Buchholz can throw a bullpen session Sunday, and if he looks like he's en route to health they will pick up his $13-million option. He will not pitch again this year, however … Boston will be mainly in search of pitching this winter, regardless … New GM Mike Hazen had been in the mix for the Brewers' job that went to David Stearns and had been in the running in LA/Anaheim, as well. Baseball president Dave Dombrowski will have the final say on all baseball matters, but word is Dombrowski is very impressed by the front-office personnel in Boston. And the elevation of Hazen reflects as much.
The Cubs had nine players reach double digits in homers for the first time in their long history, and MLB Network noted that the average age of these homer hitters is 25 … Epstein, citing how Maddon encourages rest and often discourages extra batting practice, says he is impressed by "how he manages for the length of the season," and suggested that's a key to their strong August and September … Bryant's all-around play has been an eye opener for many, but his surprising speed is something Cubs people always noted. "It's easy for people to look past that because the home run totals in the minors were so big," Epstein said. "But one of the things that stood out for us was his athletic ability." … Epstein on Rizzo: "He is the definition of valuable to us. He really established the ton for us last year." Epstein cited the time Rizzo threw down his glove and challenged the whole Reds team to a fight last year as a game changer.
The White Sox quietly and casually floated the idea of offering a deal in the range of the $80-million-or-so contract upon acquiring Jeff Samardzija at the Winter Meetings, or about what he turned down from the crosstown Cubs a year earlier. But Samardzija declined to talk contract heading into his walk year. Samardzija didn't have the year he wanted to have, and word is he was very disappointed not to have been traded at the deadline. A trade to contender would have meant 1) a chance at the postseason, and 2) no possibility of being weighed down by a qualifying offer. However, with the White Sox going on a seven-game winning streak just before the deadline, and having the second best record by one-half game to the Yankees in the period of a month leading up to the deadline, owner Jerry Reinsdorf (and perhaps other ChiSox people) were said to be reluctant to repeat the infamous White Flag trade of 1997. Samardzija stayed in Chicago. He had a 3.94 ERA at the time, but tacked on a run to that with his awful second half … The White Sox have to look at what to do about at least third base, shortstop and catcher going into next year. Tyler Saladino, a terrific gloveman, could handle shortstop defensively. But they have no definitive answers for any of those spots.
Though the year has been nothing short of a disaster, the current belief is that Walt Jocketty keeps his job as GM. He probably wouldn't have said aloud how much he wants to keep it if he didn't have a pretty good he was.
Some may wonder now whether Francisco Lindor, who's been brilliant since his mid-June promotion (.317 batting average, .832 OPS and lots of energy), should have been promoted earlier. But GM Chris Antonetti said, "He came up at a really good time. The time in the minors was well served. Who knows? If we had done it earlier maybe he wouldn't have had the same success." Lindor didn't look nearly this good in the minors, and Antonetti said everyone throughout the organization felt they should wait until they did. Antonetti also recalled promoting Brandon Phillips before his time, and "it set him back two years," he said. Antonetti said the timing of the promotion had nothing to do with his Super Two status, pointing out both Trevor Bauer and Danny Salazar will likely be Super Two arbitration players this winter … Lonnie Chisenhall volunteered to do "anything to help the team," and his move to the outfield has been a huge boost … Josh Tomlin has been brilliant in his return after two injury-plagued seasons, with a 0.74 WHIP so far. And his teammates are thrilled, as Tomlin is beloved in the clubhouse … The way they are going now, if the Indians had 10 more games at the end of the season they'd probably be a playoff team.
The Tigers haven't said what it was about young reliever Bruce Rondon's "effort level" that caused them to send him home for the season. But it certainly doesn't look good for him, as no one needs pen help more than they do … It was interesting to see manager Brad Ausmus mention he isn't sure they didn't do the right thing releasing Joba Chamberlain, who is now in the Royals' pen.
A.J. Hinch has done a terrific job, but now he has to keep his very young team focused. A team that seemed a sure bet to make the postseason is only a game up in the wild-card standings now … The Astros' minor-league teams all thrived. Fresno (Triple-A) won the PCL and Greenville (Class A) the Appalachian League. Corpus Christi, Lancaster, Quad Cities and Tri-City all made the playoffs.
If one team can absorb the loss of a star reliever such as Greg Holland, it is the Royals, who have the deepest bullpen in baseball, and Wade Davis to close with his 0.86 ERA. With a significant tear, there seems to be no alternative but Tommy John surgery for Holland. While it's hard to envision Kansas City simply tendering him a contract since he's likely to miss almost all of next season, if not all of it, but they could possibly work something out for him over two years … The Royals struck out less than anyone since 1950, reports Jeff Passan of Yahoo! via Jeff Sullivan of Fangraphs … Kendrys Morales (105 RBI) is having a second career year, making his $17-million, two-year deal look like a bargain … The Royals have something special going.
Billy Eppler, who finished second to Jerry Dipoto three years ago, seems to remain the favorite for the GM job, though Eppler also has interviewed with the Mariners. Kevin Towers, who worked with Eppler with the Yankees between GM jobs, also has been connected recently to the Angels, as has Rangers exec Thad Levine. It is believed Mike Scioscia is on board with Eppler if that's the way they go. Owner Arte Moreno remains a wild card, of course … Andrew Heaney's idea to sell 10 percent of his future earning for $3.4 million to Fantex could be the wave of the future. The deal, first reported by Ken Rosenthal of FOXSports.com, should inspire others to do the same in attempt to ease the risk of being so dependent on one's arm. It may be late for this year, but this could be reasonable idea for Matt Harvey, so he wouldn't be risking everything by continuing to pitch.
The Dodgers used to have an outfield glut, but now the crowding is on the infield. With Corey Seager looking like an instant star and Howie Kendrick recently coming back, they have five starters for three positions (second, short and third), with also Jimmy Rollins, Justin Turner and Chase Utley. It's a very sensitive situation, but here are a couple things believed true: Seager, who's been the team's best hitter lately (.353 with a 1.060 OPS), will play a lot, whether that's at short or third or some combination thereof (it is tricky because Rollins is a switch hitter and it isn't like Turner is weak against righties or Seager is weak against lefties), and Kendrick won't be caught in a strict platoon with Utley ("Kendrick has had the better year," said one person familiar with their current plans) … Home field is no small concern, as the Dodgers don't mind the idea of starting at home with Greinke and Clayton Kershaw pitching the first two games (in some order).
Current manager Dan Jennings, who took the job as a favor but now loves it so much that he wants to remain, has been told he won't be returning to manage next year and that they want him back in the front office, as the GM again. Jennings has kept the team positive through tough times, but owner Jeffrey Loria is said to want an experienced manager to take over. He's been told the team has begun interviewing his replacements but he was taken aback when told by a reporter from CBS Sports that Manny Acta has been interviewed — Jennings was not in on the interview even though he's expected to be back as GM, as he remains focused on the field at the moment — and Jennings joked, "That doesn't bode well for me." … There has been some tension between Loria and Jennings since Jennings became manager, but team higher-ups still expect Jennings, who is signed through 2018 at about $1 million a year, to take his old job back. And it is far from a certainty they'd even give him permission to talk to a different team about a GM job (though there have been reports of interest elsewhere) … The Marlins are just getting started in their search, as they are expected to conduct an extensive managerial search … If there is tension, part of it may stem from front-office changes that saw some of Jennings' friends, including Marty Scott, removed. Assistant GM Mike Berger has absorbed the GM duties while Jennings was in the dugout, with Jeff McAvoy's role also expanded and a Berger associate Marc DelPiano hired to replace Scott, who was offered another job in the organization … Before Jennings accepted the challenge to manage with the team at 16-22, the managerial job was offered to someone else from outside the organization, though it isn't known who that person is. That person quite obviously turned it down … Larry Bowa, who was interviewed when Mike Redmond got the managerial job, could receive some consideration. He certainly would fill the preference to hire someone with experience … Bud Black was contacted at some point, according to Miami radio person Andy Slater (@AndySlater) from 940-AM WINZ … J.T. Realmuto, the Marlins' young catcher, is winning admirers, especially for his athletic ability … Loria recently rebuffed an inquiry from an interested party in buying the team, saying he had no interest in selling at present. Word is, too, Loria has rebuffed many interested would-be buyers over the years. There's speculation that after the 2017 All-Star Game in Miami, he could reconsider, but he hasn't said that for sure. As one person familiar with the situation put it, "It would shock the hell out me if he was selling."
Joe Mauer's 43-game streak of reaching base is the Twins' record, one more than Bobby Allison had in 1961, according to MLB Network. He's also more than halfway to Ted Williams' record streak of 84 games … Since his callup July 2, Miguel Sano leads all rookies with 17 home runs and a .563 slugging percentage.
Some may view Milwaukee's hiring of 30-year-old David Stearns as a reach, but he has several big fans. Indians GM Chris Antonetti says, "I think David wil do a great job. He's very bright. He's a good person. He's very motivated." Astros scout Charles Aliano said, "David is an excellent listener who will have success due to his ability to not just read into the numbers but most importantly has a good feel for people. He's truly a young executive on the rise who will do a great job managing people — a great hire by (owner) Mark Attanasio." He also had the endorsement of commissioner Rob Manfred, according to Murray Chass. Milwaukee is probably a good place for a 30-year-old to start due to limited media, a patient, supportive fan base and the presence of old hand Doug Melvin, the outgoing GM … The Brewers also interviewed the Rangers' Thad Levine, the Rays' Chaim Bloom, Hazen, the Pirates' Tyrone Brooks and the Athletics' Dan Kantrovitz for the job … By hiring Stearns, the Brewers now have the distinction of having the youngest-looking GM and player. Stearns looks slightly younger than his 30 years; right-handed pitcher Zach Davies, 22, looks about 14.
The Mets are planning for now to employ their four kid pitchers — Matt Harvey, Jacob deGrom, Noah Syndergaard and Steven Matz – as their playoff rotation, but they understand that Harvey may not go the distance should they make it to the final (or semifinal) round. They think they are in decent shape on the others in terms of innings, and Bartolo Colon and Jon Niese give them decent fill-ins. As far as the rotation, they'd like to get Noah Syndergaard at home, as he's been much better at Citi Field …. There's a lot of blame being thrown around, and it's become quite a dustup in New York, but it was probably only going to be easy if the Mets didn't make the playoffs. They needed Harvey in the regular season, and there's also no way to know how many innings they're going to need in the playoffs from him. Could be five, could be close to 50. Assuming it's nowhere near 50, Colon could step in for Harvey in later rounds … Manager Terry Collins, who deserves Manager of the Year consideration and generally has done a terrific job limiting controversy with the Mets, might want to tone down his talk on this subject. He seems quite upset about the Harvey situation, mentioning how old-school he is. And maybe Collins won't recall this, but it was him who mentioned back in spring training that he understood Harvey might have to be shut down in September. He didn't say that with any seeming bitterness, either. He said it rather matter-of-factly. But now that the time is here, and he's missing some games and some innings, Collins sounds like he's coming unglued at times. The pressure has to be intense, knowing your job probably depends on making the playoffs isn't easy, but he needs to hide his emotions a bit at times. Says a rival GM, "He has lost control of his emotions and lost sight of his reasons for his job to begin with. He is the manager of the big-league club, an important job but just one of many jobs in an organization. And he is acting as if his job is more important than anyone else's. Also he is carrying around so much bitterness. Where is that coming from?" … The Mets had Michael Conforto higher on their draft board than Kyle Schwarber, who they had second among college hitters. Both look like stars in the making. Schwarber went No. 4, Conforto went to the Mets with the No. 10 overall pick … Cespedes huddled with his agents after he told Marly Rivera at ESPN Deportes that he seeks a free-agent deal of at least six years, and he was reminded that it's better not to put any expectations, or certainly limitations, on his goal. Some teams undoubtedly assumed that his comments meant he might accept a six-year deal. Of course, he didn't put a dollar figure on it. But he declined to talk at all the next day and it won't happen again … One NL Manager, asked to pick his World Series team, named the Mets. That said, he added one caveat: the bullpen. "They don't have a true lefty," the manager mentioned. There are other concerns there, too. Tyler Clippard's balky back is one of those concerns, but they hope a couple more days of rest may do the trick.
Joe Girardi just may like making pitching changes. The Yankees used seven pitchers in a shutout recently. And Girardi removed Ivan Nova down 1-0 in the sixth of a must-win game vs. the Blue Jays to run through rookies James Pazos and Caleb Cotham and the returning Andrew Bailey, who would allow the grand slam to Russell Martin … The Yankees don't think Masahiro Tanaka's leg issue is anything serious, and they are planning to use him to start the wild-card game, assuming it's needed. Tanaka, incidentally, faced the toughest hitters in baseball by OPS, Passan reported … RIP Yogi, who was one of a kind. And don't forget, if you get to the fork in the road, please take it.
Very nice touch to bring back Barry Zito to face his old A's teammate Tim Hudson Saturday. Mark Mulder will attend.
Angels exec Matt Klentak and Royals exec J.J. Piccolo are names still connected to the open GM job, but it isn't known who became the first interview for the gig. New club president Andy MacPhail said they are in the "early stages" of the search, with one person interviewed so far. MacPhail heads the business department, as well, so the GM, while having less than traditional GM power, will still very likely have decent power … People around the club say MacPhail has seemed "energized" since taking over. And word is, he wasn't merely paying lip service when he said the decision to let go Ruben Amaro as GM was much harder than he first envisioned … Phillies people are generally pleased with their take at the deadline, with catcher Jorge Alfaro and outfielder Nick Williams seen as top hitting prospects, and pitcher Jerad Eickhoff and Jake Thompson impressing thus far. The Phillies' system looks much better than a year ago, and so do their prospects for the future. A lot of the kids are impressing, including also Aaron Nola and Adam Morgan, who had been a big prospect but is returning from injury … The Rangers were the top team for a while for Cole Hamels, but if anyone was second, it may have been the Giants. The Dodgers were in there, too … Assistant GM Scott Proefrock, a respected old pro, should stay on in some capacity … Aaron Altherr has a lot of talent, but one NL scout worries that "his swing looks a little long" … Of longtime Phillies slugger Ryan Howard, MacPhail says, "I anticipate he'll be in Clearwater." But if they can get him healthy and back on the field, perhaps they can trade him to an American League team, which is where he needs to be at this point. For all the comments about how Howard needs to go, he still leads the team in home runs, RBI and extra-base hits. But of course he should be with an American League team, as he is really a DH at this point. The Orioles and Rays have seemed like obvious potential landing spots for a while, and it is believed Howard would approve either locale (he has a home in Clearwater, Fla., not far form the spring-training site and Tampa's home park) … The Phils had talks last winter with the Royals about both Howard and Marlon Byrd, but KC's free-agent deals with Kendrys Morales and Alex Rios killed both those possibilities … The Phillies view aging former star Carlos Ruiz and Cameron Rupp as backups going forward but they have two decent hopes for catcher: Alfaro, who's good enough to play right field in the majors if he doesn't turn out to be a catcher, plus Andrew Knapp, who hit .360 at Double-A Reading … The Phillies tried twice previously to trade for Dee Gordon, son of former Phillie Tom Gordon, and also wanted to draft shortstop phenom Nick Gordon, who went one pick earlier to the Twins. They can't be too upset to have settled for Nola, who has looked terrific … Giving manager Pete Mackanin the full-time job with a contract through next season was the right thing to do, but the one-year deal looks like a fairly lukewarm endorsement. It makes sense, though, since the new GM should have his say soon enough. Mackanin, 83-99 as an interim in Pittsburgh, Cincinnati and Philly, won his debut as a full-time, full-fledged manager.
With Byung-ho Park now hitting 50 homers in consecutive seasons for the Nexen Heroes, he should clean up coming over here. Jung Ho Kang's performance is a big plus for him. too.
The Cardinals didn't win a game after Yadier Molina went down in last year's playoffs. So the loss of Molina (thumb) would be viewed as devastating, and rightfully so.
While Jedd Gyorko has hit well and fielded adequately since switching over to play shortstop, few see Gyorko as a long-term solution at shortstop … There's been speculation the Padres may nab broadcaster Don Orsillo, who's non-renewal by the Red Sox created quite a stir in New England (understandably so), and it makes sense. There's a connection as Padres president Mike Dee used to work in the Red Sox front office.
The Giants are among many teams looking at outfielder Eddy Julio Martinez, the talented Cuban outfielder who is currently working out for clubs in the Dominican. Martinez, who's been compared to Andruw Jones, is still conducting workouts. The rival Dodgers also are strongly in the mix … The World Champions barely had a chance due to all their injuries, and will be without four key position players for the rest of the year: Hunter Pence, Norichika Aoki, Gregor Blanco and Brandon Belt, with the latter three suffering from concussions.
Ex-Angels manager Jerry Dipoto and Yankees assistant GM Billy Eppler are believed to be the finalists for the GM job, with second interviews coming. Mariners interim GM Jeff Kingston, Blue Jays exec Dana Brown and others have been interviewed at least once … There was some suggestion Lloyd McClendon was safe when GM Jack Zduriencik was let go, but that will likely depend on who is hired as GM … Hisashi Iwakuma should do nicely in free agency, but due to his age, the deal isn't expected to be for a very long term … Franklin Gutierrez is having an overlooked terrific season. After missing more than a year with a serious gastro issue, he returned in a huge way this year. He still can't play every day due to his disorder. But when he plays, he is super-productive. He has hit 15 home runs in limited at-bats and has a .687 slugging percentage. And he plays at Safeco, making it doubly impressive.
Mikie Mahtook is impressing in the early going. He's already had a five-hit game in his 28th career game. Ted Williams didn't have a five-hit game until his 819th game, via Rays PR (@HallerDave) … Year in and year out, pitching coach Jim Hickey does a marvelous job. This year they were without Alex Cobb, Matt Moore and Drew Smyly for all or most of the year, and yet the Rays' pitchers continued to thrive … Brad Boxberger's comment about being overused was interesting because you don't see young players say those kind of things publicly. Boxberger, an All-Star based on his fine first half, has struggled in the second half … There's a key election runoff this November for St. Pete City Council between Lisa Wheeler-Brown, who favors a new stadium, and Winthrop "Will" Newtown, who does not. If the person who favors a new facility wins, that could give a boost to owner Stuart Sternberg's bid for a stadium to replace the outdated Trop.
Incoming Blue Jays president Mark Shapiro remains with the Indians for a couple more weeks, but he will bring back Alex Anthopoulos as GM, no surprise considering the job Anthopoulos has done … It was Shapiro's predecessor Paul Beeston's rule not to go beyond five years on free-agent deals, but the new regime understands it will take more than five to keep ace David Price, and it won't have such a rule. It does appear they will give it a shot — though it won't be easy to beat the Dodgers, Cubs, possibly Red Sox (new president Dave Dombrowski acquired Price for Detroit) and others.
The Nats-owning Lerners are said to be quite upset about the abject disappointment that the 2015 Nats have become. No one is completely safe, but the suspicion still is that GM Mike Rizzo probably survives this mess to go another year … Jonathan Papelbon earned that ejection Wednesday for throwing up at Manny Machado, and then hitting him in a game Machado hit the game-winning home run. "Coward stuff," Machado called it. We agree. From start to finish, it's been some season for the Nats.
CommentsWrite a Reply or Comment:
You must be logged in to post a comment.