November 11, 2015 11:06 AM ET
BOCA RATON, Fla. — The Dodgers are targeting their own free agent Zack Greinke as their top starting pitching target, with David Price viewed as a very close second choice, a worthy fallback option indeed who could get $200 million, or more. The odds are that LA, with its seemingly limitless coffers, will reel in one of the top two free-agent pitchers, but if say the rival Giants and Cubs win those two pitchers' services, the Dodgers may not necessarily opt for the next highest-priced pitching talents on the market.
It should come as no surprise Greinke is their No. 1 option, as he did post a league-best 1.66 ERA for them, while Price is a natural second choice considering his own superb resume and strong connection to Andrew Friedman, LA's president of baseball operations. For now, at least, they seem almost totally focused on those top two, though they are looking at a few of the other pitchers but won't necessarily just look to take the next biggest name available.
Aiming high makes perfect sense for the $300-million team that's built to win. And so do their intentions at second base, where they are considering Daniel Murphy and a return of Chase Utley as a couple of the main options.
While a return of Howie Kendrick, who played over Utley, also makes sense, they wouldn't mind a left-handed option who can play both second and third. Murphy, who eliminated the Dodgers with the shocking game-winning home run in Game 5 of the NLDS off no less than Greinke, would seem like a perfect fit. Interestingly, the two teams Murphy fits bets may be the Dodgers and crosstown Angels.
While the Dodgers' player options are mostly big names and stars, their managerial search has featured an eclectic mix of former big-league managers, coaches and even a college coach. To that end, Davey Martinez, the longtime right-hand man of Joe Maddon, arrived here late Tuesday to meet with Dodgers brass Wednesday. Martinez is the last of the first round of interviewees, with the Dodgers expected to call back three or so candidates for second interviews.
"It should be a lot of fun. I'm looking forward to it, no question about it," Martinez said in the lobby of the Boca Raton Resort here at the GM meetings. "I think they're really good. They've got some good pitching, veteran players who are really good and young talented players there."
Dave Roberts, the Padres' coach, seems like a decent bet to be one of the callbacks, as word is he made a big impression in his interview. Darin Erstad, the former Angel and University of Nebraska head coach, would seem like an outside-the-box choice, especially for baseball's best-paid team, but he is also believed to be under serious consideration.
Ron Roenicke and Bud Black, two former Angels coaches and former big-league managers (Roenicke with the Brewers and Black with the Padres), would seem to be safer choices and would not shock anyone if they are hired. Gabe Kapler, the Dodgers farm director originally viewed as the favorite for the job, could still get it, as well, though there seems to be more buzz about others now.
If you notice a theme, you aren't alone. Dodgers people love Maddon, so perhaps it's no coincidence that Martinez, Roenicke, Black, Kapler and Erstad all have ties to Maddon (though it's fair to say that all but Erstad have ties to Friedman, too). LA surely would have loved to have Maddon himself, but it's possible that Friedman didn't want to risk starting a war last year by taking Maddon from the Rays after it was Friedman's decision to leave that triggered Maddon's out clause in the first place (Friedman also may have felt Don Mattingly deserved a chance, though he declined to comment on his reason for passing on Maddon).
Among the other candidates, Kirk Gibson, the 1988 Dodgers hero, and Tim Wallach, a longtime Dodgers coach, are being viewed as long shots, with Wallach headed to the Marlins as Don Mattingly's bench coach assuming he doesn't get the Dodgers job.
Whoever does get the gig should inherit an excellent team, and perhaps the NL favorite if they either return Greinke to the fold, or import Price. They are looking at some of the other pitchers, as well, with Ian Kennedy a possible mid-rotation option for them. But Greinke and Price are the main game for now.
There will be keen competition for both pitchers, of course, with the Giants, Cubs and Red Sox seen as some of the main competitors (there obviously could be many more for such great talents). The Giants are keeping things close to the vest this time, but word is going around that they love Greinke, who opted out with $71 million and three years to go and instead will seek a deal of at least five years, and maybe more, with a selling point that he will wear well since he can win pitching in the low 90s thanks to pinpoint control, amazing movement and precise game plans.
Price, who also has Cubs connections, with Maddon managing there now, is also a target of the North Siders and may interest the Giants, Red Sox and some others, as well. While Greinke allayed any big-market fears by thriving for both teams in Los Angeles, Price may make more sense for the Red Sox since he's been a career American Leaguer and was previously acquired by their new baseball leader, Dave Dombrowski.
In any case, it's hard to see the Dodgers not coming up with one of those top two pitchers.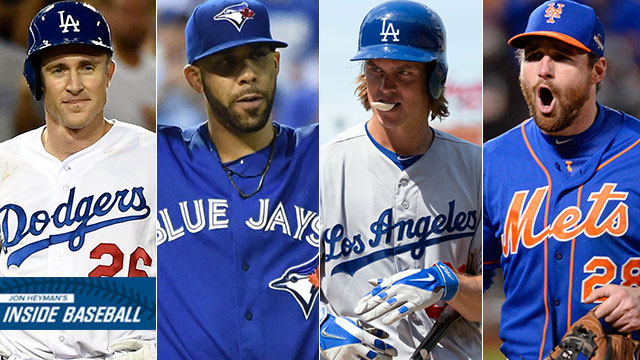 More Inside Baseball…
They seem intent on acquiring a closer, and with so many available in trade and a nice stash of positional players, the smart money says they do … Matt Williams will be their third base coach, as John Gambodoro first reported.
They're interested in A.J. Pierzynski. And while the qualifying offer diminished their interest in Matt Wieters, it's possible they still consider the Georgia Tech product … The Braves are also looking at Chris Iannetta.
If they can't sign Chris Davis, Mike Napoli could be a possibility, though Napoli may not want to wait to see what Davis does. GM Dan Duquette has been a Napoli fan … The Orioles bid on Byung-ho Park … One competing GM opines that Wieters should take the qualifying offer since he could go back to Camden Yards and put up a more typical season. He still seems more likely than not to decline though … The under-publicized Wei-Yin Chen is drawing vast interest.
The Red Sox are said to have terrific prospects, which could aid them in their pursuit of pitching. While they don't proclaim anyone as untouchable, rivals suggest they'd prefer not to trade Yoan Moncada, Andrew Benintendi, Anderson Espinoza and Michael Kopech … The Red Sox met with Joakim Soria's reps Oscar Suarez late Tuesday. Dombrowski signed him for Detroit. That looks like a potential fit, though they are casting a wide net for relievers … Dombrowski said the meeting with Hanley Ramirez here went "great" and his mindset and shoulder are in good shape. But of course they are taking a wait-and-see attitude. Joel Sherman of the New York Post first reported the meeting. Ramirez lives in the Fort Lauderdale area, about a half hour away from the GM meetings in Boca Raton.
The Cubs still like Jeff Samardzija and aren't ruling out a return to the North Side. Samardzija had his best season there. They offered him $80-85M two years ago, and that seems like a ballpark offer now (it would be a tough sell for the Cubs at least to offer less now that he is a free agent) … Besides a starter or two, the Cubs main needs are for a center fielder and pen help.
Samardzija seems likely to be positioned by his agents as the fourth choice among starting pitchers — behind Price, Greinke and Johnny Cueto — with the goal of a long deal that could reach nine figures due to the decided lack of innings on his arm. His market may be better than believed. He will not be back with the White Sox, however … Nice to see Rick Renteria get the bench coach job. As the Cubs would admit, he did nothing to deserve being fired as Cubs manager a year ago.
The Indians are talking about Carlos Carrasco and Danny Salazar with teams. One team that matches up well with them is the Diamondbacks, who have spare infielders and outfielders, but there isn't thought to be anything close.
Detroit is one of a half dozen teams said to be talking about Craig Kimbrel. There is a natural inclination toward free agency over trades, and ex-Tiger Soria is someone they're talking about, too. The player they received in trade for Soria, JaCoby Jones, is very talented but just got a 50-game suspension for marijuana use … Mark Melancon could be a fit for them, too.
Houston is weighing its corner infield situation, as Chris Carter and Luis Valbuena were among their all-or-nothing set. Napoli may make sense for them … Jed Lowrie is said to be available … Folks expect free agent lefty Scott Kazmir to go elsewhere … The three lefties in Houston's pen — Tony Sipp, Joe Thatcher and Oliver Perez — are all free agents. So they seek replacements.
Kansas City seems to be thinking more along the lines of a three-year deal for Alex Gordon, and with him doing a team-friendly deal last time, it seems like there's a decent chance they'll lose him. The game's best left fielder should be able to get five elsewhere, so even if KC stretches it to four, it might be tough … If Gordon goes, they will need to think about two corner outfielders, though they could go with a Paulo Orlando/Jarrod Dyson platoon for one spot … Ben Zobrist is said to have 20 teams interested (including the Royals). But realistically, he will be elsewhere, as his price will be high.
The Angels are said to have some money, so Chris Davis would seem to be a potential fit … Word is, they have interest in Asdrubal Cabrera … New GM Billy Eppler said there's been discussion with David Freese about a return … The Angels would like a lefty hitter to balance things out, but Eppler suggested that was a secondary consideration … He likes their pitching depth, so the likelihood is that they concentrate in positional needs … Albert Pujols (foot surgery) has $165 million and five years to go on his deal.
Ryan Madson, who's from Southern California, could be a fit for the Dodgers, who need pen help … Mat Latos is expected to have to settle for a one-year deal, but one person suggested he "could surprise" and get a multiyear contract. One GM says $8-to-9M for one should do it.
The trade speculation involving Marcell Ozuna is "more smoke than anything," says Marlins baseball president Michael Hill … Starting pitchers are almost their total focus.
Milwaukee is willing to take offers on its players. "We're open to anything at this point," new GM David Stearns said … Orlando Arcia, one of the game's top prospects, is slated to begin next season at Triple-A, Stearns said.
The Mets seem less likely by the day to consider trading one of their young stud pitchers. "We feel we've got a pretty good thing going on," assistant GM John Ricco said … Zobrist makes sense for the Mets, who nearly traded for him last summer before the deal fell through … The Mets at some point will consider Bartolo Colon, though they can't really offer him a certain starting spot, not with Zack Wheeler coming back … Adam Rubin of ESPN New York wondered aloud whether David Wright may need to move across the diamond to first base due to his back trouble and throwing issues … The Mets will consider a return for Jerry Blevins. They need a lefty or two in the pen .. Johan Santana "wants to go out on his own terms," meaning he's shooting for another comeback, says agent Ed Greenberg.
The Yankees are in much better position than they were a year ago, when they needed a shortstop and third baseman and weren't sure whether Alex Rodriguez or even Mark Teixeira had much left. Now they seek incremental improvements, it seems … Zobrist and Martin Prado are two guys they like.

Oakland A's News

The A's placed a bid on Byung-ho Park but were outbid by the Twins. They have first-base needs, and Napoli could make sense for them … Billy Beane said again he has no thought of trading Sonny Gray.
The Phillies are looking to add two starting pitchers … There is dialogue with Jeff Francoeur, who was a clubhouse and otherwise plus last year … The Phillies aren't sure if there's any market for Ryan Howard yet. But new GM Matt Klentak said, "If we ended up playing out the season with Ryan Howard as our first baseman, we're OK with that."
The Pirates bid for Byung-ho Park but were outbid by the Twins. They still have first-base concerns.
The loss of Lance Lynn for 2016 following Tommy John surgery is another tough one. With John Lackey as a free agent, the Cardinals will very likely need to look at external options now … Top prospect Alex Reyes' 50-game suspension for marijuana rounded out an awful couple of days for St. Louis. Reyes could be in the mix for a late-season callup still … The Cardinals bid for Byung-ho Park … Jim Edmonds has a better Hall of Fame case than you might think.
San Diego will explore Ian Desmond as it seeks to improve its shortstop situation … Jurickson Profar is a guy Padres people love (GM A.J. Preller and top scout Don Welke were in Texas when the Rangers signed him), but they need to see how his shoulder is doing first … They have interest in retaining Kennedy, who will almost surely turn down the qualifying offer … The Padres have been connected to Japanese infielder Nobu Matsuda, who can play second base, third base and some shortstop. He hit 35 home runs for Softbank this year and declared his free agency.
Greinke, Samardzija, Mike Leake and others are on their pitching radar … Yoenis Cespedes is thought to be a consideration. The Giants may be primed for a big winter as they gear up for another even year.
Seattle is talking about trades with multiples teams in search of athletic defenders for center field. As Joel Sherman mentioned, Brett Gardner's name has come up. Other lesser players are also in the mix … The Mariners have interest in bringing back Franklin Gutierrez, who had a big year in a part-time role in 2015 … Seattle is also looking at Iannetta.
Brad Boxberger and Jake McGee are available in trade, two more back-end bullpen pieces on the block.
Texas has interest in keeping Napoli. The Orioles, Mariners and Astros are among other teams that fit for Napoli … A possible Rougned Odor extension is on the agenda.
Mark Melancon could be a fit for Washington. It's a surprise Melancon is available, but he's one year from free agency with big bucks to come.