Inside Baseball: Greinke, 16 key players for MLB Winter Meetings – CBSSports.com
Following David Price's big $217 million, seven-year Red Sox deal, as we approach the Winter Meetings which begin Monday in Nashville, Zack Greinke is expected to score big — though not quite that big.
Greinke looks to have an excellent chance to at least set the annual salary record. But while there have been rumors of another $200 million deal out there from the Dodgers, that would seem like a stretch for a 32-year-old pitcher, even one with a 1.66 ERA.
Folks around baseball envision at least a $160 million, five-year deal, and perhaps a little more than that. Maybe the apparent holdup is an attempt to stretch it to six years. One competing GM wondered if he was "holding his breath" waiting for the sixth year. Anyway, that is the current speculation around the game. And of course, if that happens and Greinke gets his way, he could at least get closer to $200 million.
The incumbent Dodgers, who seem to have a limitless budget, are seen as the probable favorite, and part-owner Magic Johnson's public proclamation that Greinke's their No. 1 target only solidifies what we already knew; how could the guy whose ERA never rose above 1.97 all year not be their main guy?
The idea Greinke didn't love the clubhouse is so 2014, when the Dodgers were a mass of egos, and it's unreasonable to think he'd change teams over his allegedly not-so-warm feelings about Yasiel Puig. Meanwhile, it is true, folks say, that his wife has enjoyed their time in LA.
Of course, the rival Giants have made Greinke their top target, too, putting the mercurial righthander in an enviable position. Maybe one of them blinks and raises the ante to six years, moving the offer closer to $200 million. Either way, it appears Greinke has a good chance to become baseball's first $32 million man, not bad for a guy who had to be talked back into the game by Royals GM Dayton Moore one spring several years ago.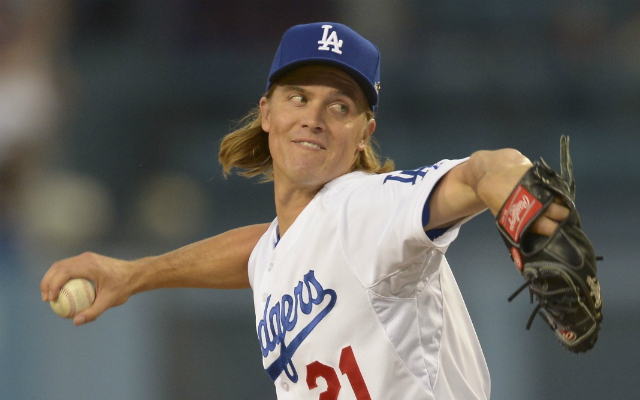 More doings at the Winter Meetings
1. Johnny Cueto
Cueto got that $120 million offer from the Diamondbacks, but his outlook could improve dramatically if the Giants pull a mild upset and win Greinke. It is believed the Dodgers have interest in Cueto as a fallback option, as they liked him at the deadline before deciding they didn't want to part with their very top prospects for him, or anyone else. All the other big-market teams in play for an ace — including the Giants and Cubs — have checked in on Cueto, too (though not the Cardinals, as Cueto had a rough relationship with Cardinal Nation while starring in Cincinnati). Anyway, Cueto looks like the clear second choice now, and he even has the advantages of three fewer years and no draft attachment over Greinke. He was also much better this postseason than folks suggest; he won the winner-take-all Game 5 of the ALCS in dominating fashion, and threw a complete game in Game 2 of the World Series.
Miller has drawn interest from 20 teams, as was reported here first, with the Dodgers, Diamondbacks, Giants, Cubs, Marlins and Yankees among those interested. That's no surprise as he's 25, has three more years to arbitration, has never had an arm issue and is a solid No. 2 type starter in the eyes of many. There was an ESPN report suggesting recently that the Braves may keep Miller, but they are clearly working hard on it. Some say they hear some Cubs buzz, but Jorge Soler, who has been mentioned as a possible target, is actually said not to be a good fit for the Braves, who are covered for years in the outfield corners with Nick Markakis and Hector Olivera. They've talked about Dodgers prospects, asked for Luis Severino (that's a no-go) from the Yankees and focused on A.J. Pollock (the D-Backs have declined so far). Marcell Ozuna could be the start of a package, but the Braves aren't believed to love that match.
This seemed like a longshot when CBSSports.com reported at the GM meetings that the Yankees would be willing to gauge interest in him, and it remains as much. The Yankees are basically seeing how desperate teams may be for a bona fide closer, with the Astros, Nats and Jays the most logical pursuers. The Yankees seek a No. 1 starter, rivals report. So Stephen Strasburg, or if they look young, Lance McCullers, Jr. or Marcus Stroman might be the types of pitchers who would interest them.
The outfield market remains mostly a mystery thus far, with little early buzz about most of the top guys. The Angels, who may have tipped their hand about their love of young defenders with the acquisition of shortstop extraordinaire Andrelton Simmons, make perfect sense. The Cardinals obviously gave up a lot for him in Shelby Miller and Tyrell Jenkins, but they could ultimately be more concerned about rotation or middle-of-the-order worries. No one can defend like this guy in right field, but his biggest attribute may be his youth (he is only 26).
5. Chris Davis
Orioles owner Peter Angelos would love to keep their slugging star, but while they are said to understand the need to raise their payroll, this is a team that's never gone past Adam Jones' $77 million deal, so it's still hard to see them doubling that in a deal. Mark Trumbo was a nice add, but the Orioles still have three positional needs, not to mention rotational needs as well. No team has more big free agents, nor too many bigger ones. The Blue Jays, Cardinals and Red Sox are among others that have been linked to Davis.
While this could be a slow-developing market, everyone had to have noticed the major impact he had on the Mets in the second half. He brings a speed-power combo that is almost unparalleled in the current game. It's also a plus he was willing to play center field, and did it passably, though some are focused on the one World Series misplay on Alcides Escobar's inside-the-park homer. The Giants are the most logical play, but the Angels, Orioles, Tigers and others make sense, as well. And what about the Mets? They don't look like they're spending big bucks anywhere else, so maybe they can get back together with Cespedes.
7. Justin Upton
The star outfield market is a bit crowded, but the big power and youth of Upton should play. It might also behoove him to finally get away from his brother Melvin after watching him struggle most of the past two years. The Giants also have liked him and seem to have money to spend.
While his 2015 year was uncharacteristically bad, scouts and decision-makers generally view him very favorably due to his pristine health, big arm, few innings (he was a reliever first) and competitiveness. The Cardinals, Giants and Cubs are said to be among a long list of teams that have checked in. There was a suggestion there's already a $100 million offer for him, and while that may surprise some (for instance, one interested GM suggested it shouldn't be a long deal due to his '15 performance), he'll do better than his recent numbers would suggest.
The Reds have said they expect to trade him by the end of the meetings, and the Astros and Nats seem like the best matches (though the Jays, Dodgers and many others have shown interest in the game's most dynamic and hardest-throwing reliever). Astros owner Jim Crane is said to be an admirer, for what it's worth.
10. Yovani Gallardo
He's a very solid pitcher who proved he can thrive in the American League with a very nice year for his hometown Texas Rangers. The Orioles, Tigers and Diamondbacks are believed to be among many suitors.
11. Mike Leake
While the Giants haven't yet made an offer, that may be because they are waiting first on Greinke. If they don't get the Dodgers star, they may instead sign two free-agent pitchers, and they have always liked Leake, who knows manager Bruce Bochy from his youth in San Diego. The Diamondbacks are another team with interest, though Cueto appears to be their top choice. He is very reliable, durable and athletic, so he should do well even if he's a fallback choice for some.
12. Darren O'Day
The Orioles have gotten back into the fray, joining the Nats, Dodgers and Braves and forming a nice foursome for one of the game's best setup men. The expectation seems to be that someone will eventually give him the four-year deal he seeks.
13. Wei-Yin Chen
He is said to have a big market. The Orioles love him but probably can't make a play until they see what happens with Davis. The Yankees and many more also are eying the consistent left-hander.
14. Ben Zobrist
The Mets, Giants, Cardinals and Nationals are all said to have made him a priority, meaning he, too, could get four years. The Braves are probably a long shot, and there's no hard evidence yet the Dodgers are in, though team president Andrew Freidman is known to love him. Folks love his versatility, so he'll do well.
15. Carlos Carrasco/Danny Salazar
The Indians might prefer to keep Carrasco over Salazar, as one rival GM says, but in any case they are in decent position by having two of the top three young starters on the trade market. Buyer beware, though, as the Indians have a long track record of making excellent trades. Both these guys have had Tommy John surgery, too.
16. Alex Gordon
The Angels would make sense, as they need a left fielder, especially one who is a lefty hitter and could bat in the middle of the order. They seem to have some interest. The Orioles also like Gordon very much.
Around the majors …
Team
News
Mark Trumbo should mash in Camden Yards. He has averaged 31 home runs per 162 games, playing most of his home games in Angels Stadium and Safeco … There's a lot of work to do, but it's all predicated on the ability to bring back Davis.
Price is a terrific pitcher who at one time or another has led the league in just about everything. The one question might be Boston, a tough town. Price was believed by some to have originally preferred the Cubs, Giants or Cardinals, and they might have been easier fits in terms of personality. Some have struggled in Boston, including Price's old teammate Carl Crawford. But the talent is brilliant, and the smarts are considerable (he's already adjusted to the loss of a mile or two on the fastball) … One reason the Red Sox thought they could go big on Price is that they have so many fine young players and prospects they expect to fill spots over the next five years. Give Ben Cherington credit for compiling an amazing list of young talent … Chris Young is one of the more expensive backup players with his $13 million, two-year deal. But Red Sox people envision him thriving with the Green Monster.
Shelby Miller, Tyson Ross or either of the Cleveland righties would make sense … Kevin Pillar would be a great fit but there is said to be "nothing to that one at the moment." … The plan seems to be to use big-hitting rookie Kyle Schwarber mostly in left field and as the third-string catcher.
Dioner Navarro is a nice pickup after a wasted year in Toronto … Tyler Flowers should get a decent major-league deal elsewhere.
The Indians are among five teams to have called about Pedro Alvarez.
The Tigers will add free agent starter Mike Pelfrey to their rotation with a deal expected soon. Jordan Zimmermann is the big signing, but Detroit needed depth. Zimmermann has a strong no-trade clause as well, with a full veto power for three years and a list of 10 teams to which he can be traded the final two years of his $110 million, five-year deal. The Auburndale, Wis. product wanted to settle down in the Midwest.
They seek back-end 'pen help, with Chapman, Pirates star Mark Melancon, the Phillies' Ken Giles and the Rays' duo of Brad Boxberger and Jake McGee on the radar. Crane's love of Chapman could be a factor … Colby Rasmus' call to accept the $15.8 million qualifying offer surprised some Astros people. But Rasmus truly loves the Astros after uneasy stays with the Cardinals and Blue Jays … Some Houston people espoused bringing in a leadoff type had Rasmus gone … With Chris Carter gone, the Astros could be a fit for Mike Napoli, as could the Mariners, Indians, Orioles and others.
The Angels are said to be making some progress to bring back David Freese, a solid third baseman with a penchant for the big hit. Freese has made sense from the start for them, and the sides have been in touch ever since the team decided not to extend him the $15.8 million qualifying offer. Freese had 14 home runs, 56 RBI, a .257 batting average and .743 OPS in 2015. He has a career OPS+ of 112.
A few teams have called about Yasiel Puig, but the Dodgers' focus now is to "try to reach him" and get the best out of him again. They apparently don't love the idea of selling low … They may more seriously consider trading Carl Crawford or Andre Ethier depending on a late market. The large number of free-agent outfielders may make that difficult, however, especially in the case of Crawford … Dave Roberts struck the right note in his introductory press conference, and it's a plus that he's from Southern California and is a UCLA alum. It also doesn't hurt the Dodgers received nice testimonials from players about Roberts. Dodgers people seem most impressed by his energy and his connection to players … Chase Utley remains on their radar. (Some Dodgers people remain angry about the two-game suspension levied by Joe Torre; for the record, we thought it was light, if anything) … Daniel Murphy doesn't appear to be at the forefront of their talks now … Japanese infielder Nobuhiro Matsuda could fit … Bob Geren is a nice choice for bench coach, too, and the Native San Diegan isn't unhappy to get back close to home.
Shelby Miller is just the sort of pitcher who'd fit the Marlins, but there may not be a match … The Marlins have talked about Ozuna (.789 OPS after the All-Star break) with a number of teams. But there's a problem. They don't have much outfield depth. They could try Derek Dietrich there but don't have an obvious replacement … Roenis Elias never seemed like enough for Ozuna. Taijuan Walker would have made sense, though the Mariners may be set with Norchika Aoki now … They are getting hits on closer A.J. Ramos. But he's a tough one to trade … Martin Prado is also drawing interest, though they figure they need him for the clubhouse … The Marlins could also be a fit for Napoli, the Ft. Lauderdale product. There are already 10 teams in on talented right-hander Henderson Alvarez, who was a surprise non-tender by the Marlins … There's optimism Barry Bonds will come to coach the hitters (along with holdover Frank Menechino, who's back), as was reported here first.
There's a big difference between free agency and the posting system, which accounts for why Byung Ho Park got $12 million over four years rather than more than that. The system seems a bit rough on these Korean players. In this case, the team, the Heroes, received more money than the player … Miguel Sano makes a big outfielder (240 pounds), and that's a big outfield in Minnesota. Seems like a better idea to trade Trevor Plouffe, though the Twins say they aren't doing that.
There hasn't been a big push to look at Dexter Fowler or Denard Span so far. The Mets seem to be more seriously thinking about a platoon player to play alongside Juan Lagares in center field. Fowler and Span are starters … They were impressed by Wilmer Flores' late play at shortstop, so he hasn't been ruled out at that position … Bullpen remains a focus … Hard to see them trading Jon Niese, as he's in the rotation until Zack Wheeler returns, and he also looked good coming out of the pen in the postseason.
Brett Gardner has been linked to about a half-dozen teams (Mariners, Angels, Cubs, etc.) but there isn't currently any traction for a trade … The Yankees are indeed trying to gauge interest in Ivan Nova … They may be laying in the weeds for Samardzija or Chen, two pitchers they like.
Peter Bourjos is a worthwhile gamble. He's one of the best defenders in the game, and there's still time for him if he can make some swing adjustments … Don't bet against Cliff Lee, who hasn't had a FIP over 3.25 since 2007 and has begun throwing with medical clearance (as reported by CBS Sports Thursday). He is one of the most competitive players of this generation.
The Pirates also could have interest in Napoli … Justin Masterson is a good low-risk buy. He is expected back at full strength after a shoulder cleanup. No one does better with reclamation projects than pitching coach Ray Searage. Travis Sawchik of the Pittsburgh Tribune-Review first reported on the Pirates' interest.
The Cardinals were runners-up for Price, according to Bob Nightengale of USA Today … The Cardinals $1 billion TV deal could make them a player for a big player or two. Davis and Heyward also have been linked to them.
Infielder Nobuhiro Matsuda is of interest.
The Giants are believed to have big money to spend and will go for two starting pitchers should Greinke decide to stay in LA.
New GM Jerry Dipoto has done a nice job remaking team to fit the ballpark, adding speed players Aoki and Leonis Martin among his many moves. Aoki did well with his contract, actually getting a better deal than if the Giants had just picked up his $5.5 million option.

Texas Rangers News

They are getting a lot of hits on bullpen guys Shawn Tolleson, Sam Dyson, Jake Diekmann and Tom Wilhelmsen … They may talk about a Rougned Odor extension at the meetings … The Rangers are looking around for a young catcher … They are also looking at starting pitchers, but it may be a back-of-the-rotation type … They'd still like to balance their lineup with another right-handed bat.
Ross Atkins, a Mark Shapiro protégé in Cleveland, was the favorite all along for the Jays' GM job.

Major League Baseball News

Two MLB GMs say they don't believe Korean third baseman Jae-Gyun Hwang is a starting caliber player. He has just been posted, but being posted doesn't guarantee bids … Ex-commissioner Bud Selig is being honored by Baseball America at the meetings.
CommentsWrite a Reply or Comment:
You must be logged in to post a comment.