Inside Baseball: Keys to Cubs' success, plus more MLB news and notes – CBSSports.com
MORE HEYMAN >>> RANKING THE TOP 30 MLB DEALS OF 2015
With all their great young position stars, reasonable payroll and sky-high revenue, perhaps no one is more well-positioned for the future than the Cubs. But guess what? They are doing a lot better now than anyone could have imagined, very likely including them.
The Cubs are 73-53, and while that's the fourth-best record in baseball, it's only the third-best record in their own division, and it far from guarantees them a playoff spot considering the difficulties of the NL Wild Card race, especially compared to the AL race. Theo Epstein, the team's baseball president and architect, declined to discuss how positively things are going, which maybe isn't such a surprise since it was only in 2011 his Red Sox blew a lead twice as big as the 5 1/2-game lead the Cubs currently enjoy over the Giants, barely missing the playoffs in an infamous September swoon.
The Cubs look like they'll be a power for years to come, and with their payroll at a very reasonable $120 million considering their vast revenue, they should have room to grow — though there are internal worries about restrictions in advance of a new TV deal. They are expected to target David Price, who has an obvious long-time connection to manager Joe Maddon, though they know it won't be easy to compete there with the bigger-revenue, bigger-spending Dodgers (who also have a connection, with president Andrew Friedman), the Yankees or others.
But those are worries for another day. To everyone's surprise, the Cubs are in the thick of things now.
They have to feel extremely good about their situation but there are no givens, especially since they are being chased by the three-time World Series champions (in only the past five years), who just beat them two straight out in the Bay.
The Cubs came into the season with an obvious juxtaposition: they loved their position players long-term while they loved thir pitchers short-term. Somehow, it's all worked so far. The pitchers carried them earlier, and the hitters have caught up lately.
Here are the keys to their success …
1. Joe Maddon: Sometimes the closer you get to someone, the more phony they become. With Maddon it's just the opposite. "This is who he is," a Cubs person said, admiringly. "He's very cool, very chill." He's also the perfect man for a young clubhouse. They are all having fun, and it's been that way since the start. (Though they will likely get tested when things get hairier in September.)
2. Anthony Rizzo: The numbers may not scream MVP but he's become the true leader of this fun bunch at age 26. Cubs people note how much he's grown up in only the last year. He's a true Cubs believer, as his early long-term deal and day-to-day mindset suggests.
3. Kris Bryant: Bryant isn't just a slugger but someone who can run, knows how to run the bases and shows amazing versatility. He's also been fine at third base (though he's pretty good in the outfield, too, it turns out).
4. Kyle Schwarber: This kid can hit, and if the 2014 draft were redrafted, he'd almost surely be the No. 1 overall pick. He is a terrific hitter, folks are amazed he's catching in a pennant race only a year after being drafted, and Cubs people love his "swagger."
5. More good young players: Addison Russell looks very good back at his natural shortstop position. Jorge Soler is going to be a star (though he still needs to learn how to elevate the ball). And there's more on the way, including top shortstop prospect Gleyber Torres plus outfielders Billy McKinney (who came from Oakland with Russell) and Albert Almora, plus more.
6. The starters: Jake Arrieta has been one of the top three or four pitchers in the league and hasn't allowed a run in four of his last five starts. Jason Hammel was huge in the first half. Kyle Hendricks has been solid. And Jon Lester has been about as advertised (including the throwing-to-bases issue). Though they are struggling at the fourth and fifth spots at the moment, this is the group that carried them early.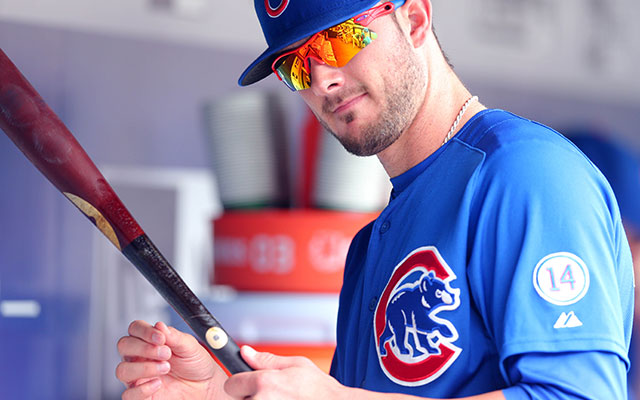 More Inside Baseball…
This is a seven-year-old D-Backs note, but they were at least one team that considered signing Barry Bonds after the 2007 season, when he couldn't find a job despite a 1.045 OPS. Bonds recently lost his grievance to MLB, as was reported here first. He was claiming collusion on MLB's part, but the arbitrator wasn't swayed by the circumstantial evidence. It isn't certain why Arizona ultimately decided not to pursue Bonds, but word going around then was that they were concerned about a possible effect on a young team coming off a playoff appearance.
Chris Davis (35 home runs) has put himself in position for a big payday, though it will likely be elsewhere. Baltimore's offer a couple years ago wasn't in the ballpark of the asking price. As one Orioles person put it, "Scott (Boras) was looking for part of the TV deal." That was a joke, but word is the comp being used a couple years ago was Joey Votto's $225-million deal.
Ex-GM Ben Cherington may take a little time to assess where he feels he could make a difference before jumping quickly into a new GM job, according to people who have spoken to him. He is expected to be a strong GM candidate elsewhere at some point … It makes sense to move Hanley Ramirez to first base, as the Red Sox hope and plan to do. Their outfield of the future appears to be set: Mookie Betts, Rusney Castillo and Jackie Bradley Jr. … Ramirez cleared waivers, as Nick Cafardo of the Boston Globe reported. Sources add that Pablo Sandoval also cleared waivers. Sandoval has had a disappointing season at the plate and in the field. He has 10 home runs, only 41 RBI and a .259 batting average, his .700 OPS is below average and his defense at third has at times been shockingly bad, but there is no word of active trade talks … Joe Kelly's talent is coming out now, which could be big for a team in need of pitching. He's also the type of hard-throwing pitcher new baseball boss Dave Dombrowski will like … Frank Wren is the strong favorite for a big job with Boston, probably GM. He is close to Dombrowski. Wren actually did a pretty good job in Atlanta but was hampered at the end by a falling out with legendary Braves exec John Schuerholz and others there … Ex-Red Sox Mike Carp will plan on playing next year.
The union is still considering whether to file a grievance on behalf of Kris Bryant over the Cubs' decision not to start the season with Bryant and instead wait until he had enough days (11) in the minors to delay his free agency by a year (until after 2021). Union people believe it's a matter of "good faith" and that any reasonable person would agree Bryant was good enough to make the team following a huge spring in which he hit 10 home runs, leading all MLB players. Instead, the Cubs waited 11 days — exactly 11 days — to start his season in Chicago, thus delaying his free agency. Union people also believe the case was strengthened by Bryant's All-Star performance during the season, too. However, as MLB officials point out, everyone's been operating under these rules since 1990 and teams have been making similar calls during that whole time. Also, they say there's no rule mandating teams to put their best players on the 25-man roster at all times and that it's OK for teams to want to keep their best players for the longest possible time. MLB people also point out there needs to be some sort of cutoff number for free agency, and that the union negotiated the extra 11 days of leeway years ago. Beyond all these hurdles, no player has been willing to file such a grievance against his team, and the union wouldn't grieve such a case without a player's endorsement. So while there are points to be made regarding teams' decisions not to employ their best players (not just the Cubs), needless to say, it'd be a very tough case to win. As one MLB person put it, "Do we want an arbitrator deciding who should be on the teams?" … Starlin Castro has cleared waivers, which is not a surprise since no other teams wanted to take on his whole deal before the trade deadline. With $39 million to go through 2019, he no longer looks like a deal. At one time his $70-million contract was considered a major bargain. But that was before his 2015 season, which has been poor. The three-time All-Star has a putrid .591 OPS. The Cubs fielded trade inquiries before the deadline for Castro, but they are not a team that likes to sell low. A trade for Castro is most likely to be seriously revisited in winter, though … Jake Arrieta has moved into second in the NL in ERA and is a Cy Young candidate. With four scoreless starts in his last five, his ERA is down to 2.22, second-best in the NL behind Zack Greinke, the Cy favorite. He also will have to be the one to start the wild card game, assuming they are in it … The Cubs recently signed Quintin Berry, who could serve as a speedy pinch runner in the postseason. That's taking a page out of the Royals' winning playbook.
There were rumors around the time of the All-Star break that Hall of Famer Barry Larkin was about to take over for Bryan Price, rumors that proved to be unfounded. But the Reds have continued to sink under Price, and Ken Rosenthal reported that Larkin has begun to gauge interest from other former Reds about possibly joining a staff should he be hired. Larkin, as an occasional media member and former star, would at the very least have a better grasp of the media. In the wake of this report, Jocketty said Price is safe through the end of this season, which is really meaningless since that doesn't preclude him from being fired immediately after the year. Rosenthal suggested Jocketty may be safer, though it's unclear why that would be. The Reds have lost 12 of 13, which isn't good … Votto apparently didn't take kindly to being omitted from the All-Star Game in his own home park, and he has been on a tear ever since. Votto has been nothing short of an on-base machine in the second half, with a .564 OPS (and 1.275 OPS) since the break.
Should Indians president Mark Shapiro get the Jays president job (more on that in the Jays section), there's a possibility GM Chris Antonetti could be bumped up to president, and assistant GM Mike Chernoff to GM. Chernoff's received a lot of outside interest, which he has to this point turned down.
Jose Reyes potentially could get his wish to be traded as he has cleared waivers, as was reported in this space … It was a bad sign that manager Walt Weiss asked a Denver Post columnist, Mark Kiszla, "Am I in trouble?" As was mentioned here last week, Weiss was hired by the previous regime, which may not help.
Justin Verlander (@JustinVerlander) is back as the ace. He came within an inning of his third no-hitter Wednesday night (he finished with a one-hitter), and over his last four starts he has a 0.31 ERA, the best four-game mark at any point of his career. He was up to 97 mph late in the 5-0 victory over the Angels as he bid to become the sixth pitcher ever to have at least three no-hitters. The most obscure of them is Larry Corcoran. Noting the low number of innings he's thrown over the past 17 months, one Tigers person said, "Plenty of miles left on the Cadillac." Now that's a good way to put it in Detroit.
Most surprising stat of the season: Evan Gattis is by far and away the Astros' leader with nine triples (which is by the way nine more than Jose Reyes has) … Astros aces Dallas Keuchel and Scott Kazmir lead the AL with seven games started allowing no runs, tied with Yovani Gallardo of the Rangers, as MLB Network reported … The Astros are interested in doing a long-term deal with Keuchel, according to Evan Drellich of the Houston Chronicle .. I'll miss Tal's Hill … Carlos Gomez didn't do anything wrong.
With Johnny Giavotella on the DL now with an unknown ailment, the failure to press hard enough to land Chase Utley looks like an even more glaring mistake. It isn't a guarantee Utley would have OK'ed the Angels, but they could have offered more playing time in his hometown area (he's from Long Beach, basically equidistant between Dodgers and Angels stadiums). This could be an example of what they miss by losing Dipoto and not having a permanent GM … Whoever the new GM is will have to know he will have almost no power, as manager Mike Scioscia calls the shots that owner Arte Moreno doesn't call. Scioscia has a $50-million contract, with an out no less, and as one rival exec said, "Scioscia has no fear of being fired."
The hiring of Ron Roenicke as third-base coach may reflect the belief in the need for better calls at third than the need for a manager in waiting. Lorenzo Bundy was one of two third-base coaches relieved of those duties this week (Mike Gallego of the A's was another), so it seems to be a trend-setting move. Bundy was kept on the staff though; he is the only Spanish speaker on the current staff, so that's probably a good idea … Alex Guerrero seems out of place with the Dodgers after his big start. He was a pick of scout Bob Engle, who was deposed by the new regime … Joc Pederson's average has slipped each month, from .298 in April to .236 in May, .222 in June, .169 in July and .122 in August. But they probably need his center field defense in the majors … Kike Hernandez has proved to be a useful, versatile pickup. He came in the Dee Gordon trade … It was a surprise when the Dodgers gave the oft-injured Brett Anderson $10 million guaranteed for this year, but now folks are predicting they will likely extend him the $16-million qualifying offer. Gotta love the Dodgers budget.
The Marlins are serious about their interest in locking up emerging star second baseman Dee Gordon, who's been a plus defensively as well as offensively (he leads MLB with a .333 average and is second with 45 stolen bases). He may just be coming into his own now, as Gordon was basically only a hoops player until late in high school. (Incidentally, he did win the vertical leap in Marlins camp) … The Marlins should move in the fences. They need to do something to make Giancarlo Stanton's life easier (though his home runs are usually not cheapies)… Adeiny Hechavarria is another they should lock up. Their DP combo represents two of the few things that went right this year.
Miguel Sano is one of the more overlooked rookies, but he shouldn't be. He has a 1.004 OPS, with 12 home runs in 45 games … Torii Hunter may have known something most of us didn't when he picked the Twins for what might be his final season, as Minnesota is once again in wild-card position. Hunter, though, has struggled lately; hitting .271 on July 1, he is at .237 now thanks to a .188 July and .150 August.
Milwaukee is expected to take well into next month before ramping up its efforts to find a new GM, and folks believe they are taking particular interest in "outside the box" candidates. A strong sense of analytics will be a must. Two names heard early in the process are Dan Kantrovitz from the A's and Jerry Dipoto, the ex-Angels GM (though that one wouldn't be considered that far outside the box). Kantrovitz was with the Cardinals organization before going to Oakland, which may be a plus for Milwaukee. One other name that would make sense is Josh Byrnes, who appeared to be building something pretty good in San Diego before he was dismissed early last summer … Good luck to David Denson, who recently came out in the Milwaukee Journal Sentinel as the first gay player currently active on an affiliated team. He is an outfielder with the Brewers' Class A Helena team, and he is a prospect.
Jorge Posada and Andy Pettitte both deserve to be honored in Monument Park despite the naysayers. Posada also should get a close look for the Hall of Fame. Consider that he has a career .848 OPS, much higher than Hall of Fame catchers Carlton Fisk (.797) and Gary Carter (.773) … CC Sabathia should be viewed as a reliever upon his return. Despite all his struggles, as has been noted here before, he's been very effective vs. left-handed batters, with a .473 OPS against (compared to an .827 OPS vs. righties). A Yankees person says it "hasn't even been discussed." If that's the case, maybe they oughta start … The Yankees' recent struggles by their veterans are obvious, and one AL scout says, "They look old/lifeless. But that can change. Carlos Beltran is the only one really swinging the bat well."
Though new club president Andy MacPhail isn't saying what the plans are for GM Ruben Amaro — MacPhail is said to be "laying low" for a while, which is only the right thing to do — but there seems to be some belief Amaro may be given a chance to remain in the organization in some capacity. There seems to be some thought that Amaro looks a bit better now that the Phillies' prospects are performing OK, the trades worked out all right and the team is playing better. The other longtime defense is that all those bad contracts weren't necessarily all his idea. While many believe the team needs a fresh start, it isn't even a certainty Amaro will be moved to a different job — which would likely come as a disappointment to many of their fans. If a change is made, Thad Levine, assistant GM of the Rangers, could emerge as a GM candidate, along with the J.J. Piccolo (Royals), Matt Klentak (Angels) and John Barr (Giants), among others … Congrats to all-time good guy Jeff Francoeur for resurrecting his career as an outfielder (he tried pitching last year). He's been one of the better hitters for the Phillies in the second half, with a .347 average and .994 OPS, so good in fact that he was claimed on trade waivers and pulled back, according to Jerry Crasnick of ESPN.com.
Huntington said he doesn't regret supporting the expanded playoffs, even if it means the Pirates will have to endure a tough wild card matchup again. The NL Central is unquestionably stacked … The Pirates may look to rekindle multiyear talks with Gregory Polanco, who seems to have found his stroke now.
There are currently no talks with Jason Heyward or John Lackey, as the Cardinals concentrate on keeping their NL Central lead.
James Shields cleared waivers and could possibly interest some contenders, but with his backloaded deal and so-so velocity readings the Padres would have to pay some of his contract down if they were to move him. Still, he's striking out more than one an inning and could help a few contending clubs should San Diego decide to make a late trade … Ian Kennedy can't be dealt now as he was pulled back after being claimed. But he's heading toward his free agency on top form with a 2.42 ERA over his past 13 starts. The Padres have at least considered giving him a qualifying offer … The Padres' original plan was to unload assets at the break should things not break right in the first half for them, but frankly, they were surprised by how little they were offered for their big assets.
The Giants are 34-17 when Hunter Pence is in the lineup, and 33-42 when he isn't.
It's no surprise the Mariners decided it was time to let go of GM Jack Zduriencik after seven playoff-less seasons. Team president Howard Lincoln generally is opposed to big changes, but the Mariners' season has been a disaster following a 2014 season that brought hope … Manager Lloyd McClendon, fair or not, may be tied to Zduriencik. McClendon has a year to go on his contract (it's for $900,000, $950,000 and $1M, from 2014-16, according to a source), and while the Mariners don't reveal these things, it's also believed Zduriencik had a year to go on his deal … Coppolella, the Braves assistant GM who's helping engineer a rebuild in Atlanta, would make a good candidate if they go outside. There are also some good people in the Mariners' front office (though it doesn't show in the standings this year) … Center fielder Austin Jackson has cleared waivers, as was reported by Jon Morosi of FOXSports.com … The hope is that lefthander Danny Hultzen will be able to return next year after a second straight sidelined season, but it appears there are no guarantees at this point. He was throwing 91-95 mph in spring but was befallen by what was termed a "dead arm" in April and hasn't yet bounced back. He underwent shoulder surgery after the 2013 season. The former No. 2 overall pick was seen as a potential top-of-the-rotation starter by Seattle out of the University of Virginia … Drew Jackson, the fifth-rounder this year, hit .389 with 43 steals in 46 attempts in his first pro season. The brother of Brett Jackson (in the minors with Giants this year) adds to Seattle's very deep shortstop stash in the minors … Tyler O'Neill, a 2013 third-round pick, is a slugging revelation at Class A Bakersfield, with 30 dingers.
Asdrubal Cabrera is having a big second half, with an OPS (1.074) among the best in MLB. Good buy for $7.5 million.
The trade for hard-throwing reliever Sam Dyson from the Marlins in exchange for catching prospect Tomas Telis has been huge, and so has the addition of Diekman from the Hamels deal. The rise of the Rangers shouldn't be a shock considering the returns of Martin Perez and Derek Holland. Let's not forget they were the most-injured team ever last year … Rougned Odor, hitting .151 when he was sent down in May, has hit .340 since his June return. Odor has eight three-hit games since his recall in June. In his first go-round, which lasted well into May, he had so much as one two-hit game (and no three-hit games). He's a candidate for a long-term deal this winter … Kevin Kouzmanoff is said likely to retire. It's too bad. He was off to a big start with the Rangers last season before felled by a back injury.
Mark Shapiro, the Indians' president, is believed to be the first choice at present to replace Paul Beeston as president of the Blue Jays, and assuming a deal can be struck, it is believed he will go to Toronto. The strong expectation around the game is that he will indeed make the move, although nothing seems to be set in stone to this point. Shapiro received permission from his current team to meet with the Jays, so under those conditions it doesn't seem likely he'd turn down the job. The well-respected Shapiro, 48, has been with the Indians 23 years, previously serving as GM, assistant GM and farm director. Beyond Toronto being a new challenge, perhaps Shapiro would like a chance with a higher payroll; the Blue Jays' payroll is about $130 million while the Indians are in the bottom third of the league at about $80 million. There is no word than anyone else is currently in the mix for the job. Over the winter, the Jays targeted Orioles GM Dan Duquette, who has done a terrific job in Baltimore, but Orioles owner Peter Angelos made the unusual call to deny the Jays permission to speak to Duquette. Ken Rosenthal of FOXSports.com first reported that Shapiro is a "strong" candidate in Toronto. Shapiro declined to comment … Roberto Osuna, the youngest player in the league at 20, has been brilliant as closer and is a Rookie of the Year candidate. He has a 1.91 ERA, 0.86 WHIP, 63 strikeouts and only 12 walks.
Cal Ripken Jr. revealed in a recent radio interview that he was a serious candidate for the Nats' managing job in 2013 (it was mentioned in this space that his name had come up) when Matt Williams was hired, and Ripken made very positive comments about the job, seeming to suggest he's interested now. If the Nats don't make the playoffs, it would seem a stretch to bring back Williams. Club insiders report that beyond the obvious issue of a putrid won-loss record (they are .500, but in a division where three of the other four teams have either given up or were never a factor), there is a communication gap with Williams, although he still has a staunch defender in GM Mike Rizzo, as Thomas Boswell of the Washington Post wrote on Friday … Best wishes to bench coach Randy Knorr who penned this nice note after his wife died suddenly.

Major League Baseball News

At least as of midweek, Pete Rose had yet to have his date with commissioner Rob Manfred, but it's coming. Manfred says a ruling will come by year's end.
MORE HEYMAN >>> RANKING THE TOP 30 MLB DEALS OF 2015
CommentsWrite a Reply or Comment:
You must be logged in to post a comment.