Inside Baseball: More GMs and managers on the hot seat; plus notes – CBSSports.com
Eight general managers have been fired, released or vacated their positions within the past 15 months, and the likelihood is that one or two more will go before the year's up. Many of the departed executives were seemingly doing well, too. One was in the middle of a positive, productive rebuild, another won 98 games last year and another made the playoffs five times in eight years. Yet another of the recently departed GMs — Ben Cherington of the Red Sox — even won a World Series two years ago.
Such is life on the hottest of baseball's hot seats. And that's not even getting into what may happen with all the many managerial jobs that could yet be in peril (there are about 10 of those tenuous spots, so more on that later).
"It's a crazy summer," one affected executive noted, dryly.
And it's about to become an even crazier fall.
The Angels, Brewers and Red Sox are looking for GMs now, while most believe the Mariners and Phillies could join them in searches soon after the season.
Cherington, who walked away from the Red Sox GM job after Dave Dombrowski was hired above him as president of baseball operations for that storied franchise, and Jerry Dipoto, who walked away from the Angels' GM job when it became clear manager Mike Scioscia was running whatever owner Arte Moreno wasn't out in southern LaLa land, each had big triumphs within the past two years. Cherington's Red Sox won the 2013 World Series, his third ring in 16 years in the organization. Dipoto's Angels won more games than any other team in 2014.
Coincidentally, Dipoto was brought into the Red Sox front office only a week ago by Cherington, back when Cherington was thought to be in charge.
Unlike the Red Sox's big bosses, who had signaled for weeks that Cherington would retain his job and power, the Mariners and Phillies have been noncommittal about their longtime GMs, Jack Zduriencik and Ruben Amaro Jr., respectively. Though conventional wisdom calls for change at the top in both locales.
In Seattle, this was supposed to be Zduriencik's valedictory, which is how fine Seattle Times columnist Larry Stone recently put it in this excellent piece, and it obviously hasn't turned out that way. The Mariners, the chic pick of many to win the American League (including yours truly) actually have moved backward in Zduriencik's seventh season, ensuring yet another playoff-less season, thanks to underperformance all around.
There's also no evidence the Mariners pursued Dombrowski, who was a free agent for about two weeks, which may mean they are undecided about Zduriencik, or just especially polite in waiting for an actual opening. Or maybe, like some of the others, they are thinking about seeking a younger, analytical type, which is exactly what Milwaukee announced upon announcing longtime GM Doug Melvin's official retirement from the position at season's end.
If that's the case, there is a long list of worthy possibilities, including assistant GMs John Coppolella (Braves), Thad Levine (Rangers), Billy Eppler (Yankees), Mike Chernoff (Indians) and Jason McLeod (Cubs), plus others.
The Phillies, following a disastrous start to the season, have rallied nicely since they hired earlier this summer veteran baseball man Andy MacPhail, whether that's coincidental or not. Since MacPhail arrived, some young Phillies prospects finally have shown promise, and the big, long-awaited trade for Cole Hamels helped restock an oft-criticized farm system. In some way they have seemed to turn a corner following a few-year run of misguided contracts, diminishing returns and general negativity. Of course, the understandable belief is that MacPhail, a two-time World Series winner and rejuvenator of the Cubs and Orioles, would not have been brought in to maintain status quo.
Amaro's status is tenuous enough that there are already rumors about possible replacements; though this may all fall under the conjecture heading, those names include Angels assistant GM Matt Klentak, a MacPhail favorite from his Orioles days, plus Royals assistant GM J.J. Piccolo and Giants scouting director John Barr. There haven't been names tied to the Brewers' job, but owner Mark Attanasio is known to be serious about analytics.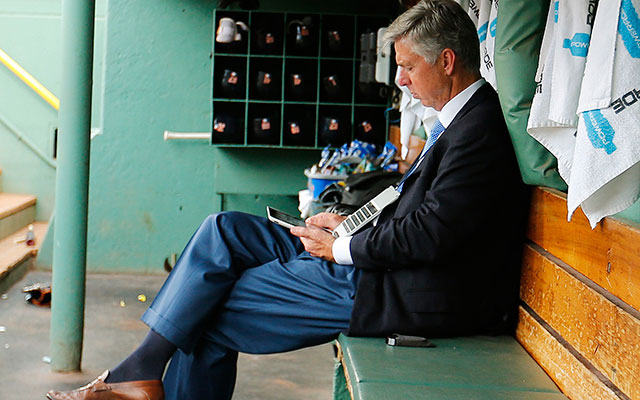 Dombrowski inherits a talented, experienced crew in Boston, with Allard Baird, Mike Hazen, Brian O'Halloran and others, who've all won rings (in most cases multiple rings), and he will thoroughly evaluate things, as is his style. Meanwhile, he is setting about looking for a GM, and after he was hired without any search due to the "unique" circumstances of the availability of a known long-time achiever with a history with the owner, and will conduct a thorough process.
Although, some close to Dombrowski believe it's most likely he hires Frank Wren, his lieutenant in South Florida for his one World Series title, in 1997, and a longtime friend. That's especially the case since all his other longtime key people were locked up by his old team in Detroit, immediately after his surprise ouster for what was uncharitably said in the oddly tough press release to have achieved only "some" success in Motown.
Dombrowski, as it turned out, interviewed with the Blue Jays about their president/CEO job, and as Bob Nightengale of USA Today reported even he had a chat with the Nats, whose ownership obviously isn't thrilled with what's transpiring there. But ultimately, this was the right job. Even at 59, Dombrowski isn't ready to move up to CEO; he's a hands-on guy. So Boston, with owner John Henry, who he knew and loved from their brief tenure together in South Florida (where they gathered Josh Beckett, Mike Lowell and other key pieces that enabled the Marlins to win the 2003 World Series for Jeffrey Loria, Jack McKeon and Co.) worked by far the best.
Meantime, Cherington, who had no choice but to go following the stripping of his power (as one of his longtime allies said, staying would have been "uncomfortable" when it was clearly Dombrowski's team, for both him and Dombrowski), joins a deep talent pool of GM prospects. That of course includes his friend Dipoto, who just didn't mesh with Scioscia, who is used to getting his way. Cherington has deep ties to the Theo Epstein of the Cubs and the Pirates' Neal Huntington, a fellow Amherst graduate, but could become a GM candidate in other places, as well.
Some teams are moving to become more analytical (Brewers, Tigers) while others appear to be going the other way (Red Sox, Angels). The Angels actually had the chance for a perfect balance with Dipoto as GM, but Angels people, fully understanding now that Scioscia is king, are said to be looking for "someone who won't try to force-feed analytics" on him, as someone familiar with the situation put it. His old friend Bud Black is one who could presumably coexist with the legendary Scioscia, though most believe Black would prefer to manage.
Another name that could make some sense is Ned Colletti, who while 45 miles up I-5 in Chavez Ravine made the playoffs five times in eight years and won 40 more games than his next closest GM rival in the NL despite mostly operating during deposed owner Frank McCourt's penurious regime — though, it would be interesting to see whether they'd consider another Dodger (Scioscia obviously was once one).
And all that doesn't even count the managers, with up to 10 of them potentially on the hot seat, depending in most cases on how things wind up here. The Dodgers' Don Mattingly and Mets' Terry Collins are trending positively, but Mattingly is working under a new regime, and Collins has a GM, Sandy Alderson, who openly wondered about Collins in a spring book that touted Alderson's successes. Dodgers bosses recently installed ex-Brewers manager Ron Roenicke as third-base coach, though Mattingly seems characteristically unconcerned about any manager-in-waiting speculation (and by all rights, he shouldn't have anything to worry about).
Among all the many current interim managers, the Phillies' Pete Mackanin may be building the best case to stay. Pat Murphy is doing about as well as predecessor Black in San Diego, and Dan Jennings, beloved baseball man, may simply have had too much to overcome in moving from GM to manager, where he was immediately greeted with intense skepticism from the start, and that was in his own clubhouse. Basically on day one, one of the team's biggest stars asked Jennings point blank, "Why should we trust you as manager when you're the guy negotiating against us in the winter?" or words to that effect.
Lloyd McClendon, who was terrific last year in Seattle, might have felt a bit better if Dombrowski, his boss in Detroit, was the one going there, but if Zduriencik is ousted, the new GM may want a completely fresh start following Seattle's off year. The Rockies' Walt Weiss was inherited by the new regime, who are busy trying to solve the Coors conundrum.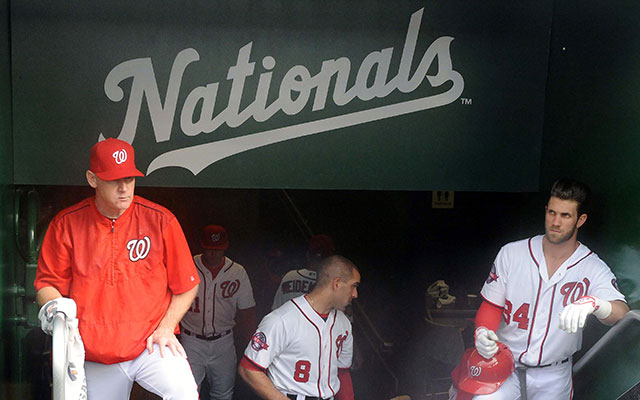 Washington's Matt Williams might be the most interesting case, as the skipper of the most abject underachievers in the sport at .500 up to date. The season has gone past disappointing so far, but beyond the 42 games to go, Williams does have a few things going for him: 1) he comes off a rookie year when he was named NL Manager of the Year (disclaimer: I voted Clint Hurdle first, Williams second), 2) he was hurt badly by a spate of injuries to key position players Denard Span, Anthony Rendon, Jayson Werth and Ryan Zimmerman and 3) he is believed to retain the strong support of GM Mike Rizzo, who hand-picked Williams in the first place.
If Rizzo wants to keep Williams, though, and presumably he does, he'd be better off not polling the clubhouse, where one source suggested things are getting messy. Players are suggesting Williams needs to loosen up, and not be so serious, bordering on sour, as was suggested in this column a couple weeks ago. They also wonder about his communication skills, as well as his ability to handle a bullpen. Characteristically, Rizzo hasn't commented, but it's not easy to imagine Williams surviving without a playoff position, at the very least.
Whatever happens with Williams, the crazy summer looks like it could be topped by an even crazier fall.
Around the Majors …
The D-Backs would like to lock up outfielder A.J. Pollock, but they haven't started negotiations with the emerging star yet, and it's going to be tricky since Pollock, 27, is only heading into his first year of arbitration. It's not impossible, and considering Pollock's performance, it would be worthwhile, at least from the team's standpoint … Who would have predicted this? The D-Backs lead the NL with 538 runs.
Righthanded pitching prospect Tyrell Jenkins, who came with Shelby Miller in the trade for Jason Heyward, has a "great arm," says a scout. He throws 96 mph with a decent breaking ball. The Braves have quite a few arms as they prepare for their coming out party in 2017. And that had to be one of the best deals of the winter — as they'll have 10 years of Jenkins and Miller instead of one for Heyward … Miller may be the greatest case yet to explain the unimportance of the value of the win for pitchers. Over 16 starts, he was 0-8 with a 3.03 ERA … Touki Toussaint is a big, big talent, but one scout who saw him recently estimated he's still "four, five" years away … Late-blooming Cameron Maybin is playing so well lately that the Braves don't seem quite as interested in trading him … Jonny Gomes , the active career leader in pinch-hit home runs, has hit better lately and could be clubhouse plus for a contender. He has cleared waivers … The Braves received $15 million in the Chris Johnson/Michael Bourn/Nick Swisher trade from Cleveland, not $10 million, as originally reported. David O'Brien of the Atlanta Journal-Constitution got it right … With all their many moves, Braves have cut $100M-plus in future payroll, and gone from a bottom-five system to top five.
Baltimore and Chris Davis were said to be miles apart when the team tried to lock him up with a long-term deal a couple years ago, and his return to slugging brilliance only decreases Baltimore's chance to keep him. Not only does Davis appear on his way to his second 40-plus homer season, he has shown great versatility by playing first base, third base, left field and right field. Davis' huge year actually could have been even better, as he had four home runs taken away by leaping catches at the wall, and seven RBI. Since the break, Davis leads the majors with 15 home runs (tied with Carlos Gonzalez and Nelson Cruz) and 37 RBI … In contract talks Davis could invoke the deals of Joey Votto ($225 million), Prince Fielder ($209 million) and Mark Teixeira ($180 million), plus his versatility and the changing times. The Orioles, far from their spending years, will extend the qualifying offer, so they will at least get the draft choice … Henry Urrutia, whose first career home run was a walk-off job vs. the Mets Wednesday, looks like a bargain. He signed for $770,000 at the recommendation of legendary scout Fred Ferreira. Buck Showalter was testing out a "Hammerin' Hank" nickname for him a couple years ago, so now maybe he's on the right track … The Orioles are quite pleased with how young 2B Jonathan Schoop looks. He and Manny Machado, also 23, should make quite an infield pair for a long time … The Orioles had some interest in Ian Kennedy, who was claimed and pulled back … Baltimore did, indeed, make a play for Carlos Gonzalez … Gerardo Parra has been a big help. Between Baltimore and his time in Milwaukee, Parra leads the majors with 28 runs since the break … The Orioles should win the wild card, according to a scout, due to three reasons he cites: 1. offense. 2. the bullpen (Zach Britton has turned into one of the best handful of closers in the game, and a hat tip to pitching coach Dave Wallace for that suggestion, plus Darren O'Day is an excellent set-up man), and 3. Buck Showalter's managing of the pen.
The Red Sox may have a pretty fair outfield of the future, as Jackie Bradley Jr. and Rusney Castillo are starting to show their potential. Mookie Betts is already set. If so, they'd need to figure out whether Hanley Ramirez is a third baseman or first baseman next year … Best wishes to John Farrell, a good man. He was lucky it was caught early, and word is at this stage lymphoma patients have an excellent success rate.
Starlin Castro's name hit the revocable waiver wire a couple days ago, and with his very poor performance this year, he'd very likely clear waivers. He may not be so easy to trade now, however, as the Cubs aren't a team that likes to sell low … Dan Haren (@ithrow88) may turn out to be a deadline bargain. He has allowed three runs or fewer in 17 of 21 starts … Eyebrows raised when the Cubs selected Kyle Schwarber, a bulky catcher with questions about his catching ability, with the No. 4 overall pick in the 2014 MLB draft. But if the teams re-drafted that draft now, Schwarber, a hitting star, would most likely be the No. 1 pick … If the season ended today, Joe Maddon is NL Manager of the Year.
The South Siders have been on the cusp of the race, which caused them not to do anything at the deadline. There was some belief, though, that if the series vs. the Angels didn't go well, they might consider doing some selling, and they lost the first three games at L.A./Anaheim … Jeff Samardzija won't max out after an inconsistent year but he's still beloved for his competitiveness and athleticism, plus a resume that shows way fewer innings than any other free-agent starters. So despite never having won in double digits, look for him to still cash in big as a free agent.
Michael Brantley has quietly put together another excellent season and is up to .317 … Lonnie Chisenhall has adapted nicely to right field, salvaging what looked like a rough year for him … Kudos to manager Terry Francona for accompanying good friend Farrell to Farrell's first radiation appointment after his lymphoma diagnosis.
Word is Rockies stars Gonzalez and Nolan Arenado are upset by the loss of Troy Tulowitzki, and frustrated by the team's ongoing pitching problems. "They're trying to have guys learn at the major-league level, and that's not going to work, not in Coors Field, one scout said. The day Tulo was traded, in fact Arenado told the Rockies media, "I was shocked, we all were, by Tulo getting traded. I'm hurt. Tulo's been the one guy who has been by my side ever since I was in (single-A) Asheville. It's disappointing. That is not the guy I wanted to see go." … Jorge De La Rosa's mastery at Coors field really is remarkable. His lifetime mark at Coors is 56-25 where his ERA is a practically heroic 4.63 (it's 4.56 on the road) … It turns out Dan O'Dowd actually had a chance to stay on as GM, if he so desired, so long as he agreed to certain things. Word is, he had a five-year offer on the table, but decided instead to step down after 15 years on the hardest job in baseball. No doubt Coors years aren't like regular years, though. Jeff Bridich wound up accepting the Rockies-owning Monfort Brothers and taking the ultra difficult assignment.
The Tigers are trying to make good on owner Mike Ilitch's exultation to press on following the deadline trades, and not give up the playoff chase. They back to .500 and are only 3 1/2 games out of the wild card race with games upcoming vs. the Rangers and Angels, so they aren't giving up … Daniel Norris, the young lefty pitcher acquired in the David Price trade, looks like quite the hitter. A day after damaging a panel on the new scoreboard at Wrigley Field in batting practice, he homered in his first at-bat, off Jon Lester no less … Good luck to veteran lefty Randy Wolf who starts for the Tigers on his 39th birthday following his trade from Toronto after Detroit had to be Norris and Anibal Sanchez on the DL Thursday. Wolf was thriving at Triple-A Buffalo when dealt. Here's our story Wednesday about Wolf hoping for a chance somewhere.
Good for Astros manager A.J. Hinch, who said something to Carlos Correa for tackling little Jose Altuve in a recent walkoff celebration. These celebrations generally are getting out of hand.
Kendrys Morales (83 RBI, 3rd in the AL) looks like one of the best free-agent signings of the year … GM Dayton Moore, whose contract expires after 2016, should get an extension commensurate with his value. He has become one of the most underpaid GMs in the game, as things stand … The Royals are starting to think about a long-term deal for Eric Hosmer, and while they have a good rapport with agent Scott Boras (they signed Alex Rios and Morales, adding to an almost Nats-like stable of Boras players), they know it won't be easy. Hosmer, a young team leader, has a 1.086 OPS since the break … Lorenzo Cain is another one worthy of a very long deal. Brandon McCarthy (@BMCCarthy32) recently tweeted that Cain will become the first center fielder to make a catch in foul territory. His 6.2 WAR is sixth best in baseball … The Royals have already surpassed the PECOTA prediction of 72 wins for them. Needless to say, that was a very bad prediction. Sometimes, it's helpful to watch the games, and be in the clubhouse.
David Freese, who may be a more important piece than people realize, isn't ready to return yet. "He's progressing well but there's no time frame yet," agent Nez Balelo said … Perhaps the Angels should have tried harder for Chase Utley. They certainly could use him more than the Dodgers. Utley was driving the train with his full no-trade, but the Angels should have been able to sell him on more playing time in his home area (he is from Long Beach, is basically equidistant between Dodger Stadium and Angel Stadium). Perhaps a fulltime GM would be helpful.
Utley sought playing time, winning and geography as he considered his outside options, and he did very well when he approved the trade to the Dodgers, a team in first place and 25 miles from where he grew up in Long Beach. (As for playing time, while he'll start out as the second baseman, once Howie Kendrick returns, Utley should still get significant though less-than-fulltime work). The Giants, Angels and Cubs were also in the mix. While the other two California teams might have been acceptable to him (and maybe even the Cubs, too, though that's less clear), it never came to that. At least the Angels never made an offer to match the Dodgers' bid of Darnell Sweeney, who can hit (the question is whether he'll field enough at 2B or CF to stick) and righty pitcher John Richy. Before the deadline, the Padres were in the mix for Utley, believe it or not, and so were the Yankees –- though it seemed likely Utley would have just stayed in Philly if he couldn't go west. Utley also wants to play in 2016, so the Dodgers could have an opportunity for him since Kendrick also has an expiring contract … With Ultey, the Dodgers has one of the deepest teams from a positional standpoint in MLB history … By terms of the agreement, the Phillies are on the hook up to about $3.7 million depending on Utley's bonuses and buyout … The Dodgers let go four top scouts, including Bob Engle, but they basically had two full staffs of international scouts to begin with … The Dodgers still look like the World Series favorite from here, but there are those who believe they should have parted with their third best prospect, Jose DeLeon, in bids for top rentals, Johnny Cueto or David Price (I'm one of those people.). LA higher-ups, though, didn't want to spend big for a rental. However, had they gotten either to go with baseball's best one-two punch of Clayton Kershaw and Zack Greinke, perhaps they could have put a hammerlock on the Series. DeLeon has made big strides this year, but some believe he will end up as a reliever.
Jose Fernandez is said to be itching to return to pitching, but this is where the team needs to step in and tell him no. He probably pitched too much, too soon, and both he and the team should be relieved he's only suffering from bicep tendinitis. With the Marlins out of it, Fernandez should skip the season's final weeks … By the same token, one rival exec says they "need to be careful" with Giancarlo Stanton, especially since he suffered a wrist injury, which can be tricky for hitters.
Francisco Rodriguez has saved 35 straight games, which is a career high … Taylor Jungmann, a former No. 1 pick out of the University of Texas, looks like a great find … Craig Counsell is Doug Melvin's going away gift, a manager well-liked by the front office (and the owner) and clubhouse alike. He's learning on the job, but the belief is he's going to be a good one.
Miguel Sano has gone under the radar with a .949 OPS. He also is a champion of the "three true outcomes," with an historically high percentage of walks, strikeouts and homers (92 of his 163 plate appearances fit that category) …. The Twins' lack of a pen could prove to be their undoing, especially if star closer Glen Perkins can't make a quick return.
Steven Matz is being targeted for early September to start, perhaps Sept. 2. It seems possible they'll go a (dirty word alert) six-man rotation to give their young pitchers added rest … It won't be easy adding a reliever, but the Mets are going to need one (or two) considering all their second-half pen setbacks, between Jenrry Mejia's second suspension, Jerry Blevins' re-injury and Bobby Parnell's struggles … The Mets low-keyed it at the time, but they were said to have been serious about their pursuit of Robinson Cano as a free agent. One team-connected person suggested he thought they might have been able to outbid the Yankees (the Yanks offered $175 million), but of course they would have come nowhere near Seattle's winning $240-million bid. So for the right player, they can come up with some money … Alderson signed a new deal only last winter, but folks believe Paul DePodesta, the well-respected assistant, is the most likely next Mets GM when Alderson decides to retire. They have a deep and experienced stable, though, with also John Ricco and J.P. Ricciardi -– a group that thrived at the deadline, when the Mets improved as much as almost anyone.
VP by marriage Felix Lopez is out with the Yankees following his divorce from Jessica Steinbrenner (he got the job after meeting her when he came to her house to make repairs), and there is deep relief on the part of Yankees employees, who didn't enjoy either his temper or hare-brained ideas (re-using baseballs by washing them to save money – they didn't do that one). And who knows how he got to be the point man in the Yoan Moncada negotiations? When Moncada took the $31.5 million Red Sox offer over the Yankees' $25-million bid, sources say Lopez called to yell at Moncada, 21. Good riddance to Lopez. But say this for Jessica Steinbrenner, she went 1-for-2 in baseball execs she married. Joe Molloy, the well-liked easy-going previous husband (the Likable Boss, he was tabbed by one tabloid), did a superb job as managing partner in Steinbrenner's absence in the early '90s, supporting Stick Michael and Showalter, picking Derek Jeter (hat tip, Bill Livesey and Brian Sabean) and leading the storied team as it came back to prominence with pickups like Paul O'Neill, Jimmy Key and David Cone. They tried hard for Greg Maddux and Barry Bonds in the winter of 1992-93, too … Pitching coach Larry Rothschild said he could cure Nate Eovaldi, and he wasn't kidding, A seldom used splitter has become one of Eovaldi's out pitches, which combined with a fastball that can get up to 102 mph, has become an extremely effective starter … Yankees decisionmakers look wise not to have parted at the trade deadline with hard-throwing righthander Luis Severino or slugging first baseman Greg Bird, who became a "true Yankee" by singlehandedly beating the Twins with two two-run homers. (The Yankees always seem to beat the Twins.) … Alex Rodriguez extended his grand slam record when he hit grand slam No. 25 vs. the Twins, a virtual Yankees/A-Rod punching bag. It was grand slam No. 25, which is a lot even with 679 home runs. Consider the career slam totals of Babe Ruth (16), Hank Aaron (16), Albert Pujols (13), Barry Bonds (11), Sammy Sosa (9), Willie Mays (8) and Frank Robinson (8). Although, there are a few with an even higher percentage of slams among their homers than A-Rod. Robin Ventura, with 18 grand slams out of 358 homers, really should be considered the slam champion. Others with a high percentage of slams include Carlos Lee (17 slams, 358 homers), Brian McCann (11, 220), Hubie Brooks (8, 149), Ron Northey (8, 108), Mike Blowers (7, 78) and Ben Broussard (6/87).
Switch pitcher Pat Venditte shouldn't have to declare his arm first, as the rule currently states. He is the one performing the greater feat than the switch hitter. It is only fair.
Outfielder Nick Williams may be the key to the package received for ace lefthander Cole Hamels. He has 30-homer potential, which is huge for a center fielder, according to one scout … One Phillies person the day before Utley was traded: "We need to get rid of Utley and (Ryan) Howard." Nothing against them, but there was a feeling is, it's time to move on … The Phillies are on the hook for up to about $3.7M in the Utley deal, depending on bonuses and whether LA is responsible for the buyout … Utley left with much adulation on the part of Phillies' fans and what was said to be "good terms" with the team, which says something about him since he endured an uncalled-for remark from GM Ruben Amaro, who announced he no longer had a job while he was out injured.
Gregory Polanco looks like he's beginning to realize his enormous promise, and he has a .934 OPS in August … Top shortstop prospect Cole Tucker is getting a second opinion on a shoulder injury but may miss the rest of the year.
It's hard to believe how they've not only survived the injuries to Adam Wainwright, Matt Holliday, Matt Adams and now Randal Grichuk and Heyward but continued to thrive. GM John Mozeliak hesitated to invoke the phrase "Cardinals way" in a phone interview. "I wouldn't say that … what I would say is, our club culture is positive," he said. Anyway, there is undoubtedly something special about what goes on there. They do draft and develop like no one else; they are the only team in the bigs with a majority of players on their 25-man roster who are homegrown (13) … Holliday is shooting for sometime after Sept 1 … Wainwright is determined to get back, and as Mozeliak pointed out, he isn't going to be the one to discourage him. However, if he does come back (and no one should bet against him), it will likely be as a reliever, due to time constraints … The Cardinals did look into Max Scherzer as a free agent, but word is they were using Adam Wainwright's $98-million deal as a barometer (Scherzer wound up getting more than double that with Washington, $210 million) … While they like Heyward, the belief is they will use Holliday's team record $120-million deal as the barometer there. Considering the way salaries are going, he'd surely get much more elsewhere … Bill DeWitt Jr.'s investment in the Cardinals is one of the best in American business history. After buying the team for $155 million, he sold off the land and parking garages for $100M. Now he has a TV deal estimated to be worth close to $1.5 billion, which is 10 times what he paid for the tea,. He is also one of baseball's best owners… One of the more underpublicized success stories has been Jaime Garcia, who has a 1.79 ERA after returning following thoracic outlet syndrome surgery. Back in spring, Holliday predicted a big year for him … Mozeliak said the team is "focused on our season," and no one could possibly focus better tan this. What that means, also, is that there are no current talks with their top free agents, Heyward or John Lackey.
The Padres made a brief run at Utley before the trade deadline … Executives say it's no surprise Ian Kennedy was claimed despite having $3 million to go for the final six weeks of the season, especially with his 3-2 record and 2.63 ERA since the break. Kennedy, it turns out, had many interested teams … One name to keep in mind for a possible job with the Padres is Alex Cora, as A.J. Preller is said to be a big admirer. Many others are, too. He and brother Joey are both great baseball people … Matt Kemp, who recently had the Padres' first ever cycle, is repeating last year, when he followed a putrid first half with a brilliant second half. He has a .319 batting average and .917 OPS since the break, compared to .250 and .674 before it.
The Giants' interest in Utley may show a concern for Joe Panik's return. He is expected back in September. Giants players were expressing pessimism about their chances for Utley, and some wonder whether Utley preferred not to play near his current residence, he lives in Marin County outside San Francisco, for privacy's sake … My first rule: Never question Bruce Bochy. So it's OK to have Madison Bumgarner pinch hit as the last batter, even against a great closer like Trevor Rosenthal. They probably could use a little more depth on the bench, something they know … At this stage, there aren't a lot of great choices, so the Marlon Byrd acquisition is understandable, especially with Hunter Pence back on the DL. But at this point, it's little more than a flyer. Byrd has six walks and 37 strikeouts since the break.
There is a smidgen of hope for a slightly improved chance to get a new stadium, depending on a St. Pete city council election Aug. 25. The person leaving the council was a "no" vote on the stadium issue, and at least half the candidates are "yes" votes. One more "yes" vote is needed for owner Stu Sternberg to even look around for a new stadium. Considering their awful arena and the Rays on-field success, it really is amazing the Rays' ownership group has been unable to get into position to even look.
Adrian Beltre's thumb injury is very bad, much worse than most know about. When he dislocated the thumb, the bone popped through the skin and the ligament turned upside down. In a word, it's a mess. But he wouldn't think about not playing … Beltre was the first player in 80 years to hit for three cycles … With Mike Napoli hitting his 200th home run, it's been quite a year for milestones in Texas, as it followed Prince Fielder's 300th and Beltre's 400th. To say nothing of all the milestones hits by that ex-Ranger, Alex Rodriguez … Russell Wilson's new monster $87.6-million Seahawks contract contains no specific prohibition about baseball. But somehow, that salary would seem to be a deterrent. Wilson loves the game, however.
Alex Anthopoulos has not only saved his GM job in Toronto with his bold, brilliant late-season moves, he's made himself a potentially coveted candidate elsewhere. However, most believe Anthopoulos would be happy to remain in Toronto … Remember when everyone thought the Jays bullpen was brutal? Well, they recently got four innings from a starter, and they came with Liam Hendriks, Brett Cecil, LaTroy Hawkins, Aaron Sanchez and Roberto Osuna in innings five through nine. Toronto has a "deep pen," said one scout who saw the fantastic fivesome .. Josh Donaldson (@BringerofRain20) has gotten himself into virtually a dead heat for AL MVP with Mike Trout. Donaldson has a 6.6 WAR, Trout 6.7. Trout's slash line is .295/.392/.585. Donaldson's is .293/.362/.570. Donaldson also leads the AL in RBI (91), runs (89) and extra-base hits (66). Both are brilliant in the field. Should be a great two-man race.
The dalliance with Dombrowski, however brief, raises the question about how satisfied the Nats-owning Lerners are with what's going on. The roster still looks pretty good from here. The issues appear to be 1. Injuries, and 2. Underperformance … Ian Desmond (.934 OPS in August) is starting to heat up. "He's starting to relax," says one Nats observer. The belief is the talented shortstop may yet get a nine-figure deal, despite his rough season despite his poor year … Stephen Strasburg has a 1.26 ERA and 0.76 WHIP over his last six starts, as noted by @ZuckermanCSN … Yunel Escobar has been a Godsend, particularly with all the injuries suffered by the Nats.
CommentsWrite a Reply or Comment:
You must be logged in to post a comment.