November 1, 2015 10:45 AM ET
NEW YORK — Pete Rose left his network TV job at the World Series after Game 3 to fulfill a prior commitment. Word is, it was a card/signing event, probably the 10,000th card/signing event he's worked.
According to his website, he is scheduled to sign autographs at the "Art of Music" at Mandalay Place in Las Vegas, where he is scheduled for more signings through Nov. 20
Maybe Rose made a promise and likes to live up to his word. Or maybe the card show paid $1 more.
This is a misguided guy with a history of wrong decisions. The one to blow off the World Series for a card show qualifies as no worse than goofy on the Pete scale. But that's Pete, too, as we've been reminded by his Fox appearances.
Poor Pete. He just doesn't get it.
Word is, he thinks he has a very good chance to be reinstated by Major League Baseball, and thinks he might even manage again at the big-league level. In reality, reinstatement is the biggest long shot Pete's ever backed.
MLB Commissioner Ron Manfred isn't speaking about his upcoming decision on Rose's possible reinstatement, other than to say it will be made by the end of the calendar year. But Pete may be the only one who doesn't grasp the odds here: Rose has more chance of winning the Nobel Prize than he does of being reinstated to baseball by the commissioner.
Nobody at MLB is even hinting at which way the commissioner is leaning, nor should they. But they don't have to. There is no reason to believe Manfred will do what his predecessor Bud Selig didn't do from 1992-2015. There is no momentum toward a positive result for Pete.
To Rose's credit, he isn't saying one bit about it, either. Maybe he has changed some.
When then-commissioner Bart Giamatti handed down the lifetime ban in 1989, Giamatti said Rose's best chance to get back into the game is to reconfigure his life. It's debatable how much reconfiguring he's doing. But give him this, he stopped lying about a lifetime of betting long ago. And he's stopped saying really dumb things.
Except when he's on TV, of course.
Fox is said to be happy with Rose. Fox spokesman Dan Bell, in fact, says they're so pleased with Rose's performance this year they intend to bring him back for more next season. They have an eclectic group, and it's hard to take your eye off them, I'll say that. For my taste, Rose's on-air demeanor leans toward clownish, but I wouldn't be surprised if it drew viewers. His lean-in mugging moment for the camera while the excellent C.J. Nitkowski was making a salient point was classic Rose.
He is your crazy uncle, albeit one with a past.
Fox dutifully warned MLB before they made the hiring of Rose official. And as far as that goes, Manfred told CBS Sports on Saturday, "The man's entitled to work. I'm fine with it."
As for the bigger question, nothing.
Rose's camp is hoping against hope Manfred will prove as open-minded as he seems. He's said he'd talk about a shift restriction, a pitch clock, a lot of wild things. It's true the new commissioner does appear willing to consider just about anything. Speaking of which, he gave Rose a hearing, meeting with him for two hours at the MLB office at 245 Park Ave. on Sept. 24.
Manfred may be the most open-minded commissioner in history, but it's illogical to believe he's lifting the ban his mentor Bud Selig didn't lift for 20-plus years. It's illogical for a number of reasons: 1. MLB hates gambling, and considers it the worst sin there is, well above steroids. 2. The evidence is unclear that Rose has significantly reconfigured his life (beyond becoming a TV personality). 3. MLB really hates gambling.
Gambling is baseball's cardinal sin. Everyone in and around the game knows that. If you bet on baseball, you're out, and it doesn't take three strikes. It's on every clubhouse door.
Rose's camp was expected to argue that he doesn't do anything illegal (true), that there's nothing wrong with making a living signing autographs in Las Vegas as he's done forever (also true) even if it's in a mall affiliated with a casino (true, too) and that plenty of retired players live in Las Vegas (true, as well).
But Rose also spent half the suspended years lying about the reason he got into this mess, then only told the truth for a price (a tell-some book). And Rose is Rose.
In some ways, he's the same guy. He still requests money for interviews sometimes. Everything has a price. (Though his handlers say the problem is some of his other handlers, who border on skeevy.) That's one of the problems with Pete. His instinct is to go for the quick buck.
He has no judgment to do the smart thing, and spotty judgment to pick the right people to surround him. He has some really good people working for him, like the reputable lawyer Ray Genco up in Massachusetts, but they end up working against all the bad people he has.
His best case is that 26 years is a long time for his big mistake. And it's not a terrible case. He is 74 years old. No one's going to hire him to manage a major-league team now, even if Pete thinks someone will. From here, he's harmless. I'd say reinstating him might be a nice thing to do for an old, misguided man.
But MLB doesn't think that way. As much of a gambler Rose is, baseball is just the opposite. While understanding of course that he doesn't fit the current mold for manager (never mind that no one is that crazy in any era). But MLB folks worry. They worry he'll fall off the wagon. And they worry, too, that a team could possibly hire him for a roving minor-league job. They surely don't want him around impressionable kids as a fully-endorsed representative of Major League Baseball.
That's just not a gamble anyone could see MLB taking.
Rose's only real hope is the Hall of Fame, and even that's probably a long shot. He's going to need a lot of help there, help he still isn't all that likely to get.
MLB and the Hall instituted a rule prior to his candidacy that permanently banned players aren't eligible for the Hall, in effect a Rose rule to keep him out. So assuming he remains ineligible, he'd need that Rose rule overturned.
And even if it is overturned, players are only eligible to be voted on by baseball writers for 15 years after their playing career, meaning Rose's time is up to be on the ballot. He'd probably need that 15-year rule overturned, too, or at best he'd be judged by the expansion era committee. That's made up of establishment types very likely to be far less sympathetic to his case than baseball writers.
He'd need exceptions made on his behalf, and as you might imagine, Cooperstown's 16-person Board of Directors leans conservative. They talk a lot about the character issue when Rose's name comes up, and they're likely anti-Rose if they've been listening to a Hall of Fame constituency that's not necessarily very supportive.
Baseball's really old establishment seems long sick of Rose, and that's well before they caught his goofy act on TV. Even some of his teammates don't seem like fans. Manfred has some leeway to exert his influence, he is open-minded about anything and maybe he's willing to consider a split decision. But it's still hard to see him entirely bucking baseball's elite, old institution.
To have a chance to make the Hall, Rose probably needs multiple rulings in his favor, and he's on a 26-year losing streak. It seems like a major long shot, and that's really a shame because Rose is a Hall of Fame ballplayer, he's served quite a long penalty already and there's probably already a non Saint or two in the Hall. Even if baseball won't let him completely back into the game — and there's no way they will — in all fairness he should get a chance at Cooperstown. And that means a real shot.
Twenty-six years is a long time. It would be nice to see Rose on the ballot. But as far as the chances for it happen, that's not a bet anyone should take, either.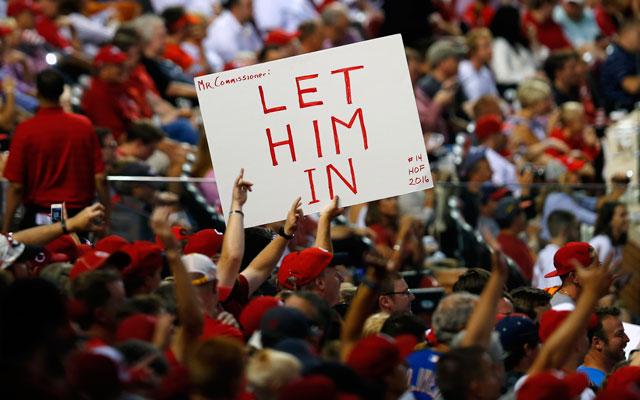 Around the Majors …
Owner Peter Angelos has taken an interest in trying to get slugger Chris Davis signed, and the Orioles are making an early effort. Hard to imagine he foregoes free agency, however.
Does every missed ground ball have to become a "Buckner moment?" Sorry, Eric Hosmer's error in Game 1 wasn't a Buckner moment, and neither was Daniel Murphy's.
Kansas City will non-tender injured closer Greg Holland, according to sources. They really have no choice, as Holland, who had Tommy John surgery last month, is expected to miss almost all of next year and would still make about $10 million in arbitration after making $8.25 million this year. The Royals love Holland and would be happy to consider a two-year deal for him, as they did for Kris Medlen … Don't look for the Royals to re-sign Ben Zobrist. He fit them this year because he filled left field while Alex Gordon was out, and now again while second baseman Omar Infante (oblique) is out, and at a very reasonable $3.5 million for a little less than half the year. But Infante is back next year, the Royals prefer more range at second, and Zobrist will be out of their price range. So he's a goner … No one prepares like Chris Young, Royals people say. And few prepare as smart as him. He reportedly received a 1320 on his SATs, out of 1600. Not bad.
Dodgers people like Joe Maddon so much you have to wonder whether there's regret they didn't make the move for Maddon a year ago, when he became available thanks to a trigger in his contract that activated when Andrew Friedman went to the Dodgers to become their president. Gabe Kapler, who did at least play for Maddon in Tampa, is seen as the leader in the clubhouse for the manager job. Davey Martinez, Maddon's right hand man, would seem logical (though he's seemed logical for jobs before and never seems to get a bite).
Don Mattingly would like to bring pitching coach Rick Honeycutt and coach Tim Wallach from LA, but the Dodgers have interest in bringing back both of them, so it might be hard to get either. There's likely a little more chance at Wallach if he's passed over for Dodgers manager. In that event, it's possible he could seek a fresh start.
They may be in for a couple-year rebuild considering their pitching and prospect issues, rivals say. They do have a special young shortstop in Orlando Arcia.
Juan Lagares will be back in center field at The K, Mets sources say, if the Mets force the series back to KC. After taking a gander at that massive ballpark, manager Terry Collins decided he wants the speed and defense in center field. That means Yoenis Cespedes goes to left field, and Michael Conforto is the DH (the Royals only start righties) … KC's strategy to go soft on pitches to Murphy has paid off so far. He hasn't homered yet … Mets exec Paul DePodesta, also from "Moneyball" fame, is an exceptional baseball person, and it's no surprise he's rebuffed about a "half dozen" GM inquiries (he did interview once, but then withdrew) since his short tenure as Dodgers GM, as he told Bill Shaikin of the Los Angeles Times. He is, though, the probable successor to GM Sandy Alderson in New York, if he wants that job … I agree with Joel Sherman of the New York Post: The Mets should bring back Bartolo Colon, 42, for another year, if they can. That veteran pitching depth is huge (as the Royals show), but the guess here is that it might be tough to keep him since the Mets have five great young starters … Part-owner Bill Maher was seen at Game 4. To balance him out, conservative Long Island congressman Peter King has been at just about every game.
Mike Zunino is a big talent, but scouts are concerned that leaving him in the big leagues to struggle offensively for two years may provide a psychological hurdle … The big three of the Mariners (Robinson Cano, Felix Hernandez and Nelson Cruz) all loved manager Lloyd McClendon. New manager Scott Servais, who seems like a tougher customer, will be an interesting match, especially for Cano, baseball people say.
Josh Donaldson, the AL Hank Aaron Award winner, came with his mother to accept his trophy, which was cool. Donaldson, one of our favorites in the game, said he has great affection for Alex Anthopoulos and envisions him landing a new job after he surprised folks by resigning as Jays GM … Donaldson also explained why his twitter handle is @BringerofRain20. It came from the show Spartacus. "I thought it was pretty neat, so I stole it," Donaldson explained.
Superstar Bryce Harper declined to come to New York for his NL Hank Aaron trophy, telling folks he didn't want to booed in a rival stadium. He should have come. It's a great honor. However, he is a poised young man (he just turned 23!) and did give a very nice video acceptance speech.