Inside Baseball: Padres, Reds throw late deadline curves, and other notes – CBSSports.com
Trade deadline week was one of the best ever, but deadline day itself turned into a surprising dud, with only one true impact player changing teams that day. That was exciting outfielder Yoenis Cespedes — a rental star who's part of a Mets revival but is ineligible to start next season as a Met as his contract is currently written.
So what happened to what promised to be a thrill-a-minute final ride but wasn't?
Realistically, the responsibility for all the shocking last-day inactivity rests largely with two teams that dangled major players but ultimately stunned folks by basically standing pat — Cincinnati and San Diego.
Between them, the Reds and Padres wound up doing almost nothing on deadline day, surprising baseball people who spent the day chasing after stars on both teams. Cincinnati earlier in the week traded its two rental stars, Johnny Cueto and Mike Leake, which was only logical. But for some reason they kept superstar closer Aroldis Chapman after talking extensively to the Diamondbacks, Astros and others, and also pulled back on a Jay Bruce deal that seemed all but done.
"Cold feet," is how one involved person explained the pullback on Bruce.
Cold water is what fell onto the trade market.
Meanwhile, the Padres, with their playoff hopes on life support at best, shocked folks by keeping everyone (and even adding a last-minute middle reliever), and somehow hoping for better, against all odds. Their lack of movement was in a way even more stunning since San Diego has shown a willingness to think big and be bold under its new GM, A.J. Preller.
In any case, the general consensus is both teams played hands that are bad (Reds) to fair (Padres) much too conservatively.
The Reds have only a year and half remaining before Chapman can become a free agent, and thanks to bloated mega-deals already on their ugly books in baseball's smallest market, they would seem to have almost no chance to keep Chapman past 2016. So why not trade him now, while the value is at an all-time high?
The Padres have by far their highest payroll at $110 million, at least one free-agent star remaining on their roster in Justin Upton and an underperforming new nucleus that seemed to beg for an overhaul. Although, it obviously would have taken some hard swallows; the deadline offers in many cases didn't come close to matching the hauls they sent away to build their new core in a whirlwind winter that turned Preller into a temporary rock star. The question now is this: Will he be a one-hit wonder?
Padres higher-ups say today they understand their playoff odds aren't great. But their moves seemed to suggest otherwise.
Rivals simply don't get it.
"The math just doesn't add up (to a playoff spot)," one rival GM said.
"They have no (bleeping) chance to make the playoffs," said another.
Yet, Padres people insist the inactivity was more about their offers than their chances. They figure they can hold onto stars they control — notably coveted closer Craig Kimbrel and starter Tyson Ross — and deal them later if it comes to that. They also didn't love the proposals they were getting for Upton (or the others for that matter).
"It was a combination of things," Preller said by phone in explanation why not a thing was sold. "We considered a little bit of everything. But ultimately, we didn't have the exact match we wanted. In other cases, we weren't going to make a trade just to make a trade. We had a couple things we were trying to get done. They just didn't line up … On top of it, we're playing better baseball. We played a tough schedule to this point, and our schedule gets a little bit easier. We're realistic. We know it's going to take a big effort. There are good teams in front of us. We understand what's before us."
The Padres could have had top Yankees shortstop prospect Jorge Mateo and two other prospects for Kimbrel, as reported here first, with the Yankees said to be suggesting they might be willing to take Jedd Gyorko and pay some of the $33 million in "dead money" on his deal, as one person put it. Plus, for Upton, as ESPN first reported, the Padres could have had pitching prospects Michael Fulmer and Luis Cessa, the very same tandem that eventually went to Detroit for Cespedes.
The Padres, which didn't need to save money, as it turned out, weren't moved by either offer.
They apparently like Mateo but see him as being a couple years away when they need a shortstop now. They think Fulmer is fine but believe they can come close to him with the first-round pick they'll get when Upton declines the qualifying offer (Preller, first lieutenant Logan White and others with the Padres have a good history of finding young talent, and hope they can make up for what they lost).
So instead, the Padres rolled the dice. One rival referred to Preller as a "riverboat gambler." And if you believe Fangraphs, there's a 96-percent chance they come up snake eyes.
"It's a decent core to start with so there aren't a lot of rental players. So we didn't see the need to (make a lot of trades)," Preller explained further about the inactivity. "With Justin Upton, the evaluation was what we're being offered versus the value of the pick and having Justin for the rest of the year. There were offers right on the line, but none that made us move."
So in the end, both teams wound up shocking folks by doing almost nothing beyond talking (the Padres actually did the opposite of what was expected, adding a piece, the much-traveled, hard-to-spell lefty reliever Marc Rzepczynski). There was interest in controllable young pitchers Andrew Cashner and especially Tyson Ross before the Padres decided to keep the whole gang together. And other free-agents-to-be Will Venable and Ian Kennedy drew only limited interest. Some now surmise San Diego spent the days leading up to deadline day deciding whether to go big or go big home, and ultimately decided it was better to do the latter. Whether there's truth to that or not (Padres people say no), it clearly wasn't going to be easy to sell their stars for 50 or 75 cents on the dollar.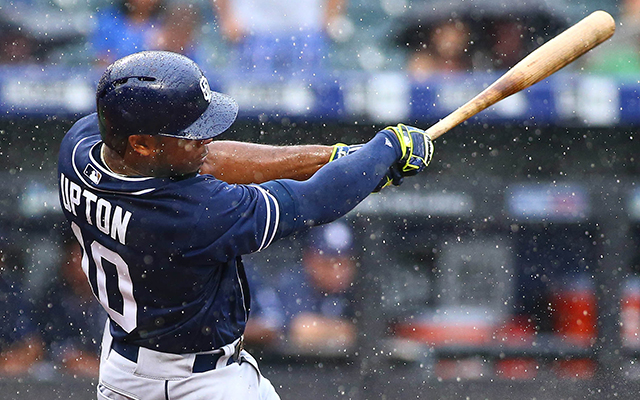 The pressure has to be immense after the "rock star" monikers hung on Preller early, and word is, not all his bosses are quite as uniformly enamored after his winter haul according to people who have spoken to them (Preller sounded fine by phone, for the record, and actually anything but overwhelmed by the situation). The whirlwind winter hasn't quickly turned the Padres into a winner, and public reviews are pointing out the escalating expenditure, a so-so first half and the loss of many prospects (six of their top 10 by one accounting). The decision not to undo any of what was done in the winter will prove prescient if the Padres can mount an improbable comeback in a difficult National League wild-card race, something few see happening.
Despite the comments of others, technically, the chances are something slightly better than nil. Fangraphs put San Diego's October hopes at 4 percent on deadline day, and while they might be somewhat better than that considering a weak second-half schedule, and some real underperformance in the first half, one competing GM pointed out that their 50-53 record at the deadline was actually slightly lucky considering their actual first-half performance pointed to a slightly worse record than that.
As for the Reds, considering their situation, they simply played it too safe. It's hard to know what the owners' involvement was, but just as it made no sense to give Joey Votto a $225-million deal in baseball's smallest market — two years before free agency, no less — it made almost as little sense to keep a closer a year and a half from free agency when you're probably two years from winning.
The Reds did OK in getting three decent arms for rental star Johnny Cueto ("if Brandon Finnegan can turn into a starter, that deal will be a good one," one rival said), though the suspicion is, all three lefties will be relievers, and it was fine to get pitching prospect Keury Mella in a two-man package for Leake. But the Reds needed to do more. There are gaps throughout their system, including on the positional side of things.
A couple of rivals suggested Reds GM Walt Jocketty is probably better at maintaining than remaking. Jocketty is "not a dealmaker," one rival said in a sentiment heard from others from other as well. (Jocketty made the famous Mark McGwire trade when he was in St. Louis, but the suspicion is that La Russa really ran that show.) The hope was that veteran dealmaker Kevin Towers, added to the Reds' front office during the winter meetings, might loosen up Jocketty, who couldn't be reached. But so far it hasn't happened.
The Reds and Mets, in fact, came close to agreeing to a deal that would have sent Bruce to New York straight up for Zack Wheeler, but Cincinnati pulled out of the deal, according to sources, sending the Mets scrambling. (After their Carlos Gomez trade fell through, they knew they needed to come up with one of Bruce, Cespedes or Upton, and it was becoming more evident Upton wasn't going anywhere). While some suggested the Reds tried to sweeten the deal, one source summed it up, simply: "They got cold feet."
Chapman is obviously an exciting star for a reliever, but rivals saw the asking price as way over the top. From the Diamondbacks, for instance, the Reds sought Brandon Drury, Braden Shipley and a third big prospect, as USA Today reported. That's too much.
In the end it made little sense for Cincinnati to hang on to its closer with contention currently a pipe dream. The Reds have no chance this year. At least the Padres can hang onto that 4 percent.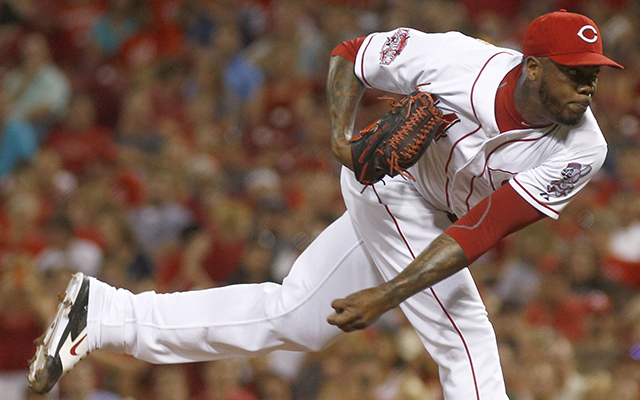 Around the majors …
Club president Tony La Russa still seeks a shutdown closer, and word is they might revisit the Chapman talks at some point after the season. The D-Backs have cut back enough to save some payroll space and will target one of three needs: a closer, a top starting pitcher (someone below David Price and Johnny Cueto in the free agent pecking order), and/or a hitter to bat behind under-heralded superstar Paul Goldschmidt … Arizona tried Craig Kimbrel, though Chapman was the bigger focus … Of the players they fielded inquiries on (Cliff Pennington, Oliver Perez and Jeremy Hellickson), they came closest to dealing Hellickson, who drew interest from the Blue Jays and Pirates … Welington Castillo (11 home runs, .998 OPS in Arizona) has actually outperformed Mark Trumbo (three home runs, .629 OPS) since the trade, and just about everyone else, too.
The Braves made an opening offer of $40 million for four years to Hector Olivera and were believed willing to get close to $50 million before the Dodgers outbid them with their $62.5-million, six-year deal, so the Braves saved some serious bucks when they acquired Olivera with 5 1/2 years and only $32 million to go. They like Jose Peraza and know he's going to be a useful major leaguer but word is they weren't sure if he was a second baseman or center fielder, plus power and on-base questions limited the value they placed on him … Alex Wood was a tough loss, but with a small step back this year, and a bevy of recently-imported young starters, he was expendable … Jonny Gomes should easily clear waivers … The intention is to keep A.J. Pierzynski to work with all the young pitchers.
The Orioles talked to the Rockies about Carlos Gonzalez but didn't relish giving up a package that included Kevin Gausman, a Colorado product coveted by the Rockies for years … Gausman was extremely popular, as he was the asking price for Justin Upton and Yoenis Cespedes, too. Baltimore likes Cespedes and tried a few other combinations, but for whatever reason, they didn't match up … They spoke to the Dodgers about Carl Crawford, but between the money remaining ($49 million through 2017) and injury history, they decided it wasn't worth the risk … They believe Junior Lake, expendable with the Cubs' prospect largesse, could be a turnaround candidate.
The Red Sox weren't seriously involved with Cole Hamels by the end, and there's no word Philly ever came off Mookie Betts or Blake Swihart … The media rumor of Pablo Sandoval for James Shields, which on the surface makes sense, was "never discussed," one source said … The Red Sox looked at Carlos Carrasco, but word is, the Indians wanted "a boatload." … The Red Sox did have talks about Kimbrel, and had potential matches since they have shortstop prospects, including Deven Marrero. But it never got close. They spent less time on Chapman. But the Red Sox do believe they'll be needing a closer soon … GM Ben Cherington and manager John Farrell are safe after what looks like a third last-place finish in four years (they won the World Series in the other year) … Sam Kennedy is a popular choice to be elevated to run the business operation after the legendary Larry Lucchino announced he'd be stepping down after the year. Folks around the team believe Lucchino would have stayed a year or two more had been asked to do so, but higher-ups apparently felt the time was right … Dave Dombrowski seems like an improbable fit to be hired as baseball president with Cherington already there to run baseball ops, and Gordon Edes of ESPN Boston cited a source suggesting it wouldn't happen … Xander Bogaerts has been a rare bright spot, as he's having practically the same season as ex-Red Sox shortstop Jose Iglesias. Bogaerts has a slash line of .310/.339/.403/.742, Iglesias .314/.356/.396/.752.
Pitching pickup Dan Haren, who should help this year, suggested this could be his final season after his trade, and in fact teammates agree he will retire … It's understandable why the Cubs ultimately didn't part with their prospect stash for a young starter such as Ross or Carrasco, as the Cubs may be a year away. Folks are convinced Chicago will get one of the great free-agent starters. Price will be their top target, but Zack Greinke, Jordan Zimmermann and Cueto could be in play for them as well … The Cubs decided they ultimately didn't want to sell low on Starlin Castro. They talked to the Padres, who need a shortstop but are wondering if he's worth even his seemingly reasonable contract considering his undeperformance this year. His .236 average and .575 OPS both represent career lows. The Padres also have interest in Javier Baez, though they seem to have some concerns about his all-or-nothing track record at the plate. Look for the Cubs to shop both guys this winter.
The White Sox got hot just before the deadline, winning seven straight, and briefly caused them to consider rentals such as Cespedes and Upton … They also fielded interest in Jeff Samardzija, with the Jays, Astros and Giants thought to be the main teams with interest in Samardzija. The return on Samardzija would have been similar as the one on Leake, according to sources, so considering the wide-open AL wild card race, it was worth going for it … Larry King's Twitter prediction of a deal between the White Sox and Dodgers didn't come true, but we welcome the competition.
The Indians were actually asked about all of their starters, not only Carrasco but also Danny Salazar and Trevor Bauer and even ace Corey Kluber, who got multiple hits. The Dodgers and Cubs, among others, were tied to Carrasco … The Indians will try Rob Kaminsky as a starter. "He's an aggressive, intense competitor," says GM Chris Antonetti, who also noted the plus curveball and decent changeup … The Indians once again get kudos for making it clear to Mike Aviles he wouldn't be traded while his beloved daughter Adriana, 4, battles leukemia. Best to Adriana!
Some teams had the impression the Rockies seemed somewhat less interested in trading Carlos Gonzalez after Troy Tulowitzki was dealt. "(Tulowitzki) was the one they wanted to trade," observed one rival GM. The Tulo situation had become a soap opera hanging over the team, so it was a good idea to move on, even if the package was far less than it would have been a couple years ago. While there were talks involving CarGo, the price tag placed on him was very high. Said one longtime Rockies observer, "They love CarGo." … The Rockies did not shop Jose Reyes, but his name came up in talks. One club that may have fit was the Yankees, who could have used Reyes at second base (where he played one year with the Mets) and perhaps it might have reinvigorated him. He still lives on Long Island's North Shore. If there were talks with the Yankees, though, they were very brief.
Word seems to be that Chris Ilitch, son of owner Mike Ilitch, wasn't especially close with Dombrowski, who was released from the final few months of his contract to pursue other interests (i.e., teams). There is further word that Tigers owners weren't thrilled with the $68-million, four-year deal for Victor Martinez, who was ailing most of the first half and perhaps also a couple other contracts. Dombrowski did a very good job overall, but interpersonal relations are a key in these hierarchies, so in retrospect, it shouldn't be such a surprise they let Dombrowski leave … The press release citing "some" success the Tigers had under Dombrowski seemed to undersell it a bit, though, as they became the perennial power in the AL Central under his watch. Dombrowski also made some great trades, including the one for Miguel Cabrera, which is an all-time great deal … The Ilitches are said to actually have had a better relationship with Al Avila, a more outgoing sort, who takes over … Dombrowski should land with a new job fairly quickly. Beyond his overall stellar record, as someone who attended owners meetings in his role as team president, he made several connections. The landing spot could be a surprise team … Avila is known as a great talent evaluator (he found Cabrera in the first place when both he and Dombrowski were with the Marlins). The Tigers, who once got a tongue lashing from MLB for quickly hiring Phil Garner before considering any minorities, get bonus points for tabbing the Cuban-born Avila, who's in the middle of an impressive baseball lineage. Father Ralph was a legendary Dodgers executive and son Alex is a Tigers catcher … Dombrowski was praised for the job he did with their quick sale. Daniel Norris was seen as a "good get" for the rental Price. Dombrowski , characteristically, acted decisively in making a quick deal not a day or two after suggesting they may sell. The Giants, Yankees and Dodgers were shut out when Toronto offered up Norris (plus two others) …. Some expect the notoriously free-spending Tigers to pare down their payroll for a change for next season. Considering mid-range revenues, they have spent as liberally as anyone.
Houston disregarded early word here and elsewhere that Cole Hamels was unlikely to waive his no-trade clause and still made a big play for Hamels, so big that Phillies people are said to have continually checked with Hamels' agent John Boggs about his willingness to go to Houston. The Phillies were excited enough about the Houston offer that, even after telling Boggs he was "tardy" when he relayed the info that Hamels would accept the Giants, Phillies GM Ruben Amaro is still to have asked once again about Hamels and the Astros. The answer on that one was still no. Hamels liked the fact the Astros have become competitive, but they haven't been consistently competitive over the years, the short left field wall is a challenge for lefty pitchers and he doesn't have family friends in the Houston area as he does in the Dallas-Arlington area (where his wife's family resides) … There remains no reason to believe Carlos Gomez has a hip issue. He missed one game with what was called a groin/adductor with Milwaukee, and Houston passed him with flying colors … Carlos Correa may already be the second-best player in the American League.
The Angels tested the waters on Cespedes but never got close …The Angels don't have a permanent GM and Dombrowski has long-term ties to interim GM Bill Stoneman, but they would seem to be an unlikely landing spot for Dombrowski, as all the power already resides with owner Arte Moreno and manager Mike Scioscia. Unlike most managers, Scioscia is said to have "zero fear" of getting fired, which makes for an interesting dynamic … The meetings that triggered the resignation of GM Jerry Dipoto, a great baseball man, got rather heated, as was first reported by Ken Rosenthal of FOXSports.com. At least one coach is said to have "gone nuts" over the recommendation that players receive statistical info via email (some coaches apparently took the idea as a suggestion they were underprepared). As one Angels person, in an apparent euphemism expert, put it, "It didn't go exactly as planned." … It's a tough crowd in that room. Ailing starter C.J. Wilson should be given the benefit of the doubt after starting 31-34 games his first four years after leaving the bullpen, though Alden Gonzalez of MLB.com reported there were unnamed Angels skeptical Wilson really needed elbow surgery that will likely end his season, as he said he does. That's a bad sign for the team that such a sentiment should show up on MLB.com, and it's really a continuation of a lot of unnecessary controversy out in paradise.
The Dodgers were said to have been much more aggressive in their pursuit of Cole Hamels than the other aces, Price and Cueto. What they loved about Hamels was that he's under contract for three more years, which had the potential to give them a safety net (and perhaps a tiny bit of leverage) with Zack Greinke's opt-out an issue … The Dodgers would not surrender top prospects Corey Seager and Julio Urias in any deal, and word is they wouldn't part with Jose De Leon, generally regarded as their third-best prospect, for any of the rentals. LA was proven right not to surrender Joc Pederson in the past, and it'll be interesting to see whether they made the right calls on Seager and Urias, two consensus top-five prospects in baseball, as they could have made themselves a prohibitive World Series favorite with any of Hamels, Cueto or Price. Seager looks like a future superstar, and Urias is undoubtedly a prodigy, but perhaps a Urias for Price-Soria deal could have worked … In the end, rivals believe the Dodgers did a good job using their financial might and creativity to fill more obvious needs for mid-rotation starters and bullpen help. By paying for Michael Morse and spending Olivera's $28-million bonus, they added starters Mat Latos and Wood and relievers Jim Johnson and Luis Avilan. They (and others) believe Latos will be at his best with two months to go before free agency … The Dodgers payroll has gone up by three times in three years, from $90 million in 2012 to more than $270 million now.
Dan Jennings put the team first when accepting his bosses' suggestion that he be the one to take over as manager after the team's 16-22 start, and amazingly enough, it's said that's he's kept his usual positive demeanor. And while it is believed he'd be willing to return to managing with a clean slate (and some might suggest that would only be fair considering the impossible spot he was in this year) and he certainly can't be blamed for continuing injuries and underperformance, there's a decent chance the Marlins will be looking for another manager at year's end. Marlins people are all appreciative of Jennings for taking an impossible task, and Michael Hill said, "He's had to face a lot … I think he's done a very good job." Even so, word is they are likely to look for a permanent manager, with Jennings presumably returning to the front office, where he would be welcomed back. Good news: Ozzie Guillen will finally be off the books. And as for whether he might return, well, there's equally as good a chance of the Marlins hiring Ozzy Osbourne …. Marcell Ozuna is tearing it up in the minors, hitting .301 with an .885 OPS at Triple-A New Orleans, but Hill says his continuing stay in the minors is unrelated to his arbitration clock. "That's a non-story," Hill says. "Marcell Ozuna has been with us since he's 16. All I want is the best for him. When he's right, he helps the ballclub. But we want to make sure he can consistently handle the pitch on the outer half of the plate." Hill, furthermore, says that while he's hitting in the minors, there hasn't been opportunity to show he can handle the tough outside pitch in the minors where pitchers more often miss their spots … The Royals and Yankees were among teams to check in on Martin Prado … Miami people love young catcher J.T. Realmuto … The Marlins are expected to try to lock up their double play combo of shortstop Adeiny Hechavarria and second baseman Dee Gordon over the winter. They tried with Hechavarria last winter, but there was no traction.
Paul Molitor has done a terrific job but the Twins needed a bigger jolt at the deadline than middle reliever Kevin Jepsen can provide … Few have noticed, but Miguel Sano looks like everything he was hoped to be. He has a .926 OPS in his first 28 games with the team.
The Cardinals showed interest in Adam Lind, and it seems odd St. Louis ultimately went with Brandon Moss, who isn't having nearly as good a year. But Lind, with an $8-million option for next year, has value to Milwaukee for that reason. Moss delivered a walk-off hit in his first game as a Cardinal after having a sub-.700 OPS in three disappointing seasons in Cleveland … Nerve department: One team, despite Gerardo Parra's .325 batting average, suggested the Brewers chip in to pay part of Parra's $6.8-million salary. Needless to say, that team didn't land Parra … The Blue Jays showed interest in Parra, too, but their chances faded when they sent Matt Boyd to Detroit in the Price deal … As it turns out, there was talk at his behest as far back as before the season that Brewers GM Doug Melvin would likely take another role with the organization. The Brewers haven't said what that role may be, but it may be in the senior advisory capacity.
It was nice that Cespedes suggested he wanted to stay shortly after he got to Queens. Mets fans ate it up, of course not recalling he said very similar things when he got to Boston and Detroit before that. New York got excited about his interest in being there, but let's not forget, it's a positive guy speaking a second language; in other words, not too much should be read into it. The likelihood of remaining doesn't seem great at the moment for a variety of reasons. It has a better chance than a return to Detroit, though, which has somehow become a big narrative. While Tigers baseball people love Cespedes, it doesn't seem likely they'll winning a bidding war for him, much less engage in one … The Braves gave such a huge price for star shortstop Andrelton Simmons, it wasn't even worth Mets GM Sandy Alderson countering … The Mets would not give up Amed Rosario or Michael Conforto for Upton. For others, Conforto was a very popular ask … David Wright may be a week or so away. Joel Sherman of the New York Post made a case here for Wright winding up in the Hall of Fame … Jerry Blevins, out for the year after re-breaking his left arm falling off a curb, finishes the year perfect. He faced 15 batters and retired them all. Thus, his WHIP for the year is 0.00 (same as his ERA). Best wishes to a smart, interesting character (@JerryBlevins_13) … The team is much improved, but relief is still needed.
The Yankees envisioned Gyorko platooning with Stephen Drew at second base. They always liked Dustin Ackley, who they did get, though.
Chase Utley looks like a trade candidate. He will surely clear waivers, and there's likely to be some believers in him, despite his awful (.179) start … The name of Angels exec Matt Klentak as a prospect Phillies executive, continues to be heard. While hardly anyone expects Amaro to remain GM, there would seem to be a chance he could stay in another capacity. "The Phillies aren't a firing organization," as one Phillies observer pointed out.
Of all the great rookies, it may surprise some that Jung Ho Kang has the second highest WAR at 3.4 (Matt Duffy has the highest, 3.6). His performance helps his buddy from the Nexen Heroes, Byung-Ho Park, as executives will realize these guys can play. … Mark Melancon is quietly having a brilliant season. He's up to 33 straight saves.
There's no timetable on Matt Holliday (quad), but he's said to be hopeful to return around mid September. The recurrence raises the question of whether he returned too soon … Trevor Rosenthal's agent Scott Boras is said to have questioned whether Rosenthal was overused (Boras has said for postseason success, closers should be limited below 70 appearances, and Rosenthal was on pace for 80-plus at one point). Maybe the Cardinals listened because they added via trade ex-closers Jonathan Broxton and Steve Cishek.
The goal for Wil Myers (wrist) is to be able to return sometime this season. He's said to be progressing, though obviously it's been a slow go. His absence has been a killer for San Diego.
San Francisco made a nice late run at Cole Hamels, and while Hamels ultimately accepted San Francisco, provided his 2019 option would be exercised, Phillies people told them the acceptance came too late. The Phillies asked for pitching prospect Tyler Beede and young catcher Andrew Susac, among others, though it isn't known what the final offer was … Mike Leake made all the sense in the world for the Giants, and he may make sense as a free agent. He played youth baseball with Brett Bochy, son of Bruce. Many believe Leake is the one trade-deadline pickup who will stay with his new team. In any case, Leake, an excellent hitter, needs to remain in the National League. "His style is good for our defense. He pitches to contact," GM Bobby Evans says. Leake also is 27 with significant experience. "This is a nice preview," Evans noted … The Giants limited their efforts to about five top pitchers, including Price and Samardzija. They checked in on Price's availability several times before finding out he was finally available. Then, within a few hours, he was gone.
Defense should count in WAR. But this much? Kevin Kiermaier, a wonderful defender, has a 4.55 WAR despite only four home runs and a .245 batting average. That figure ranks 17th in the league, higher than those of Nelson Cruz, Mark Teixeira and J.D. Martinez … Despite pre-deadline speculation, rival teams didn't get the impression the Rays wanted to trade top relievers Brad Boxberger or Jake McGee.
Barring something unforeseen, Texas will give the qualifying offer to Yovani Gallardo … Adrian Beltre became the first player in 80 years to hit for three cycles … By getting $9.5 million in the deal, and sending Matt Harrison to Philly, in effect the Rangers are paying less than half the $80-plus million remaining on Hamels' deal.
Folks around the game were extremely impressed by GM Alex Anthopoulos' moves at the deadline, and he has given the Jays every chance to make the playoffs for the first time in 22 years by adding five players, including superstars David Price and Tulowitzki, and the result has been immediate … Anthopoulos seems likely to win an extension with his amazing deadline maneuvers (which also netted Mark Lowe, Ben Revere and LaTroy Hawkins) … Dombrowski would seem to maker a bit of sense as a possible successor to outgoing team president Paul Beeston, but Dombrowski is used to running the baseball side of things, too, and that may not be needed here.
It's said to be an "unhappy scene" around the Nats, as manager Matt Williams has not be well-received by many players, who find him "not loose" and "never relaxed." One player says that while Williams looks tight as soon as games begin, it isn't affecting the players, saying, "The players are pretty loose. We have a lot of fun. I don't really fell like the players are tight. We're a pretty rowdy, loose, fun-loving bunch. We have a good ol' time regardless of what's goin' on with our skipper. I don't think it affects us. That's just how he is." Players are wondering about Williams' bullpen choices, though, from as far back as failing to use Drew Storen and Tyler Clippard in Game 5 of last year's NLDS vs. the Giants. It was odd again to see Williams not employ Storen and Jonathan Papelbon in two tight games against the Mets last week (while using the pair down five runs in their first game as soon as they left New York). GM Mike Rizzo didn't respond to a message … Ian Desmond is having a nightmare season in his walk year, with a .616 OPS and 0.1 WAR. But his teammates still believe in his talent.

Major League Baseball News

MLB is keeping quiet the timing of its interview with Pete Rose to this point … Meanwhile, John Dowd, the lawyer and baseball investigator who reported on Rose's gambling infractions in the Dowd Report to then commissioner Bart Giamatti, should curtail his media appearances advocating continued punishment for Rose. Dowd only comes off as vengeful when he throws out his suppositions and guesses that all happened to be anti-Rose. Wasn't his work done 26 years ago, and wasn't he supposed to deal in facts? Is it really appropriate for the finder of fact to be slinging unwarranted, unsubstantiated claims at this time? Commissioner Rob Manfred will make his ruling on the facts.
CommentsWrite a Reply or Comment:
You must be logged in to post a comment.