Inside Baseball: The needs of 14 big spenders; more from GM meetings – CBSSports.com
BOCA RATON, Fla. — One agent was overheard to say there are a lot of "lowball" offers flying around the baseball GM meetings. But that shouldn't be taken to mean teams are low on cash. To the contrary, more nine-figure deals are expected this winter than ever before. For sure, this is just a pause before the deluge of mega deals.
Several teams are expected to be big spenders, and others won't be too far behind that, as the winter spending season is just getting under way now.
The (expected) Big Spenders
1. Angels
They have money and plenty of holes, thanks to free agency and option rejections, not to mention a history of the occasional contract whopper, often spurred by their anxious owner Arte Moreno. The Angels are pretty well set with their pitching, but they are practically barren at left field, third base and catcher, and could possibly consider reinforcements at second base, as well.
Beyond all that, they have to wonder about Albert Pujols, the $240-million man, who underwent serious foot surgery with $165 million and six years to go. Good luck there.
Chris Davis has been connected to the Angels, who wouldn't mind if their pickups are left-handed to balance a righty heavy lineup, though according to new GM Billy Eppler, that is said to be something short of a necessity. Lefty-swinging star outfielders Alex Gordon and Jason Heyward are two more potential fits, as is Daniel Murphy, who could play both third and second. One rival GM, in fact, predicted the Angels would sign Murphy, though he's expected to have quite a few suitors, including the cross-town Dodgers.
2. Giants
Giants people are saying they are playing things to "close to the vest," which is often a tipoff that they have big plans. Besides their three-year streak of winning the World Series in even years, there are clear holes to fill in the rotation and the outfield, which just so happens to be the two greatest areas of strength on the free-agent market.
The Giants are believed to like Zack Greinke, but it might take some kind of special pursuit (not to mention dollar outlay) to outbid the rival Dodgers, who have made Greinke their No. 1 target. The Giants have suggested to some they might actually try to sign two pitchers, which would presumably mean two below the very top group, which includes Greinke, David Price and Johnny Cueto. They've been linked to their own guy, Mike Leake, plus Jeff Samardzija. Those two together could receive about what Greinke gets by himself — something in the $160-million range.
The Giants have been considering outfield star Yoenis Cespedes, but they are a bit concerned that his regular-year finish might cause his price tag to rise by $50 million, or more. They also have liked Justin Upton before. But in all cases, there's some suspicion they'd prefer to keep outfield pay to the range of $90 million, which is what they paid their own star Hunter Pence, who helped them win a championship before signing that deal (and two now).
3. Tigers
There is word that at a recent meeting owner Mike Ilitch, who has supported his team financially like no other owner considering their limited revenue, literally pulled out a checkbook to show how anxious he is to enhance the team after a rare off season following a strong period of success. The Tigers are concentrating on both starting and relief pitching, as both are areas of need. They probably could use two starters, and at least that many relievers, including a consistent closer.
They have been linked to Samardzija, Ian Kennedy and others, and will surely come up with a couple starters. As for the pen, they are considering a mix of free agents and trade candidates, including Pirates star Mark Melancon, free agent Joakim Soria (an ex-Tiger) and others.
They've always liked Cespedes, another former Tiger, but if the ask is close to $150 million, they'd probably be out there, too.
4. Red Sox
There is a different feel about the Red Sox in the first year under veteran baseball man Dave Dombrowski, and there's some indication they could play for one of the big pitchers, with Price, who was acquired by Dombrowski for the Tigers two years ago, and possibly Cueto linked to the Red Sox. Greinke was actually drafted by Red Sox exec Allard Baird when he was the GM in Kansas City, and after thriving with both Los Angeles teams, there is no longer a hesitation of major-market teams to pursue him. While Greinke, very honestly, explained that he picked the Dodgers last year because they offered the most money and would have gone elsewhere for a dollar, there is some belief he'd prefer the National League since he enjoys hitting and is very good at it (not to mention the bat flips).
The Red Sox have had term limits in recent years, as they've paid higher annual salaries while aiming for shorter terms, but the connection to Price has folks wondering whether there's a "sea change" this year. "I don't know if there's been a sea change," Red Sox GM Mike Hazen said. "We're just open to exploring."
Boston at the very least doesn't seem hesitant at all to spend in the first year of Dombrowski, a veteran baseball leader with a long track record for success who was the Marlins' GM for John Henry way back in the '90s, which likely gives him more cachet and even more leeway to do what he feels is necessary. Dombrowski also is endeavoring to upgrade a bullpen that needs it and is all in on a bullpen market that contains several big names. The Red Sox met with free agent Joakim Soria's people here, as was reported here first, and is also considering the long list of closers available in trade.
They are being very aggressive in their search for good pitching, and seem willing to give up good prospects in return. Aroldis Chapman of the Reds could be a match.
5. Cubs
They are primed to win now, and there's no excuse for this high-revenue team not to spend. They made it to the NLCS a year or two ahead of schedule, and the future is bright, especially with the right additions. They are expected to look at the big pitchers — Price, Greinke and Cueto — with perhaps particular interest in Price, who is connected through beloved manager Joe Maddon.
Positionally, they are in excellent shape but will look at the center field market. The first choice may be their own free agent Dexter Fowler, but they could also consider Denard Span, Colby Rasmus, Austin Jackson or perhaps even Cespedes or Heyward. The guess here is they are more apt to spend big on pitching since that's where the greater need lies, but in reality, they should be able to afford to do what they wish.
"It's a new phase for Cubs ownership. It's a championship phase, it's not a rebuilding phase," agent Scott Boras proclaimed.
6. Cardinals
St. Louis has been very prudent in its free agent signings, with a near-perfect record among its biggest signings and only mistakes on the ledger for the far smaller stuff. And while the Cardinals haven't been ones to go crazy with spending (their biggest contract is the $120-million deal for Matt Holliday almost seven years ago), they have been linked to some big-ticket items this winter and seem likely to break their own record. With their latest injury, the loss of Lance Lynn, GM John Mozeliak said, "Maybe it's time to be more aggressive (on the market)."
They'd like to keep Heyward, who may get close to $200 million (though not if he stays) and have also been tied to Davis, who may get somewhat similar money on a higher annual rate.
They likely will have no choice but to consider free-agent options for the rotation. With John Lackey, who outperformed his salary like almost no one else last year, a free agent, there seems to be no other option but to peruse that steep list and reel in an impactful starter.
7. Dodgers
Of course the $300-million team had to make this list. While their ultimate goal is to blend in more kids and win through development, the immediate concern is re-signing Greinke, or replacing him. Greinke is the top choice but they also very much like Price.
Meantime, they need to replace free agent second baseman Howie Kendrick, and they lean toward a lefty swinger such as Murphy, who will probably get a four-year deal, or perhaps the more cost-efficient veteran Chase Utley, who may be more in the $6-million, one-year range. They like Utley for the tone he sets, though his productivity is obviously slipping.
Medium Spenders
8. Orioles
They may need to replace Davis a year after not really replacing Nelson Cruz, so either they bite the bullet and pay almost double what they originally allotted for him or find someone else to approximate the production. The Orioles still need outfield help, anyway, so they could look at Gordon, their own Gerardo Parra, who they liked last year, and others. They also might also re-consider a trade for Rockies star Carlos Gonzalez, who sources say is available again.
9. Blue Jays
The Jays spent their really big bucks last winter, and then again at the deadline, as they reached the playoffs for the first time in 22 years, breaking the longest dry spell in the sport. But they can't be completely done, as they will likely need to figure out how to replace Price and perhaps also Marco Estrada, who was a revelation in 2015, in the rotation. They could look at other free agents, but they will likely wind up moving one of their young back-end bullpen pieces, either Roberto Ozuna or Aaron Sanchez, to the rotation, and instead replacing them with one of many bullpen options available, perhaps in trade.
10. Diamondbacks
Traditionally in the bottom third in terms of payroll, their baseball people may get a bit more leeway after a 15-game improvement in 2015. They seek a closer, and have talked about Andrew Miller, Aroldis Chapman, Craig Kimbrel, Melancon and others. And they also seek to bolster the rotation with a starter or two. They have touched base with free agent Yovani Gallardo but are expected to cast a wide net below the top three guys.
11. Yankees
GM Brian Cashman has made effective use of trades over the last year, and the Yankees aren't expected to play seriously for the biggest of the free-agent starters (they probably liked Max Scherzer better than anyone from this year's crop, and ultimately, they didn't play for him). The issue seems to be their 50 percent luxury tax, which is obviously quite high. Instead, the Yankees may target Samardzija or Wei-Yin Chen, who will get big deals but very likely something below the $100-million mark.
12. Mets
Cespedes and Murphy carried them through the last few months of the regular season (Cespedes) and then in the playoffs (Murphy), but the team seems disinclined to pay big bucks to keep either player at present. More likely the Mets will seek to "lengthen the lineup" by importing a shortstop or center fielder, or both. Ian Desmond will be investigated, as well a few different center field options, including Fowler and Parra.
13. Royals
The World Series winners will seek one starting pitcher and one or two outfielders this winter, which isn't that different from a year ago when they imported Alex Rios, Kendrys Morales and Edinson Volquez. They were three mid-range buys that all worked.
They could try to keep the beloved Gordon but are seen as likely to try a three- or perhaps four-year deal when he should be able to pull in at least five elsewhere. In any case, added revenues from their fantastic season should mean they don't have to shop at the bargain basement.
14. Padres
GM A.J. Preller isn't a rebuild kind of guy. Besides, they like their nucleus, and with a few alterations they could become competitive. They have tried to see what it would take to acquire Braves star shortstop Andrelton Simmons, but assuming the price tag is high, could instead look into Desmond, as they seek to fill the shortstop hole they never filled a year ago.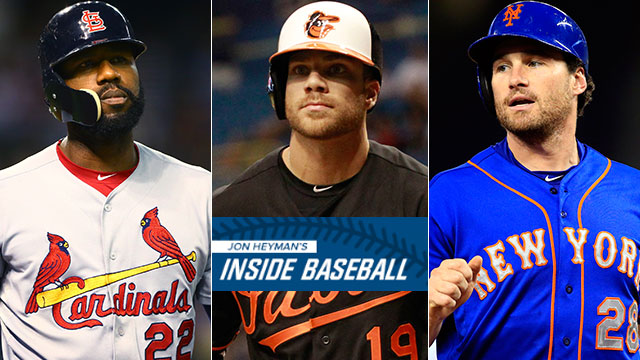 More Inside Baseball…
Arizona was one of many teams to touch base on Yovani Gallardo.
It's no surprise A.J. Pierzynski was re-signed to a $3-million, one-year deal, as he was very productive again last year in Atlanta. It works for him, too as he lives in the Orlando area … There is a good chance Julio Teheran will be available at some point … A lot of teams are asking about Simmons. Obviously, it would take a lot to get him … The Braves have asked about the Mets big four starters. They like them all and seek to have one of them included in a deal for Simmons.
Matt Wieters is said to be undecided whether to take the qualifying offer, meaning there is at least some chance he becomes the first ever to do so. The Braves have filled their catching need, and so have the Twins, so the options aren't many (the Rays, White Sox, Rangers) … The O's like Alex Gordon and also Parra, and have some trade candidates … They met with Boras on Chris Davis on Wednesday. There's still work to do there.
The Cubs will try to lock up Jake Arrieta long-term this winter. That makes sense from both sides, as Arrieta has transformed from a struggling quadruple-A player to superstar in two short years … Starlin Castro will be the team's second baseman. They are getting calls of interest on Javier Baez.
They will consider offensive upgrades at third base, second base and shortstop, as well as catcher, but it's unlikely they will do all four positions (they have some defensive options there with Tyler Saladino, Carlos Sanchez and Tyler Flowers) … The White Sox were one of many, many teams to view what was said to be a very impressive presentation by Cespedes' baseball agent Brodie Van Wagenen. There was said to be a musical component to it, but no, Jay-Z, the other agent, didn't do any rapping … Maybe too much was expected from the South Siders last year by me and others. Let's not forget they lost 99 games in 2013 … Some may see the hiring of Rick Renteria as bench coach as a potential threat to manager Robin Ventura. But even if owner Jerry Reinsdorf wasn't the most loyal owner in baseball, GM Rick Hahn pointed out that Ventura was very involved in the Renteria hire, and signed off on it.
Reds president Walt Jocketty acknowledged that Chapman is likely to be moved. The Diamondbacks, Astros, Nationals and Tigers are among teams most interested in a closer.
Indians people have gotten an equal number of hits on Carlos Carrasco and Danny Salazar, and say it extremely unlikely they wind up trading either pitcher.
The Rockies are said to have made Gonzalez available again. "He'll be thrilled," a friend says.
Alex Avila, who's always played for his father Al's Tigers team, will not be going back there, according to a person close to him.

Miami Marlins News

Some big-market executives are said to be upset by Miami's tiny revenue. One exec described them as a "joke." Here's more on that in a bonus edition of Inside Baseball.
GM Terry Ryan says he believes Miguel Sano is athletic enough to play the outfield. And so that's where he will play … Paul Molitor turned out to be a brilliant hire. "He had a good year in every way, shape or form," Ryan said. "He did a wonderful job." We agree.
The Mets are one of many, many teams in on Joakim Soria … Assistant GM John Ricco spelled it out, saying it is "very, very unlikely" they trade one of their vaunted four starting pitchers. Zack Wheeler is held in high regard, too, but he's in a slightly different category since he still has to return from Tommy John surgery … The Mets were a team that called about Simmons in season, but the asking price was said to have been exorbitant. They will be in contact with the Braves, as they are a good fit, though Atlanta would be most interested in someone from Noah Syndergaard, Steven Matz and Michael Conforto (they have asked about Matz in the past). On paper, the Mets are a better match than the Padres, but San Diego is said to have enough pieces, too. And the Mets are set on keeping their kid mound stars.
The trade for Aaron Hicks gives them excellent outfield depth and sets up the possibility they could trade an outfielder, possibly Carlos Beltran who has a limited no-trade or Brett Gardner (Jacoby Ellsbury has a full no-trade). Hicks is an excellent outfielder with a dynamic arm and the Yankees see him as an everyday player, so they could easily trade one of the two holdover veterans … The price is understandably steep for Andrew Miller. They asked one team for three major league ready kids.
Local high school star Jason Groome, a left-handed pitcher from Barnegat, N.J. who throws 92-97 mph, visited with Phillies brass at Citizens Bank ballpark on Tuesday. Groome is excited about the possibility of being the No. 1 overall pick of his hometown team (Barnegat is 60 miles from Philly) … Philly will indeed get two veteran pitchers, though not any of the top guys … The price tag is high on Ken Giles. They sought three prime pieces from one interested team.
They have fielded offers on all seven of their players who have a year to go before free agency, so that also includes Neil Walker as well as Melancon and Pedro Alvarez … They have thought about locking up Francisco Cervelli, who emerged as a star.
The Padres are talking to Tom "Flash" Gordon about a position in the organization. He was seen here at the GM meetings interviewing with Padres brass. They were very impressed by him in his managerial interview. Gordon would be a terrific hire. He's someone of the highest character and great baseball acumen … Ian Kennedy plans to decline the $15.8-million qualifying offer … Simmons is someone they'd love to have, but it would take quite a lot.
Chris Iannetta is a catching target. GM Jerry Dipoto had him with the Angels. Iannetta had his battles with Angels manager Mike Scioscia, as did Dipoto. So they have that in common. Dipoto said they are looking for defense and athleticism in a center fielder. Due to their expansive ballpark, he said, "We want to be able to play a faster game." As constructed the team is built around power, so they need to do some serious maneuvering … Ketel Marte, who has speed, gets first crack to be the starting shortstop.
Word is, Gallardo is expected not to return to his hometown team and sign elsewhere. He plans to decline the qualifying offer … Texas will try to re-sign Colby Lewis, and he seems to like it there.
While Mark Buehrle could probably get a $25-million, two-year deal, he is still viewed as more likely than not to retire. No announcement yet, however. If he does, it's been quite a career.
Three GMs of teams seeking a closer were asked if they'd consider Jonathan Papelbon, and the responses were "No," "Pass," and uproarious laughter, which was also taken as a no … Boras wouldn't say whether the Nats are trying to extend Bryce Harper. "Bryce is very happy with Washington, and I'm sure Washington is very happy with him," is what Boras would say.

Major League Baseball News

The qualifying offer has been a boon to teams and a real downer for free agents who aren't quite superstars. One change that would be a positive would be to prevent teams from giving the same player the qualifying offer two years in a row. When downside to take the qualifying offer now is that they could be subject to it a year from now, as well … Boras in his annual GM meeting lobby talk called for teams to stop being rewarded for "tanking." Can't argue there. The reward is too high now for being absolutely awful, and the Astros took advantage of rules to transform into a contender after being putrid a few straight years.
CommentsWrite a Reply or Comment:
You must be logged in to post a comment.