November 2, 2015 1:31 PM ET
NEW YORK — The Mets have a noticeably huge head start as they look to the future. Thanks to a combination of terrific player procurement by former GM Omar Minaya and great trades by current GM Sandy Alderson, they not only have the best starting fivesome in baseball, they also have the most cost-efficient starting five.
Normally, a rotation is the priciest part of a team. But in the Mets' case, a decided lack of service time should give them a chance to spend liberally to improve elsewhere.
Ace Matt Harvey, who if anything showed himself to be a little too tough if anything, as it turned out, is the only one of five excellent young starters who is even arbitration eligible. So even if his salary increases by 10 times to the $6-million range, and it will, the entire group will still come in at almost exactly $10 million total, assuming no one is signed to a long-term extension.
There's work to be done to get back to the World Series. But the Mets' good fortune/timing plus the extra monies won on their wonderful World Series run should give them plenty of extra spending cash to rebuild a middle of the order that could potentially lose both their Nos. 3 and 4 hitters and repair and reinforce a bullpen that needs some tender care.
The biggest issue, of course, is very likely the cleanup spot. Most folks don't see a return for August and September sensation Yoenis Cespedes as very likely, which may pose a dilemma. And that is, namely: Who could replace him, and where would they play?
Here are all the big questions …
1. What to do with the rotation?
Not too much. No team has ever had five better and less costly pitchers returning, and Harvey may be even better in his second year back after Tommy John surgery. With Jacob deGrom, Noah Syndergaard, Steven Matz and a returning Zack Wheeler joining Harvey, they're the envy of all of the National League.
"The nucleus we have — headed by the pitching staff — should be a force to be reckoned with for a long time," team captain David Wright said. "Those guys have ability to dominate. When you have five, six, seven guys with the ability to dominate, you like your chances."
The buzz about a possible Harvey trade following the innings-limit controversy has been practically extinguished by Harvey's October heart and toughness, and while teams may still call, it's hard to envision the Mets breaking up their young rotation for the ages now.
They also return veteran Jon Niese, a talented lefty who maybe hasn't fulfilled his potential and could be trade bait. The preference here is to try to bring back Bartolo Colon as a spot starter on a one-year deal. That may not be so easy though, as Colon, off his nice year, even at 42 should be able to get a full-fledged starting job elsewhere. One backup plan could be a return for ex-Met Chris Young, who was a brilliant revelation for the Royals.
2. What about the bullpen?
Jeurys Familia is terrific as the closer, the World Series notwithstanding (and he actually pitched well in Games 4 and 5 but suffered from bad luck). But there's plenty to be done here.
Tyler Clippard is a free agent, and while he didn't have his best season, he's worth bringing back, if only for the fact he's their best reliever getting out lefties (lefthanded hitters batted .138 against him this year). They return Jerry Blevins, a lefty who didn't allow a baserunner this year before going down (hitters were 0 for 15 against him), and should probably give talented Jenrry Mejia a third chance with a contract tender after his two unfortunate drug bans. He isn't a bad kid, and he has a great arm.
But they still need to improve the bullpen. In this day, the pen is more vital than ever, and that's especially true with a young rotation you don't want to overtax. But without a nice free-agent relief list, they might have to canvass the other 29 teams for one more shutdown reliever. With Familia set as closer, it's hard to see the Mets getting involved for Craig Kimbrel or Aroldis Chapman or someone of that ilk but someone like J.J. Hoover, a teammate of Chapman's with the Reds, would suffice. Drew Storen, who's available, would be a plus, but he prefers to close. And of course they don't have to be reminded to stay awat from Jonathan Papelbon, who's eminently available.
Another lefty would be nice, too. J.J. Howell would be a good one if he decides not to exercise his $6.25-million player option with the Dodgers.
3. Who's on second?
Daniel Murphy's incredible first two rounds appears to have convinced the Mets to extend the $15.8-million qualifying offer, but there's little reason to believe he'd accept after setting a postseason record by homering in six straight games (and victimizing baseball's best pitchers: Clayton Kershaw twice, Zack Greinke, Jake Arrieta and Jon Lester).
"I like it here. I'd like to come back. But we'll have to see," Murphy said after Game 5.
The issue with letting him go is that he was the team's No. 3 hitter, and a shockingly effective one at that , especially in the playoffs. I'd try to bring him back. But the guess here is they'll only go so far. Murphy has such good hand-eye coordination that he rarely walks, meaning he's not exactly the front-office favorite, so the guess here is they ultimately take the draft choice as Murphy walks to the Angels or elsewhere.
They could try to pursue top free agents Howie Kendrick or Ben Zobrist (a Mets favorite for his versatility; they nearly acquired him in the summer), but the more likely scenario has the beloved Wilmer Flores switching from shortstop or talented kid Dilson Herrera, who is well-regarded in the organization, playing second. Flores is better at second and would be an offensive plus there, as well, so he'd be the choice here should Murphy leave.
4. Who's at short?
Ian Desmond has drawn interest before, and despite an uncharacteristically weak first half of 2015, he could again. Desmond provides the type of tools — range and speed — that they'd love to have at shortstop. So expect the Mets to be a player there. They could live with Flores or Ruben Tejada at short, but they seem to see Flores as more of a second baseman and Tejada as an excellent utilityman, especially in light of the fact they'll probably need more thump from shortstop.
5. How about center field?
There seemed to be some loss of faith in Juan Lagares during his off year both offensively and defensively. But it still seems more likely than not they stick with Lagares, and hope a return to full health helps. If they do decide to look around, the center field market includes Dexter Fowler, Denard Span, Austin Jackson and Colby Rasmus.
6. What about the middle of the lineup?
Murphy is more likely than not to leave, and summer sensation Cespedes is more likely than Murphy to leave. Cespedes was acquired as a fourth-choice rental (they tried Justin Upton, Carlos Gomez and Jay Bruce first, though had they known he'd be embrace center field, he probably would have been the first call), but the momentum to keep him started to build throughout his spectacular two months. For a while, he looked like the next Mike Piazza. But reality may have set in.
Cespedes will probably seek seven years in free agency (though as he said publicly, he might settle for six), and after a rough postseason, the Mets are seen as likely to pass now. "I will be shocked if they re-sign Cespedes," one rival executive said, echoing the thoughts of others.
Cespedes is said to like the big stage (even though he wouldn't admit it) but one GM who knows him well said, "He's a businessman." Loosely translated, there's probably no "hometown" discount for the biggest market in the majors.
The Mets hope for bigger production from fine-hitting kids Michel Conforto ("he'll be their best hitter next year," one scout said) and Travis d'Arnaud. And better health for the valiant and courageous captain wouldn't hurt, either.
But they probably need one more proven middle-of-the-order bat even if they have the best pitching in baseball. The issues are: who's available, and where would one fit? The best free-agent hitters, besides Cespedes, are Chris Davis, Justin Upton, Jason Heyward and Alex Gordon (once he declines his $14) and none of them is a perfect positional fit. Their best chance to enhance the lineup in a big way might be to consider parting with one of their big young starters, and that's hard to see them doing that.
If they have the courage to consider something like that, the Mets could try to swap one of their vaunted kids for a positional star of the future. Say swap Syndergaard for a George Springer or Mookie Betts. While those are just top-of-the-head thoughts and neither is especially likely, the point is, they may have to get creative to replicate the offense they had throughout the late summer.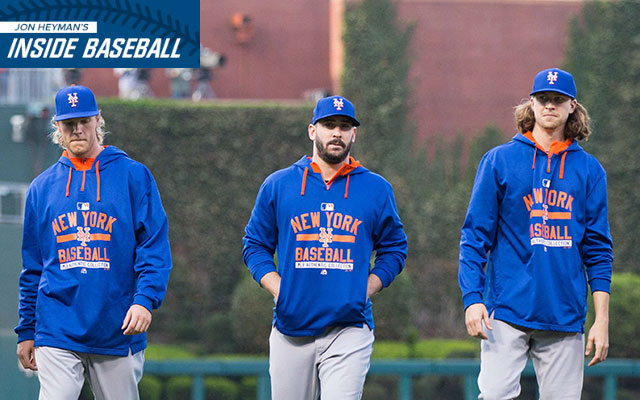 Around the Majors …

Team
News
The incentive-laden Chris Young deal worked beautifully for the Royals, and they are interested in bringing him back. "Dr. Deception," one scout labeled him … Manager Ned Yost is up for an extension. According to a source, he made $1.7 million plus $375,000 in postseason incentives (all earned, obviously) this year and has one year to go. The team intends to talk to him about one. The same should go for GM Dayton Moore, the pride of Garden City Community College (as he likes to mention) … Despite some confusion about this publicly, Edinson Volquez did not know about his father's death when he pitched Game 1. Moore said he watched Volquez leave the game, and could tell he didn't know. Volquez's wife gave him the news in Yost's office after Volquez came out of that game … Pitching coach Dave Eiland won a second ring with a second team and second manager. Eiland also won as pitching coach of the 2009 Yankees, who were managed by Joe Girardi. Eiland's agent Burton Rocks mentioned just a couple others who have matched Eiland's record of two rings in two places. Mel Stottlemyre was the pitching coach for World Series winning teams with the Mets (Dave Johnson was the manager, 1986) and the Yankees (Joe Torre, 1996, '98, '99, '00). And Dave Duncan was the pitching coach for World Series winning teams in Oakland (1989) and St. Louis (2006, '11), but Tony La Russa was the manager for all three of those teams. "I got to spill champagne on both sides of town," said Eiland, whose first championship was won in the Bronx and his second in Queens … Royals scout Art Stewart, who previously worked for the Yankees, has 12 rings so far, six winning rings and six losing. The winning rings: 1953, '56, '58, '61, '62 and '15. The losing rings: '55, '57, '60, '63, '64, '14. His previous winning ring was 53 years ago … The Royals are hoping Alex Gordon, who's soon to be a free agent, will take a hometown discount (he's from Lincoln, Neb.) on perhaps a three- or four-year deal to give himself a chance to become a lifetime Royal. Though there will be plenty of outside interest … Jarrod Dyson, who scored the winning run, was drafted 1,475th overall (round 50), and is terrific in every way. Other teams should look to go to school on Dyson, if they can find someone that fast, who can also hit … Salvador Perez is a rare veteran who is a World Series MVP and can actually use the Camaro. Now the Royals-owning glass family needs to do what it can do rework and extend his contract to make it something more reasonable. Seven million for five years plus two player options may be the worst long-term contract in baseball history for such an indispensable star. Beyond being a great catcher, as a plus he's also a great personality… The Royals took advantage of fielding miscues throughout the postseason: future superstar Carlos Correa's error in Game 4 of the ALDS, Gold Glove caliber infielder Ryan Goins hearing ghosts on a catchable popup, clutch Jose Bautista throwing to second base, October hero Murphy's miss in Game 4 of the World Series, and then Eric Hosmer's mad dash in the clincher … Now it can be told: Moore said on the q.t. before Game 3 he would sign up for one win in New York. They did him one better … Luke Hochevar and Christian Colon, a No. overall 1 pick and a No. 4 overall pick, are considered draft busts (Colon was actually picked 3 spots ahead of Matt harvey). But both are World Series heroes. Colon delivered the game-winning hit after not playing since Oct. 4, and Hochevar made it 10 2/3 scoreless innings in the postseason.
The Angels seem like the perfect fit for Chris Davis, who could also draw interest from the Mariners, Dodgers, Red Sox and Blue Jays, among others.
LA has quietly conducted a few preliminary interviews, and is expected to have a new manager in place within two-to-three weeks. The known candidates include farm director Gabe Kapler, third base coach Ron Roenicke, bench coach Tim Wallach and ex-Angel (and University of Nebraska coach) Darin Erstad … The Chase Utley hearing may not be scheduled until spring training.
At new manager Don Mattingly's introductory press conference Monday, Marlins club president David Samson said, "We wanted this to be the last manager's press conference we ever did. We've done too many." Exactly right. For their sake, let's hope this one sticks. They've had far too many bad breakups there … Mattingly has good preparation for Miami, having worked for George Steinbrenner and the McCourts. If anyone can survive there, maybe it's him … Mattingly revealed he has hopes Wallach ill go with him as bench coach, assuming he isn't the Dodgers manager.
The Mets envision Michael Conforto as an everyday player next year, and one scout predicted, "He'll be their best hitter." Terry Collins protected Conforto, not starting him at all against lefthanders, but he has hit lefties well throughout his career … "Baseball Maverick: How Sandy Alderson Revolutionized Baseball and Revived the Mets," is getting a few more chapters and a reprinting following the team's run to the World Series. The book's prediction looks prescient now … Wright is the Mets' Derek Jeter in many ways. His back is surely worse than he's let on, and you can see his pain in his side-arm throws from third base … Collins is the perfect manager for New York from a media and public relations standpoint: accommodating, accessible and entertaining. Here's hoping the Mets do him right and double his pay to at least $2.2 million annually on the two-year deal he seeks (he's said he doesn't want more than two) … While we second-guessed Collins' call to listen to Harvey and let him pitch the ninth inning of Game 5 after Harvey's dugout harangue, if Collins had a hot closer (say Wade Davis), he wouldn't have doubted himself and stuck to his guns. Buit Familia had already blown two saves (he wound up setting a record by blowing three — though fairly, the last two weren't his fault).
A Yankees person says he's heard the name Jeff Samardzija as a pitching possibility, and also Wei-Yin Chen.
Diamondbacks manager Chip Hale summarized new Padres manager Andy Green in three words: "Young, intelligent, aggressive."
Chris Davis could be a fit for Seattle, but the Mariners have a lot of areas to fill and may not want to spend so much in one area … One Mariners person said the team needs to get more athletic. To that end, they hope Ketel Marte is ready to take over shortstop.
A couple Blue Jays players expressed curiosity and concern about manager John Gibbons following the surprise resignation of GM Alex Anthopoulos. But incoming president mark Shapiro is expected to seek to keep Gibbons for at least 2016, and if he does his '17 contract is triggered this January … Shapiro is expected to lay out the team's interim set-up soon, perhaps even at Monday's introductory press gathering, following the loss of Anthopoulos. Tony La Cava, an assistant GM, is expected to figure prominently in the new set-up.
Storen, who lost his closer job through no fault of his own, is still hoping for a trade, and the Astros, Red Sox and Giants are all teams that could fit. Storen needs to go somewhere else, to close.