MLB DraftKings Strategy, Primer for September 28 – Bleacher Report
Assuming Zack Greinke misses his start Monday night due to injury, for the first time in my daily fantasy career I selected the two highest-priced pitchers. Give me a second, I might shed a tear because this is a big deal.
It's a strategy I rarely employ because it often cripples the remaining roster. However, there's enough value on this small-ish 10-game slate for me to still slip in a minor Blue Jays stack. 
Here's Monday's lineup:
Monday's Lineup

| | | | |
| --- | --- | --- | --- |
| Position | Player | Opponent | Price |
| P | Corey Kluber | vs. Twins | $11,300 |
| P | Max Scherzer | vs. Reds | $12,000 |
| C | Kyle Schwarber | vs. Royals | $4,000 |
| 1B | Justin Smoak | @ Orioles | $2,600 |
| 2B | Ivan De Jesus Jr. | @ Nationals | $2,100 |
| 3B | Josh Donaldson | @ Orioles | $5,400 |
| SS | Erick Aybar | vs. A's | $3,000 |
| OF | Jose Bautista | @ Orioles | $5,200 |
| OF | Drew Stubbs | vs. Tigers | $2,000 |
| OF | Dustin Ackley | vs. Red Sox | $2,300 |
DraftKings
Corey Kluber ($11,300) vs. Twins
Kluber has not looked great since he returned from injury on September 17. But he's out for revenge against a Twins lineup that roughed him up in Minneapolis less than a week ago. He's also slightly more valuable now because of his lesser price tag. Kluber's down $1,600 from $12,900 way back on August 29, according to DraftKings. 
ESPN's batter vs. pitcher page rarely yields a large enough sample size to show a pitcher's true success rate against a group of guys. In Kluber's case against the division rival Twins, I believe it does. In 264 plate appearances against the Indians ace, Twin position players are hitting just .202 with a .250 OBP. Kluber has struck out nearly 31 percent of Twins in his career. 
Though Minnesota isn't hanging with the absolute bottom-dwellers in terms of offensive production, it's not a particularly frightening lineup. This season, the Twins rank 23rd in wRC+ and 24th in wOBA, according to FanGraphs. 
Max Scherzer ($12,000) vs. Reds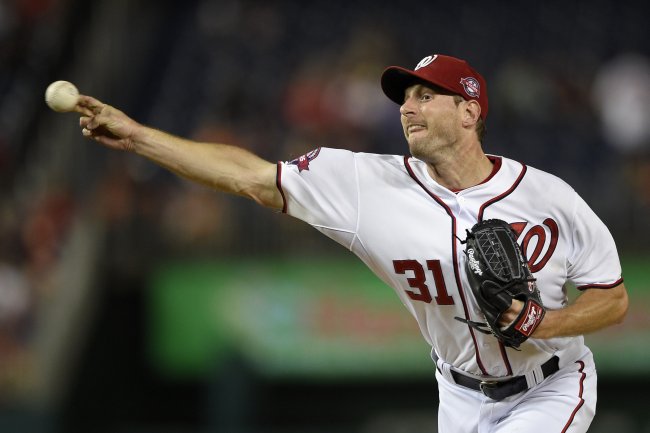 Nick Wass/Associated Press

The Reds are a bad offensive ballclub masquerading as a solid offensive ballclub because their home park is extremely hitter-friendly. On the road, they show their true colors. According to FanGraphs, the Reds rank 21st in the league in road batting average and 26th in runs scored. 
Though Scherzer hasn't been as dominating as he was to start the season, he's the safest pick on the board. Per DraftKings, Scherzer has posted at least 19 fantasy points in five of his past six starts. 
Scherzer is near the top of the league in most major pitching measures. According to FanGraphs, he's fifth in strikeouts per nine, seventh in innings pitched, ninth in WAR and 13th in xFIP.  
Crooked Numbers in Baltimore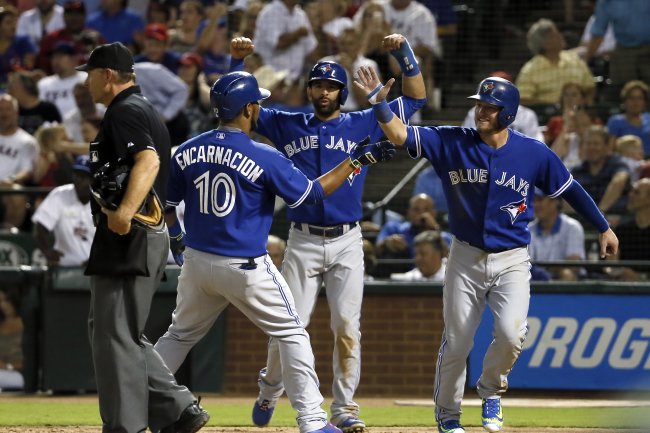 Tony Gutierrez/Associated Press

Baltimore's starter tonight, Chris Tillman, is not having a great year. His ERA of 5.16 is the highest for any Oriole pitcher who's started more than 15 games. Monday night he has the unfortunate task of dealing with the best offensive club in the league.
Just for the heck of it, let's run through the major offensive categories in which the Blue Jays are atop the league. According to FanGraphs, Toronto ranks first in home runs, runs, isolated power, on-base percentage, slugging percentage, wOBA, wRC+ and offensive WAR. In most of those categories, no other team is close. 
Every day, numberFire.com uses a complex algorithm to project every player's expected point total for that day. Its top three projected point totals for position players Monday are Josh Donaldson, Jose Bautista and Edwin Encarnacion. What do those three have in common? They play for the Blue Jays. 
If I could fit more Blue Jays into my lineup, I would. But, as I mentioned earlier, I felt like experimenting with two high-priced starting pitchers.  
CommentsWrite a Reply or Comment:
You must be logged in to post a comment.