This Week in (Dumb) Baseball: All innings aren't created equal – CBSSports.com
It's Monday, which means our regularly scheduled programming of This Week in (Dumb) Baseball is ready for consumption.
As regular readers already know, this feature has the title, sure, but it's mostly for fun— a fact that eludes the masses but remains the case. For example, if you tell me to "quit whining," you are missing the point. I'm mostly chuckling to myself as I write these things (with some exceptions, of course).
For all This Week in (Dumb) Baseball columns, click here.
1. Innings limits

To the Mets' credit in this Matt Harvey situation, they have never mentioned a hard innings cap. The number 180 has been bandied about, but it's more of a soft cap if anything and even Harvey doesn't seem to be saying there should be a specific number.
Sadly, though, it doesn't seem many are willing to point out the absurdity of counting innings.
First of all, all doctors are in agreement that a specific number for each individual is impossible to pin down, because there's no empirical evidence to show that there should be a number — and if there should, there's nothing to show what that number should be.
Secondly, and more importantly, all innings aren't created equal. Let's just grab two to use as examples.
On May 23, Harvey labored through the bottom of the fourth inning. It took him 38 pitches while he allowed four runs on threee hits.
On May 18, he needed only eight pitches to get through a spotless, 1-2-3, third inning.
Those are counted as equally straining on Harvey's arm when we discuss innings limits. Yet every pitcher knows the difference between high-stress and low-stress outs and obviously high-pitch and low-pitch innings are far different entities as well.
Workload can be limited when directed by doctors who are in the know, but there should be a lot more focus on what strains the arm. The number of pitches, the type of pitches, the frequency of certain pitches and the number of high-stress situations should all factor.
Simply putting an innings limit in place completely ignores all of that, which is dumb.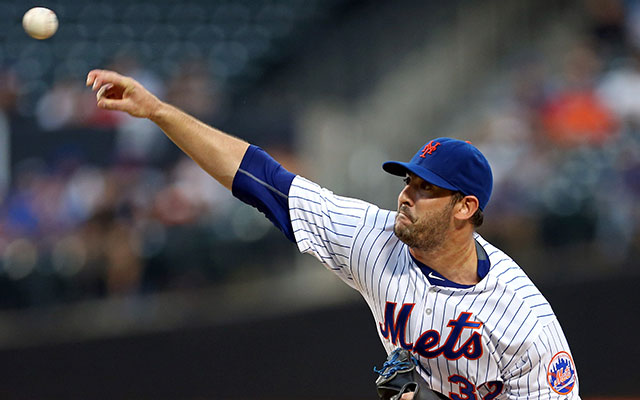 2. Stop talking about "karma" on the Strasburg shutdown
As will happen every year until 1) No one is coming off Tommy John surgery or 2) the Nationals win the World Series, we are being treated to either revisionist history when it comes to the Stephen Strasburg shutdown of 2012 or this lunatic fringe that believes the Nationals haven't won due to "karma."
The Nationals lost to the Cardinals in Game 5 of the NLDS in 2012 because they couldn't hold a 6-0 lead through three innings. That's a brutal collapse that had nothing to do with Strasburg.
The narrative continues in some circles that the 2013 failure in Washington had something to do with the shutdown, but if that's true, how did the Nationals win 96 games in 2014? They lost the division series again last year, but it's because 1) the offense didn't show up – aside from Bryce Harper — and 2) Matt Williams pulled Jordan Zimmermann in the ninth inning of Game 2.
None of this has a single thing to do with Strasburg being shutdown in 2012.
Also, I must ask this: Why do so many of the same people continually question Strasburg's intestinal fortitude while also assuming he was going to be some sort of superhuman ace in the 2012 playoffs? Seriously, I continue to see the same people proclaim that he's "soft" or "overrated" and in the same breath say the Nationals botched 2012. If he's so soft, wouldn't he have crumbled in the playoffs?
Oh, and by the way, Strasburg allowed five earned runs in two of his last three starts that season and had a 4.14 ERA in his last 10 starts. He was tiring.
3. Managers still terrible with closer use
It is just astounding to me that there are only 30 MLB manager jobs available in this world and we still can't find guys who understand the simple concept of using your best reliever in the biggest spots instead of being a slave to a stat.
And since we already discussed Williams making a poor decision, let's do it again!
Last week, the Nationals lost a game to the Cardinals in the ninth inning and didn't use closer Jonathan Papelbon. Here's why, via the Washington Post:
"We've used everybody just about to get to the eighth inning," he began, when asked to explain his thought process. "We've got it setup for the eighth and the ninth. The eighth doesn't go our way, and the score is tied. So everybody wants to know why you don't use Papelbon in that situation? Let's say, for instance, Pap throws a clean ninth and we score in the 10th. Who's closing the game for us? I guess it'd be 'Somebody,' right?
Oh, the humanity.
I love how in his hypothetical, it's somehow undesirable for Papelbon to have a clean inning and the Nationals to take the lead in the 10th. That's what you should want. The alternative was them losing. I just don't even have the language to describe how dumb this is.
Let's bigger-picture this thing to illustrate the stupidity. What if a manager was down three games to two in the World Series and had his ace available for Game 6, yet he decided to save him for Game 7? He then explains his logic by saying "what if we win Game 6 and then don't have (insert ace's name) available for Game 7?"
See how silly that sounds? That's essentially what Williams is doing.
The main problem here is that almost every manager does it. In fact, Mets manager Terry Collins last Friday lost to the Marlins in extra innings with Eric O'Flaherty on the hill while All-Star closer Jeurys Familia watched from the bullpen.
Perhaps the most amazing thing overall here is how many "I'm old school! I hate stats!" people completely alter their approach based upon stats. We see managers of the old-school ilk worrying about saves and desperately trying to get starters though five innings to get them a win.
How about just managing the game to win?
4. Burying your hat in construction
Allegedly, a White Sox fan construction worker is on the project at Wrigley Field and buried a White Sox hat somewhere in Wrigley (fox32chicago.com).
Cubs president Theo Epstein had the proper response: "I couldn't give two (expletives)."
Agreed. Who cares? You didn't move the needle, Mr. White Sox fan. You did, however, waste a hat. Congrats.
---
And now, let us wash away the dumb with fun!
Why aren't more players like this?
Many baseball players would start screaming, vent after the game or even pick a fight after Pedro Strop's reaction here. Instead, Brandon Phillips seems to recognize that he's playing a game and it's supposed to be fun.
Good job, Brandon.
GIF of the week
Bartolo Colon is a national treasure.
Here's that amazing Bartolo .gif from last spring embedded. #LongLiveBartolo pic.twitter.com/RMJS5fY6zK

— Cespedes Family BBQ (@CespedesBBQ) September 7, 2015
Baseball cards of the week
Via Reddit, check out these throwback cards of current or past players all in the 1989 Topps setup. Pretty sweet.
(Click on the picture for a full-size version)
On that note, it's time to put a bow on this thing. Have a good week, friends.
Suggestions (dumb stuff, random videos, baseball cards, pop culture rankings topics, etc.) or hate mail? Feel free to hit me up: matt.snyder@cbs.com or you could always go to Twitter (@MattSnyderCBS).
CommentsWrite a Reply or Comment:
You must be logged in to post a comment.