This Week in (Dumb) Baseball: Takeout slides: Fair or foul? – CBSSports.com
It's Monday, which means our regularly scheduled programming of This Week in (Dumb) Baseball is ready for consumption.
As regular readers already know, this feature has the title, sure, but it's mostly for fun— a fact that eludes the masses but remains the case. For example, if you tell me to "quit whining," you are missing the point. I'm mostly chuckling to myself as I write these things (with some exceptions, of course).
For all This Week in (Dumb) Baseball columns, click here.
1. Let's talk about takeout slides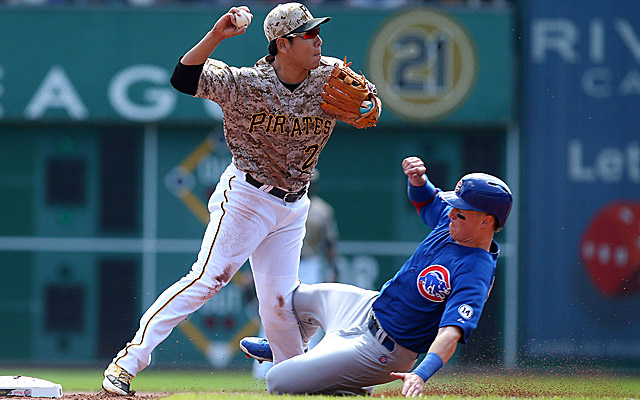 Last week, Pirates rookie Jung Ho Kang had his season ended by a Chris Coghlan takeout slide. Given that Coghlan was able to grab the base with his hand, it was a perfectly legal slide. Both Kang and Pirates manager Clint Hurdle openly spoke about how they had no issue with the slide the following day, too.
Not that this stopped legions of people from calling Coghlan and/or the Cubs "dirty." If you want to call it dirty, please be consistent and note that every team in the league is dirty.
First of all, Kang's done worse than what was done to him:
Yeah, that's further away from the base than Coghlan was.
Secondly, pretty much every player on every team does that. Here's a response to Cardinals fans calling Coghlan and the Cubs dirty over the weekend:
@trevinsexyfield As opposed to these illegal and inarguably dirty slides (cc: @BestFansStLouis) pic.twitter.com/d7AFefRjHb

— Aaron Channon (@PretentiousBIG) September 19, 2015
We could do this with every single team. It serves no purpose to single anyone out and just because there was an injury doesn't mean Coghlan's slide was somehow worse than the others. This is an accepted practice in Major League Baseball and has been for decades.
Of course, that doesn't mean these slides should be legal or need to continue.
Why has baseball eliminated the collisions at home plate in order to protect defenseless catchers while continuing to enable the injury risk at second base on possible double-play turns? MLB has even gone out of its way to enable the runners, because when instant replay was implemented, MLB specifically noted that the "neighborhood play" at second base was not reviewable. Thus, it's allowed.
Why should the defenders be able to get off the base before catching the ball and still be awarded an out? Because they have to be able to clear out to avoid getting crushed by the runner.
The contradictory nature of the home plate collisions and the plays at second base are pretty perfectly illustrated within the allowance of the neighborhood play.
So what is the solution?
Require players to slide directly into second base instead of allowing them to be able to stretch their entire body toward the defender. Then eliminate the so-called neighborhood play and require the defender to actually step on second base when he has the ball, otherwise the runner is safe. Runners can still go hard directly at the bag — especially now that there's no neighborhood play. If the defender doesn't clear out, he still gets taken out, but overall the risk of serious injury is severely reduced while the defender is required to get an out by letter of the actual rule.
It seems pretty dumb that this isn't the rule anyway.
2. Jered Weaver vs. Kyle Seager
So we've got Weaver angry that Seager is calling time in the box, and then Seager essentially trolls Weaver with this: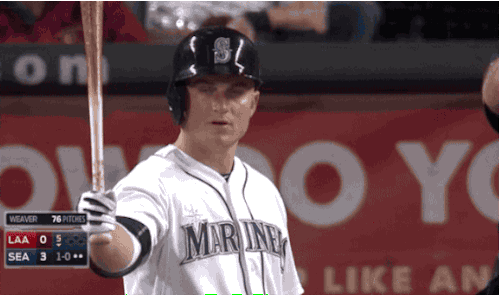 So Weaver hits Seager with the next pitch and gets thrown out of the game.
Man, there's all kinds of dumb here (even though it was admittedly funny at the time).
First of all, we have two adults acting like children over when the pitcher should be allowed to throw a pitch. Talk about petty.
Secondly, Weaver had to know he was going to get tossed from the game. His team is in a playoff race and he's getting himself thrown out of a game because his feelings are hurt. How selfish does that sound?
Further, I will continue to hammer home the point that it's not macho or manly or anything resembling it to throw at a hitter. I can't understand why so many people believe this is the case. It's actually quite the opposite. It's cowardly. Yes, Bob Gibson worshippers, throwing a baseball at a player because you're mad is an act of cowardice.
Picture this example.
On a playground, one kid is making fun of another. Kid number one gets real angry and picks up a rock. From 60 feet away, he throws the rock at the kid. What's the response?
It sure as hell isn't "oh man, that kid who threw the rock is a badass!"
Apply that to pitchers playing tough guy with a baseball on a mound moving forward, please. The world will be a better place. I promise.
---
And now, let us wash away the dumb with fun!
Graphic of the week
This is pretty cool and also shows how advanced metrics FIP and xFIP can predict how a pitcher's ERA will move in the future.
Someone just posted this on Reddit and I love it so I'm going to share it with you. #Kershaw pic.twitter.com/JwbqSNTkAt

— Aaron Roberts (@BertsBall) September 15, 2015
Remember early in the season when we saw a bunch of "what's wrong with Clayton Kershaw?" stuff while the advanced stat crowd was insistent that nothing was wrong with him? This is why. Nothing was.
Throw of the week
Jason Heyward brings it 95.5 miles per hour to save the game. Wow.
Baseball card of the week
Hank Aaron as a DH with the Brewers!
(via cyclonefanatic.com)
On that note, it's time to put a bow on this thing. Have a good week, friends.
Suggestions (dumb stuff, random videos, baseball cards, pop culture rankings topics, etc.) or hate mail? Feel free to hit me up: matt.snyder@cbs.com or you could always go to Twitter (@MattSnyderCBS).
CommentsWrite a Reply or Comment:
You must be logged in to post a comment.