Top baseball commit turning heads this fall – 247Sports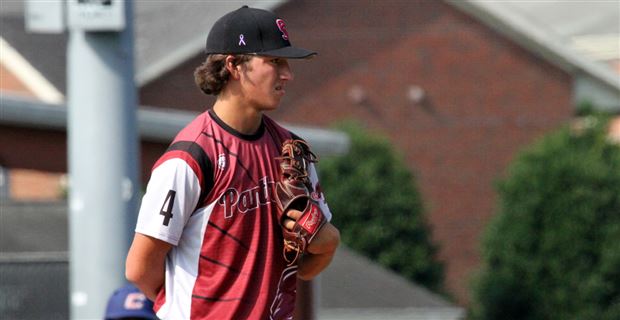 The top pitcher committed to South Carolina in the 2018 recruiting class, right-hander Owen White (Mt. Ulla, N.C./Jesse Carson), is turning heads this fall. White's most recent top-notch outing came at the PG World Championships in Jupiter, Fla. on Thursday, which earned him a glowing write-up from Baseball America.
White was up to 93 mph on his fastball pitching seven shutout innings allowing only one hit with no walks and 13 strikeouts. Here's what Baseball America wrote about him:
Owen White took the mound for the the South Charlotte Panthers 2018 team in the afternoon, matching up with the Rawlings National Scout Team. White—who was one of the more impressive junior pitchers on the summer showcase circuit in 2016—had backed up in recent events this summer but absolutely dominated on Day 1 of the Perfect Game WWBA World Championship.

White allowed a double in the first inning to Tenessee commit Sean Guilbe, but that was the only hit he would give up all day. He threw all seven innings, striking out 13 batters and walking none, with the third-best average fastball velocity (90.9 mph) of all the pitchers who threw on day one, according to Trackman.

White opened up with a 92 mph fastball, and as Trackman shows, sat close to that velocity throughout his entire outing. The South Carolina commit was 91-93 in the first inning and in the sixth inning was still hitting 92 mph regularly, although his range was more 89-92 at that point and he used his secondary pitches more frequently.

White's best secondary was a 76-79 mph curveball that showed excellent depth and late breaking, flashing two-plane movement at times, keeping Rawlings National Scout Team batters off balance throughout the outing. Per Trackman, White averaged 2,459 RPM on his breaking ball, with a max spin rate of 2,729—the 11th-highest breaking ball spin rate of the day. In addition to holding his fastball velocity and showing an above-average curveball, White offered a few firmer, slider-shape breaking balls and several low-80s changeups with fading action.

Perhaps the best look at his changeup came in the sixth inning against Texas Tech commit Max Marusak. White started Marusak with a 90 mph fastball up and away outside of the zone before spotting an 81 mph change at the bottom of the strike zone. He then doubled up on the pitch at the same velocity, getting Marusak way out in front and causing him to swing over the pitch. After a pair of 90-plus fastballs up in the zone—one that was fouled off and one that was called a ball—White went back to the change and got his second swing-and-miss on the pitch of the AB, striking out Marusak.
Thursday's outing should give White a significant bump in his draft stock.
White is considered the No. 102 prospect in the country, according to Perfect Game but was a Top 25 player when he committed to the Gamecocks. The 6-foot-3, 185-pounder also plays shortstop for the South Charlotte Panthers and his high school team.
White was recruited as a two-way player under the former South Carolina coaching staff. He committed to the Gamecocks over Clemson, Florida, Mississippi State and North Carolina.
CommentsWrite a Reply or Comment:
You must be logged in to post a comment.