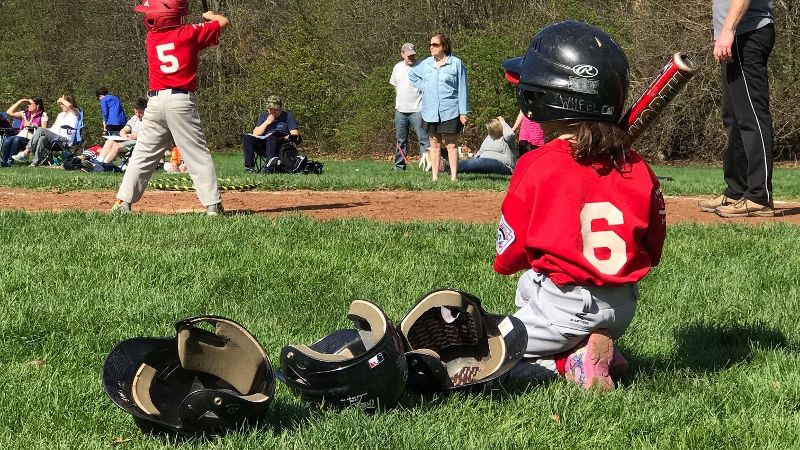 As if I needed more anxiety, my daughter lost a tooth as she walked to the batter's box.
It was a crisp, orange Connecticut afternoon, the first baseball game of the year — and the first one of Maddie's life as a participant. The Angels, her little league team, were playing the A's, and she was on her way to her second at-bat. She had struck out her first time up. These coach-pitch games are short, only five or so innings, and this would likely be her last shot. Please, I said to myself, let Maddie get a hit. 
I was rooting as much as I was projecting. I wanted her to get a hit because I know my daughter. She is a mix of my wife's competitiveness and my impatience, traits that we hope will bode well for her later in life, even if right now they pose the occasional parental challenge. Things tend to come easy to Maddie and, thankfully, she hasn't had to deal with failure. But baseball is all about dealing with failure. The rhythm of the game forces players to bounce back from mistakes within seconds, rewiring their minds to focus on nothing but the present. I wanted Maddie to get a hit in her first game because I worried that if she didn't, there wouldn't be a second game.
That Maddie was up there swinging also made perfect, almost mystical, sense. Her grandmother on her mom's side was a huge baseball fan. She would watch games each night from her home outside Dallas and would travel to Red Sox spring training. The last day I spent with her, six years ago, we went to a Texas Rangers game. As I pushed her wheelchair through the concourse, I worried I had overreached, subjecting her to the Texas heat after a long week of chemo. But the seats were behind home plate, and the sky was dry and red, and we ate well and too much, and when she dozed off on the drive home that night I felt the pride of fulfilled duty that I'd later recognize as a parent when I'd carry my sleeping daughter to the hotel room after spending all day at Disney World. You did your job.
Monette Overholt died on a Friday that autumn at her home, probably a few hours after watching the Rangers against the Yankees in the ALCS. Our daughter was born five months later, a day after what would have been Monette's birthday, and we named her Madeleine, the first initial of her name in memory. As she grew into the type of beauty that makes your heart ache, we recognized in her the spirit of her grandmother: stubborn to the bone with redeeming self-confidence and a sassy charm. This spring, I asked Maddie whether she wanted to play baseball. She said no. I nudged her a bit, wanting team sports to be part of her life and not wanting to wait until soccer in the fall. She relented, then wavered and missed the first two practices, and so I decided not to force the issue.
A few days later, through utter coincidence, my wife and I took off a day from work and brought Maddie to her first professional baseball game. (A Yankees game, of all teams.) As soon as Maddie entered the stadium, she seemed to transform, as if she picked up where her grandmother left off. She had never worn a baseball cap of any kind in her life, but she immediately wanted a pink Yankees hat, the one with a glittered bill. We took our 200-level seats along the third-base line and she wrestled on her pink-and-black mitt and leaned on the railing, hoping for a foul ball. She watched almost all of the game from her mother's lap.
When we got home, Maddie announced that she wanted to play baseball. Not just this spring; she wanted to play now. Her mom took her to the backyard, set up a makeshift array of bases, including using the lid from a small garbage can for second, and threw batting practice. Maddie's first practice was a few days later. She was one of two girls on the team, and I shot a seven-second video of her connecting on a pitch with a cleaner swing than I ever displayed in high school ball or beer-league softball. I sent it to at least a dozen friends and watched it 50 times. It's not only that she hit it square and hard, but it's also that she did it and immediately settled into her stance to do it again, and again, and again. Each time I watch it, cosmic as it sounds, I feel this strange and overwhelming sense that something bigger was at play.
All of this conspired to leave me on the verge of tears and acid reflux as Maddie stepped up for her second at-bat, in her red Angels jersey and pink shoes, wearing No. 6 because, as she explained when I asked her, "I'm 6 years old, you know." She had already learned how to spit sunflower seeds from the bench. And she had already grown mildly bored, spinning around in the outfield, sometimes sitting cross-legged. She has a tendency to get frustrated easily, stomping when things don't go her way, so I had explained to her that hitting a baseball is one of the hardest tasks in sports, preparing her as much as I prepared myself.
As she approached the batter's box, she wheeled around, held up her right hand with something in it and yelled, "I lost a tooth!"
And then she dropped it. A few of us ran over, dropped to our knees and grazed the grass trying to find it, a sports parent CSI. I couldn't find it. The other parents couldn't find it. As Maddie would later say, "I lost a tooth and then I lost a tooth."
All of us were so busy scouring the grass that we almost missed the one who wasn't. Maddie, with a sting in her mouth and some blood curling in her lower lip, went straight to home plate, lifted the bat to her shoulders, stared at Coach Jeff on the mound with a look that meant business, and took her cuts. Time seemed to freeze. I stood and watched her as others continued the search for the tooth. She swung well and level and missed them all. She didn't stomp or flinch. She just kept swinging. It was so cool.
The next inning, she ended the game from her little league combination position of shortstop/right field by throwing out a runner at third. Afterward, Coach Jeff huddled the team and without notes recited a highlight for each player. She had one, even if she didn't record a hit. She skipped away away after the huddle broke with a fresh gap in her smile. On the drive home I asked her, "What was your favorite part of the game?"
"Batting," she said.