As a five-time Olympic gold medalist, there is very little Dana Vollmer hasn't been able to overcome in the water. In her world-record 100-meter butterfly victory at the 2012 London Olympics, she lost her swim cap. In Rio last August, she won a pair of golds only 15 months after giving birth to her son, Arlen. For years, she competed with intense stomach pain because of a food allergy she never knew she had.
But on Friday morning in Mesa, Arizona, Vollmer will compete in the 50-yard freestyle at the Arena Pro Swim Series facing a new challenge: swimming for two. The 29-year-old is 26 weeks pregnant with her second child, due this July. She has been training with her longtime coach, Teri McKeever, at the University of California and will squeeze into her competition suit and climb atop the blocks Friday morning to race against some of the fastest swimmers in the world. ESPN.com caught up with Vollmer on the eve of her race to ask a few questions, mainly "Why?" and "How?"
Question from Wayne Drehs: OK, let's just get right to it — why are you doing this?
Answer from Vollmer: It's really just because I thought it would be fun. I didn't start off wanting to prove anything. It was something I talked about with [my husband] Andy and my doctors. Last time with Arlen, I didn't work out at all and I was on bed rest at 30 weeks. I talked to a lot of other moms who compared working out to not working out and whether or not they ended up on bed rest and decided I needed to be healthier with the activity I do. Swimming is so healthy. I'm not in fear of being in contact with people during the race. I cleared it with my doctors. It's just something to have fun.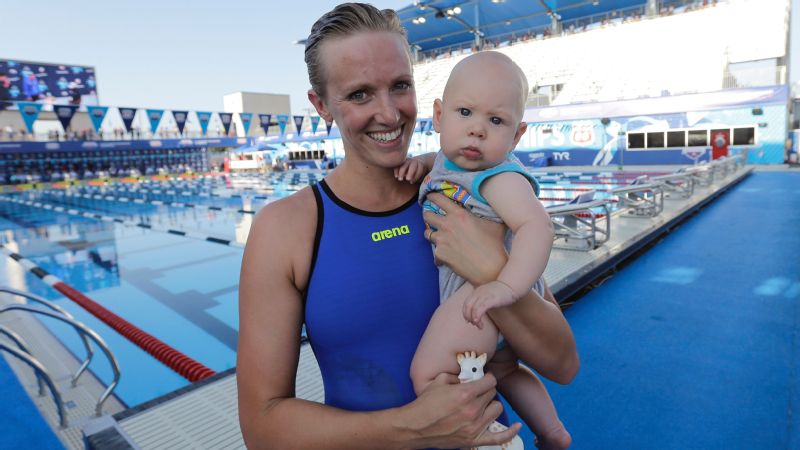 I went in on Tuesday to practice and I said, "OK, girls I need to make sure I can touch my toes for the start." And sure enough, there's space for my belly to go next to my legs. I still did it. It felt good, super easy. I did one where I really put some oomph into it and it felt good. I'm excited and just trying to have fun with it.
Q: What are your expectations?
A: To make it to the other end of the pool and have everything feel good. [Laughs] No really, I have no idea. I haven't done a lot of sprints, it's mostly been aerobic kind of stuff. But I'm just going to warm up [Friday] morning and see how my body feels, make sure everything feels OK. And during the race, as long as the effort I'm putting it feels good, I'm going to keep going with it.
Q: Swimming is a sport of absorbing pain. How will you walk the line of knowing if you're pushing too hard?
A: That's something over the course of my career I've had to learn: what is good pain and what is bad pain? The pain in burning from using your muscles is different than the pain of hurting something. The 50 free is short, that's why I'm doing it. And my doctor said there is really no risk at all. I made a joke about doing a belly flop and [the doctor] said even that would be fine. As long as I'm cautious with the warm-up and keep some space between myself and the other swimmers, that's really the only issue at all.
Q: What are your plans if you qualify for finals?
A: On the odd chance I do make it, I'm not going to swim at night. My plan is to scratch that. There are people at this meet who have been training so hard, and maybe they're right on the cusp of getting a cut to qualify for world trials. What if this is the meet and the race where they are going to do it? I don't want to take that away from anyone. It's OK to enjoy these in prelims and to be on the deck and see everyone. I haven't seen so many of my teammates since Rio. But I'm going to leave finals to the other people.
Q: Anyone who has had the success that you have is a ferocious competitor. Is it hard to accept sort of this new normal?
A: That's just a shift in perspective. It is an unborn child and something you're not willing to risk. It is something I'm doing for fun and to see everybody and the fun of putting a race suit on and get on the blocks and doing something you don't see all the time. But the baby comes first. Having said that, putting a baby first doesn't mean you need to sit on the couch all day and do nothing. Quite the opposite, in fact.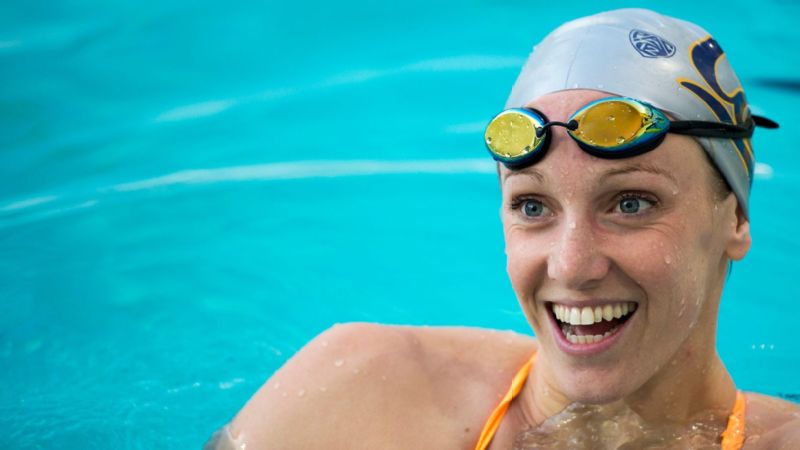 Q: What about your suit? When you first came back after giving birth to Arlen, you talked about how difficult it was to get back into that race suit again. What will your suit be like in Mesa? Has TYR had to make any modifications?
A: It's actually just the normal Avictor line that I wore at the Olympics. I wore size 26 in Rio, this is a 32. Because I'm not concerned about a hundredth of a second — I'd rather be comfortable. TYR sent me a bunch of different sizes to try and on and see. They were willing to make me a custom suit. But when I put this one on, I was like, "Guys, this feels fine. I can wear this one." At this point, my stomach is not big enough proportionally to the rest of my body that I felt we needed extra fabric. So I'll swim in a regular race suit.
Q: I know you said you didn't do this to send any sort of message, but you are. What message do you think you're sending by competing this weekend?
A: I'm hoping the message is to help women see what is possible when they are pregnant. That was my mission after Arlen was born, to show what we can still do while we are nursing and raising a baby. You can still chase your dreams. It isn't just "sit on the couch and enjoy this baby." That's not the best thing for me or the baby. This healthy lifestyle I'm trying to have is about being able to get up and compete and do things you love as long as you know your limits. Do it safely, of course. And every woman is different. But you can still do so much while you're pregnant.
And you know, as hard as people think this is, the race is only 30 seconds long as opposed to the entire day I spend holding and chasing around a 35-pound 2-year-old. This will feel like a break.
Q: What has the reaction been to your decision to compete?
A: It's been so great. … When I walked out on the pool deck in my race suit on Tuesday, I said to Teri, "I bet you never thought you'd see this, huh?" When I was competing as a kid or even in college, you don't see yourself trying to put on a race suit when you're pregnant. Never. But I love hearing from other women. People have done this before. There's this psychological element of still being able to do what you love, so I've gotten a good response. Sure, there are some people who have had not-as-nice comments, but I know with myself, I'm not putting my baby at risk. I've talked to the doctors and feel comfortable with what I'm doing.
Q: Your last pregnancy wasn't easy. You mentioned the bed rest. You had a long labor. I remember you saying how terrible you felt in the water, like you had this big boulder around your waist. Has this time felt any different?
A: I still have that bowling-ball feeling. But this time I also feel super-floaty, more so than normal. Last time, I didn't really swim until after I was off bed rest at 37 weeks. I was much bigger than I am now. Maybe that stage is still coming, but for now, I feel good. I try to take a step back from the pure intensity and focus on what muscles I am using to swim around the baby and using that as a learning opportunity. There are things I'm learning that will definitely influence the way I swim after the baby is born.
Q: What are the plans long term? Is Tokyo 2020 the goal?
A: Absolutely, Tokyo is the goal. And I will have so much more time than I did after Arlen was born. Even in Rio with a time crunch it worked, and I felt I could have been faster. I kept making huge improvements and then Rio was already here. So I'll be glad to have more time into Tokyo. I've become friends with [three-time Olympic gold-medal-winning volleyball player] Kerri Walsh Jennings. I love her to death. She's been a great resource. She's done this with [three] kids, and here I am nervous about two. But I've talked to her about how to manage the schedule and train and still come home and nurse. It's been amazing to have a role model like her. I'm real excited to see where I'm going to be at heading into Tokyo.