Hurricanes hire former chemist, hockey blogger for analytics post – CBSSports.com
The Carolina Hurricanes hired a popular former advanced statistics blogger and former chemist to a full-time job within the organization Thursday. Eric Tulsky, who came to notoriety in hockey circles after his groundbreaking study regarding zone entries and consulted for the Hurricanes on a part-time basis last season, has been named Hockey Analyst for the club.
The new full-time role will have Tulsky providing and analyzing data to assist the hockey operations and coaching staffs.
"Eric is an extremely intelligent person and has been an innovator in the field of advanced analytics," said Hurricanes GM Ron Francis in a statement. "We found the information he provided last season to be extremely valuable and are glad that he will be with us on a full-time basis."
In recent years, Tulsky had been one of the must-read analytics writers with work on Flyers blog Broad Street Hockey, NHLNumbers.com and Outnumbered. He had also been published in the Washington Post and fivethirtyeight.com. Tulsky also was a featured panelist at the popular MIT Sloan Sports Analytics Conference.
But before he was a hockey blogger, Tulsky had his hands full with a lot more serious business. Here's more on his professional bio from the Hurricanes:
A Philadelphia native, Tulsky holds a B.A. in chemistry and physics from Harvard University and a Ph.D. in chemistry from UC-Berkeley. He also conducted a two-year, post-doctoral study at the Naval Research Lab in Washington, D.C., and worked in nanotechnology for 12 years. Tulsky's research has helped enable unique nanotechnology solutions to problems in DNA sequencing, solar energy, displays, and energy storage.
That sounds like your everyday normal hockey resume, right?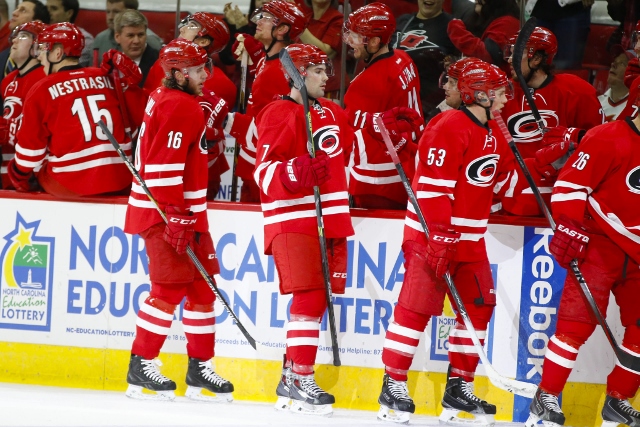 Tulsky going full-time with the Hurricanes is just another in a long line of teams investing more in analytics. Last summer was known as "The Summer of Analytics" as many teams hired some of the smartest minds from the blogosphere and beyond to take over sizable roles in various hockey departments.
Just to name a few: Former lawyer and blogger Tyler Dellow was hired by the Edmonton Oilers, bloggers Cam Charron and Rob Pettapiece, as well as ExtraSkater.com founder Darryl Metcalf were brought in to help formulate an analytics department for the Toronto Maple Leafs. Former pro poker player Sunny Mehta was hired by the New Jersey Devils as director of hockey analytics.
Others have been picked up over the course of the last year-plus, with more likely coming. Other NHL teams have been more secretive about their use of analytics, but many teams have some form of extra statistical work being done behind the scenes.
Just last season, the NHL unveiled a new section of its statistics page on NHL.com to provide a place for more advanced statistics like various possession metrics. There's also talk of the league eventually adopting video-based technology that will provide more data than we'll probably ever know what to do with. That still remains in the preliminary stages, however.
With another team diving head first into analytics and more on the way, it doesn't seem like the advanced stats revolution is much of a revolution anymore. It's part of the game.
CommentsWrite a Reply or Comment:
You must be logged in to post a comment.