Iceland's improbable run in soccer's European Championship has drawn parallels with Leicester City's remarkable Premier League title win. And like it was for the English champion, the Nordic country is finding it hard to meet unexpected demand for its jerseys.
Iceland, a country the size of Leicester with a population of about 300,000, is playing in its first major soccer tournament. It shocked the world on Monday by eliminating heavily favored England with a 2-1 victory in a round of 16 game in Nice, France. The result cost England coach Roy Hodgson his job and meant even more orders for Sport Company Ehf, Iceland's official jersey distributor, and Errea, the Italian sportswear company that makes the apparel.
Iceland's national stadium has a capacity of 9,800, and Sport Company had estimated demand for jerseys to be about triple that amount, according to its general manager, Thorvaldur Olafsson. That's proved to be woefully short as Iceland took off on a surprise run to the quarterfinals, where it will meet host France on Sunday. Poland meets Portugal in the first of the last-eight encounters later Thursday.
"This is just like the Leicester adventure," Olafsson said by phone from Reykjavik, where he was printing the players names on the jerseys the team will wear versus France. He'll hand-deliver them to the team after flying to Paris on a special charter with fans. "The requests on our website are enormous, but you are not able to buy them anymore because we can't meet the demand."
Shirts are being shipped to retailers, he said.
Made in Italy
Iceland, which has seen its tournament odds drop to 33-1 from 80-1 with U.K. bookmaker William Hill, is also providing a boon to Errea. Iceland is the Parma-based company's first team to make it through to a European Championship, the third most-watched sporting event after the Olympics and World Cup. The majority of national jerseys are produced by Nike Inc., Adidas AG and Puma SE.
Puma, which made Leicester's shirts, was unable to meet demand when the 5,000-1 longshot topped the Premier League table. It ran out of new jerseys in January, four months before the end of the season. Errea, which has two factories, is just about keeping up with demand from retailers because it produces everything in house, according to Fabrizio Taddei, its export manager.
"We are working 24/7 with a night shift and so we are every day sending out all the shirts we have," Taddei said. "We are a manufacturer as well, and so are not depending on a container from China arriving. So our strength is that we can almost reply on demand. But it's havoc here at the moment."
Shock Succcess
Errea's contract with Iceland runs through 2020, and Taddei is hoping the national federation overlooks offers that are bound to come from bigger rivals. The company also had contracts with world soccer minnows Malta, Cyprus and Luxembourg.
"In football, everything unfortunately can happen, but I like to think a contract is a contract," he said.
Iceland's shock success has dominated talk in the country, with the main news channel devoting the first three stories to the soccer team, according to Sport Company's Olafsson. That's meant demand for team apparel from people "who don't even know what offside is or what football is."
The BBC reported that as many as 30,000 people from Iceland, or 10 percent of its population, missed last week's presidential election there because they were in France following the national soccer team. An allocation of additional tickets for Iceland fans was sold out in less than three minutes Tuesday.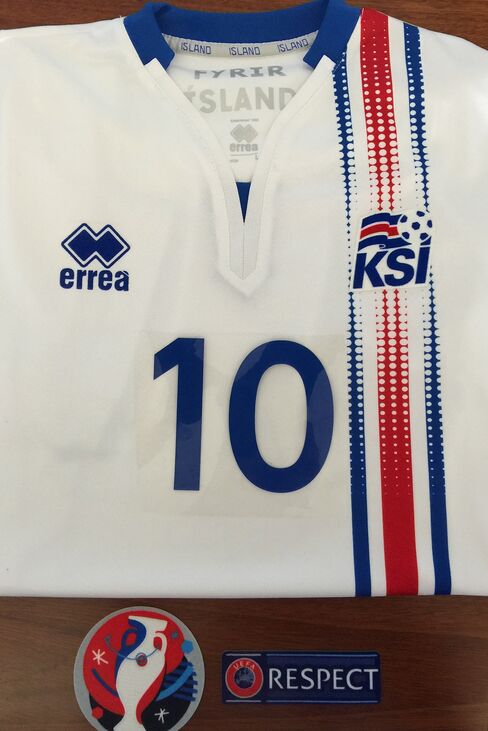 Iceland's run is also being celebrated across Scandinavia, with retailers in Denmark out of stock. During halftime in Iceland's game with England, Olafsson received the company's first-ever order from Greenland.
"When people in Greenland are thinking about this, then you know something is happening," he said as phones rang nonstop in the background.
Sport Company has already passed its total revenue for last year, though Olafsson declined to provide specific details.
Olfasson is printing shirts with the player's name and number as well as the date, venue and opponent for each match. Like for the England game, he'll pack them in his hand luggage and deliver them directly to the team's kit manager.
He expects to make the return trip to France at least one more time. That would mean defying the odds again and knocking out the hosts on their home field.