Knicks' Carmelo Anthony undecided on joining Team USA at Olympics – CBSSports.com
New York Knicks forward Carmelo Anthony doesn't know if he wants to play in the Olympic Games this summer. He has represented the United States at the last two Olympics, and USA Basketball included him on its list of 30 finalists in January. In an interview with The Vertical's Michael Lee, Anthony said that he'll wait and see how he's feeling in the summer:
USA Basketball has provided Anthony his only opportunity to win at a high level since he became a professional. Anthony sounded optimistic in March that his surgically repaired left knee wouldn't prevent him from going after an unprecedented third gold medal. But since then, Chris Paul withdrew, citing the need for rest, and left Anthony and LeBron James as the only players from the 2008 team remaining in the Team USA selection pool. "It definitely would help," Anthony said, if James decides to make one more run, but Anthony isn't close to making a final decision.

"That's at the top of the sport, of any sport. I think if you have the opportunity to do it, and enjoy it, and take advantage of it, I think you should do it. [The Olympics are] the throne for sports as a whole," Anthony told The Vertical. "I'm going to take a little more time to think about it. I'm not in a rush. NBA season is still going on, so I'm going to see how I feel physically. Am I ready to take on – I don't want to say burden, but – that load? If I'm ready, I'll do it. If not, my body won't lie to me."
Anthony starred for Team USA on 2008's "redeem team" and the 2012 team in London. These were two of the best moments of his career. That doesn't mean that suiting up in Rio would be the best decision for him. He will turn 32 in May and has dealt with knee and ankle injuries in the last couple of seasons. Anthony would surely love to compete for his country again, but if he decides that he needs to focus on being healthy for the regular season, no one should blame him.
It's also worth noting that USA Basketball doesn't exactly need Anthony. If he and LeBron James both sit out, the Americans still have the following small forwards available: Harrison Barnes, Jimmy Butler, Kevin Durant, Rudy Gay, Paul George, Gordon Hayward, Andre Iguodala and Kawhi Leonard.
It's probably safe to assume that Durant, George and Leonard are guaranteed to get roster spots if they want to play. Every time a new Team USA is assembled, whittling down the training camp roster is challenging. It might make things easier for both sides if Anthony stays away.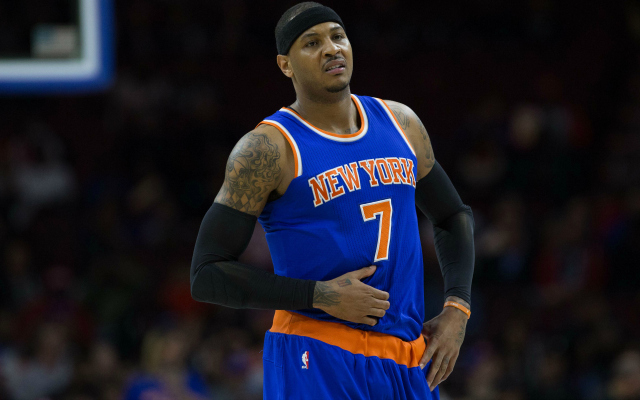 CommentsWrite a Reply or Comment:
You must be logged in to post a comment.