NASCAR at Watkins Glen 2015 Qualifying Results: Race Order, Times, Reaction – Bleacher Report
AJ Allmendinger will have nothing but open track in front of him Sunday when he starts the Cheez-It 355 at Watkins Glen International.
Allmendinger captured the Coors Light Pole Award on Saturday at Watkins Glen as the fastest competitor in both rounds of qualifying. It was business as usual for the racer at the track considering he won the Cheez-It 355 last season for his first career Sprint Cup Series victory.
Martin Truex Jr. qualified second Saturday, while Tony Stewart checked in at third.
JTG Daugherty Racing congratulated Allmendinger in the aftermath of his fourth career pole win:
.@AJDinger & the #47 team celebrate their 2nd @CoorsLight Pole of the year. Great effort AJ and team! #NASCAR pic.twitter.com/cNpjI3MqGe

— JTG Daugherty Racing (@NASCAR47) August 8, 2015
Here is a look at the rest of the drivers who joined the pole-sitter in the top 12, courtesy of NASCAR.com:
Qualifying Results at Watkins Glen

| | | | |
| --- | --- | --- | --- |
| Place | Driver | Best Speed | Best Time |
| 1 | AJ Allmendinger | 127.839 | 1:08.993 |
| 2 | Martin Truex Jr. | 127.569 | 1:09.139 |
| 3 | Tony Stewart | 127.481 | 1:09.187 |
| 4 | Kevin Harvick | 127.416 | 1:09.222 |
| 5 | Jeff Gordon | 127.181 | 1:09.350 |
| 6 | Kyle Larson | 126.948 | 1:09.477 |
| 7 | Dale Earnhardt Jr. | 126.912 | 1:09.497 |
| 8 | Kyle Busch | 126.868 | 1:09.521 |
| 9 | Jimmie Johnson | 126.828 | 1:09.543 |
| 10 | Austin Dillon | 126.788 | 1:09.565 |
| 11 | Brad Keselowski | 126.112 | 1:09.938 |
| 12 | Justin Allgaier | 125.980 | 1:10.011 |
NASCAR.com
Allmendinger wasted little time establishing himself as the one to beat Saturday, turning in the fastest time in the first round. NASCAR Stats noted the 12 drivers who advanced to the final round to determine starting position for Sunday's showdown:
Top 12 to advance to Final Round
Allmendinger
Harvick
Johnson
Gordon
Truex
Stewart
KyBusch
Keselowski
Larson
Dale Jr
Allgaier
Dillon
#NASCAR

— NASCAR Stats (@NASCARStats) August 8, 2015
Allmendinger built on that early performance when he tallied his winning lap (68.993 seconds at 127.839 mph) with more than four minutes remaining in the second round. Nobody topped his mark in the closing moments, and he earned his second pole of the season (he also won the pole at Sonoma in June).
Whether the Saturday performances from Allmendinger, Truex Jr., Stewart, Kevin Harvick and Jeff Gordon foreshadowed what fans can expect Sunday remains to be seen, but NASCAR Stats pointed out that being in the top five (and on the pole in particular) at Watkins Glen is the ideal spot:
21 of the 32 (65.6%) #NASCAR Sprint Cup races at Watkins Glen have been won from a top-five starting position.

— NASCAR Stats (@NASCARStats) August 8, 2015
9 of the 32 (28.1%) NASCAR Sprint Cup Series races at Watkins Glen have been won from the #CoorsLight pole. #NASCAR

— NASCAR Stats (@NASCARStats) August 8, 2015
Allmendinger should also have plenty of confidence on his side considering he won here last year and turned in a dominant performance in both rounds of qualifying Saturday. He is clearly comfortable with the track and couldn't pick a better venue at which to make a charge up the NASCAR standings.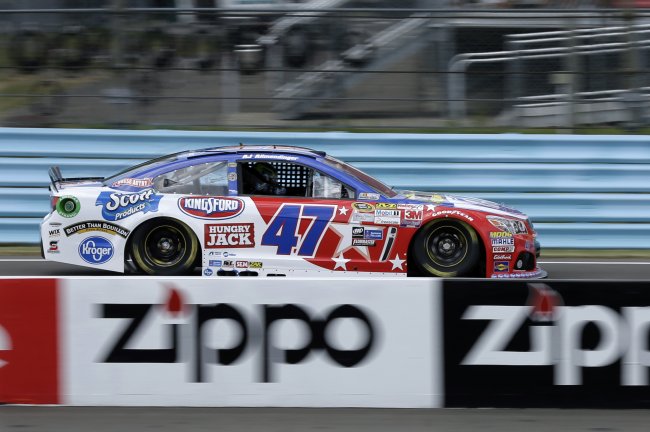 Mel Evans/Associated Press

He earned a spot in the Chase for the Sprint Cup last season on the back of his victory at the Cheez-It 355 and hopes to do so again in 2015.
Nick Bromberg of Yahoo Sports noted that it represents his best chance to do just that: "Watkins Glen represents his best chance for a win to get back into the Chase. He's 23rd in points and his seventh-place finish at Pocono last week in the fuel-mileage frenzy finish was his first top-10 since the third race of the season."
Allmendinger has only one top-10 finish in his past 18 races, but it came in his last contest, with a seventh-place finish at Pocono. That, along with his history of success at Watkins Glen, means momentum is firmly on his side entering Sunday's race.
Allmendinger discussed his mindset for the weekend, per Bob Pockrass of ESPN.com: "If we go out there and we perform at our best and we make all the right decisions, we will legitimately have a shot to win again. That is all you can ask for. If you put yourself in that position and it happens then great. If not, then you move on. It's just a race."
He certainly put himself in an ideal position Saturday with an impressive qualifying performance. 
CommentsWrite a Reply or Comment:
You must be logged in to post a comment.