Olympics Adds Mixed-Gender Events For 2020 – Huffington Post Canada
The International Olympics Committee (IOC) announced that it's adding a number of mixed-gender events to boost the number of women represented at the Olympic Games.
The number of mixed events will double from Rio 2016, from nine to 18, the committee said on Friday. The mixed events are swimming, shooting, sailing, archery, athletics, judo, table tennis, and triathlon.
It will be the most gender-balanced games in the history of the Olympics, with women making up an estimated 48.8 per cent of athletes that will compete.
New event in the @Tokyo2020 @Olympics – Mixed Team #Judo @IntJudoFed pic.twitter.com/7Uqi4Tu5Yr

— IOC MEDIA (@iocmedia) June 9, 2017
"I am delighted that the Olympic Games in Tokyo will be more youthful, more urban and will include more women," said IOC president Thomas Bach in a release.
To bring in more women, the IOC reclassified some men's events as women's or mixed. The committee limits the total number of participants to 10,500, so there had to be cuts from some sports — there will be fewer athletics, weightlifting and wrestling athletes in Tokyo, NPR reported.
The IOC released an infographic, breaking down some of the changes: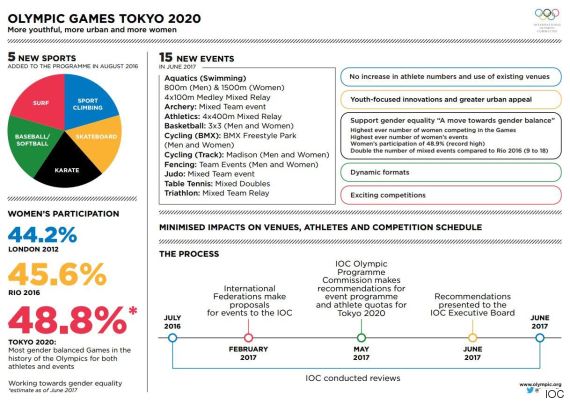 The addition of a women's 1,500-metre-freestyle swimming event was long-awaited.
"For decades, the longest distance women could swim in the Olympics was the 800-metre freestyle, while the men maxed out at the 1,500 in the pool. American superstar Katie Ledecky was unable to swim her best event, despite holding the world record in it," sports journalist Michelle Martinelli wrote on USA Today.
Sports fans and athletes welcomed the move on Twitter.
Good. It's about time the women got a chance over 1,500 meters in the Olympics. https://t.co/6F8tE0hDKO

— Matthew De George (@sportsdoctormd) June 9, 2017
New swimming events for Tokyo include FINALLY a gender equal program with men's 800FS and women's 1500FS and the mixed medley relay

— Clare Lobb (@clarelobster) June 9, 2017
Great to see way more women's events and even some mixed events added the programme in Tokyo across all sports!! #girlpower ???????? https://t.co/MEd9MQXdfe

— Aimee Willmott (@aimee_willmott) June 9, 2017
"We have taken a really important step forward in terms of gender equality," IOC sports director Kit McConnell told the BBC.
CommentsWrite a Reply or Comment:
You must be logged in to post a comment.