Shannon Szabados posts first shutout by a woman in men's pro hockey – CBSSports.com
Shannon Szabados makes history every time she steps on the ice for the Columbus (Georgia) Cottonmouths in the Southern Professional Hockey League, but hit another major milestone Saturday night. In a 3-0 win over the Huntsville Havoc, Szabados became the first woman to record a shutout in a men's professional hockey league.
Szabados, who has played parts of the last three seasons with Columbus, made 33 saves to earn the big win and the history-making shutout.
1st Pro Shutout! #3-0 #33saves #VsHunstville pic.twitter.com/D57KLndtNT

— Shannon Szabados (@ShannonSzabados) December 27, 2015
Other women have been goalies in the men's pro ranks before. Manon Rheaume, also a Canadian Olympian, famously suited up in a NHL preseason game for the Tampa Bay Lightning back in 1992. She also suited up in 22 professional games at various levels, including the old IHL which was previously the next step down from the NHL. Rheaume never managed to record a shutout, though. Nor did Erin Whitten, a U.S. Olympian, who appeared in 17 games in various men's pro leagues between 1993-95.
This season, Szabados has started 12 games so far for the Cottonmouths. She is 3-5-3 with a .909 save percentage. In 39 career games in the SPHL, Szabados is 18-16-4-1, with a .907 save percentage and 3.29 goals-against average.
Saturday's shutout also represented a big bounce-back performance for Szabados as she had given up seven goals in a 51-shot shelling at the hands of the Peoria Rivermen a week prior. That game made headlines for other reasons, though.
The two-time Olympic gold medalist has been stellar in international play for Canada. She had a .954 save percentage over three games at the Winter Olympics in 2014 and a .980 mark in 2010. She also has a gold and three silvers at the Women's World Championship.
Despite her dominance internationally, at just 5-9, 140, Szabados hardly possesses the hulking frame of today's goaltenders in the men's pro ranks. It seems goalies barely even get a look anymore for the NHL Draft if they're under 6-foot-2. But Szabados has proven she is a tremendous athlete and more than capable of playing at the pro level. The Edmonton, Alberta native also once was used as a practice goalie for the Edmonton Oilers.
The SPHL might not be close to the top tier of pro hockey, but what Szabados has done so far in her career could be blazing a trail for other top female players. She is her team's primary starting goaltender and while her presence doesn't hurt exposure for the club, Szabados is not just a sideshow act for a minor pro team trying to sell tickets.
It's been a tremendously important year for women's hockey in 2015 in general. The National Women's Hockey League became the first paid pro women's league when it hit the ice this fall. The Canadian Women's Hockey League is still going strong, boasting some of the top Canadian women's players. Both leagues are helping create better exposure for the women's game and creating opportunities for the best women's players to continue their hockey careers after they graduate out of their NCAA or Canadian university programs.
Szabados is taking a path all her own, though, and finding success. Now she has another milestone to cross off the list.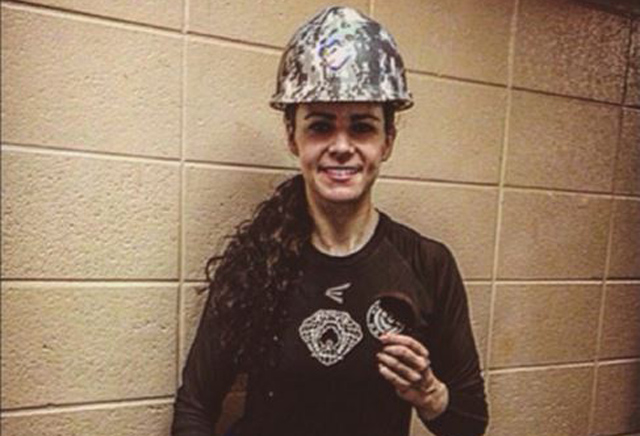 CommentsWrite a Reply or Comment:
You must be logged in to post a comment.