Soccer Can't Live Without Its TV Money – Bloomberg Gadfly – Bloomberg
The word symbiosis conjures up cheerful images of unlikely animals paired by evolution for their common good: clownfish and sea anemones or oxpecker birds and rhinos. Yet the term also covers parasitic relationships when one species harms the other – think fleas and dogs.
The partnership between England's top soccer league and the companies Sky Plc and BT Group Plc that screen its games every weekend belongs to the first category, for now at least. Under a mutually-beneficial model, pay-TV providers have counted on the footie to drive subscriptions (or broadband sales) while they give the teams ever-greater riches to lavish on players and managers.
Yet with evidence that English soccer is losing its grip on its domestic TV audience, as we explored in depth earlier this week, one might question whether mutual advantage could one day turn to unhealthy co-dependence. If you look at Deloitte's annual rich list of Europe's soccer clubs, published on Thursday, the heavy reliance of England's elite clubs on TV is clear: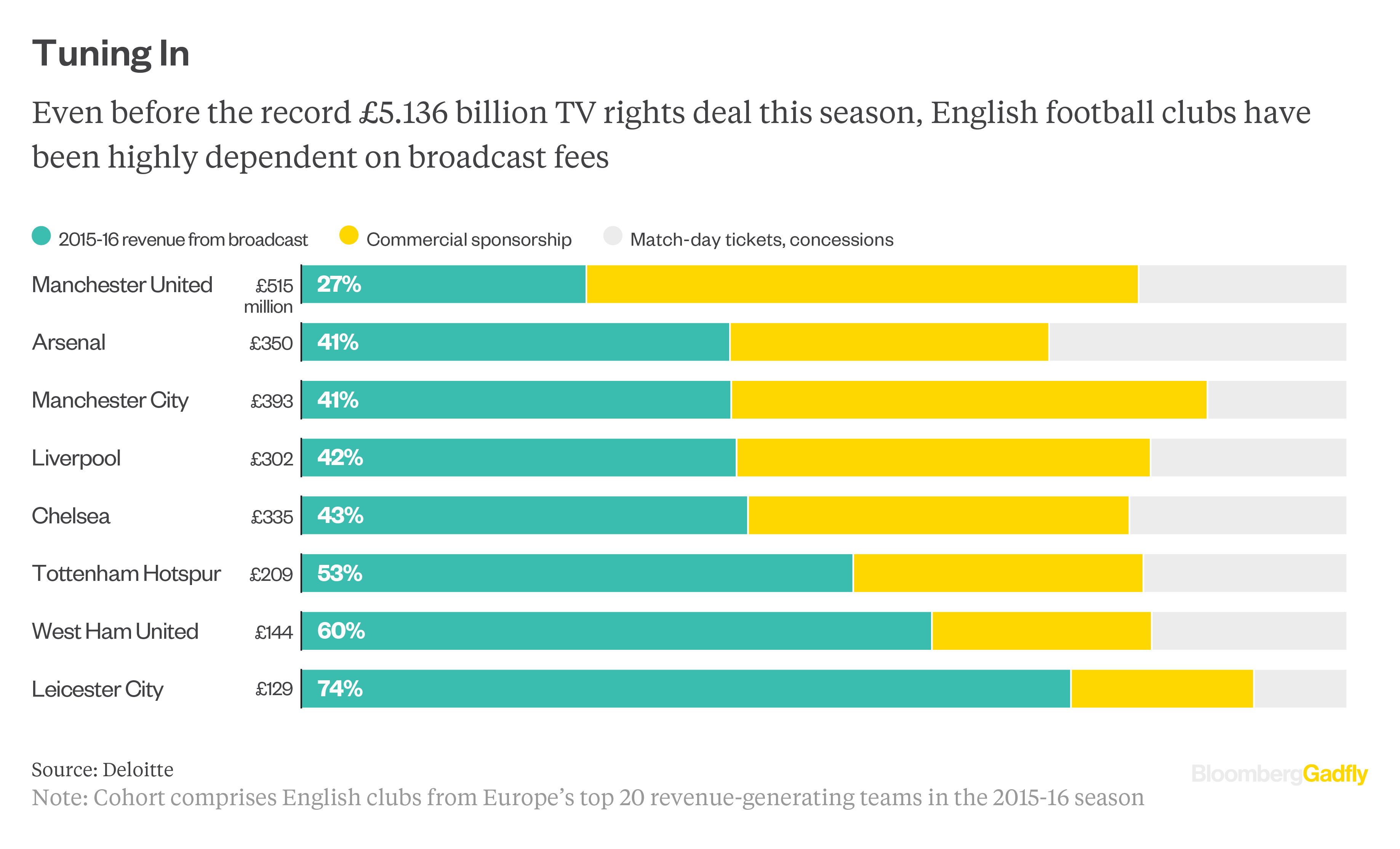 With the exception of Manchester United, which makes much of its money through commercial tie-ups and merchandising, the top teams all got more than 40 percent of their revenue from TV in 2015-16. The picture will probably be even more distorted from this season, when a giant new deal with Rupert Murdoch's Sky kicked in.
Dan Jones, partner in Deloitte's sports business group, says he gets asked every year whether football's bubble is finally bursting. And it's fair to say the latest figures don't give any hint of that. There were eight English teams in the top 20 revenue generators. Man United overtook Real Madrid and Barcelona to take first place.
The declines in the the weekly TV audience won't immediately affect Sky or BT's bottom line since advertising revenue is much less important than subscriptions. And since Sky and BT don't release subscription figures, we can't tell whether the ratings drop is affecting them. The data also has some holes: people watching on mobile devices or legal apps from Sky and BT aren't counted. Illegal streaming of games is also luring away paying viewers, although it won't be easy for the broadcasters to counter that.
Even without knowing the impact on subscriptions, it's hard to see how losing hold of the mass market would be good news for football or the broadcasters. English clubs have increased their sales much more quickly than European rivals thanks to the competition between BT and Sky for the rights, supported by an apparently bottomless appetite from the viewing public.
It's fair to ask how long a dynamic of rising cost and falling audience could last. If surveys showing young people aren't as sports mad as older generations are borne out, it'll eventually no longer be sound strategy to spend big bucks on this content.
Sky CEO Jeremy Darroch said in November he would be more selective about sports rights, since it was becoming "less important." BT boss Gavin Patterson says he'll walk away if costs get too rich. Some of this may be posturing ahead of this year's renewal of Champions League rights, but the executives are right to re-evaluate.
As for the English clubs, they do have ways to play defense if their home TV bounty isn't as big in future. Foreign broadcast rights could offset declines; just look at the chart below and the $700 million, three-year deal signed for the Chinese market. So it is probably unwise to call time on football's bubble just yet, even if some of the signs are a little ominous.
This column does not necessarily reflect the opinion of Bloomberg LP and its owners.
To contact the authors of this story:
Leila Abboud in Paris at labboud@bloomberg.net
Elaine He in London at ehe36@bloomberg.net
To contact the editor responsible for this story:
James Boxell at jboxell@bloomberg.net
CommentsWrite a Reply or Comment:
You must be logged in to post a comment.