WATCH: Virginia hockey goalie chugs beer during blowout, gets ejected – CBSSports.com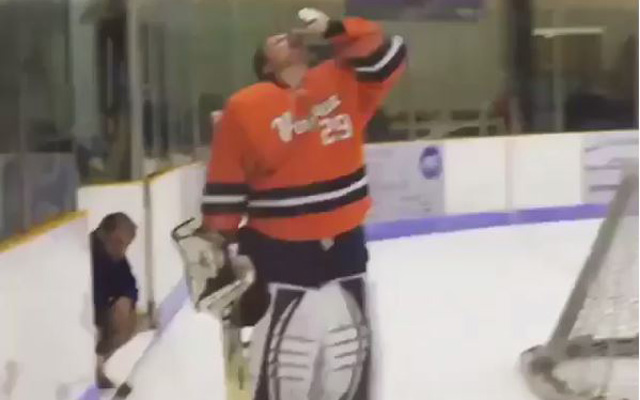 Fans of comedies of the 1970s and early 1980s might appreciate what happened during a preseason hockey game Friday night between the club teams at the University of Virginia and Virginia Commonwealth. It was something like Animal House meets Slap Shot.
With UVA taking it to VCU through two periods with a 7-0 lead heading into the third, Virginia goalie Jake Anderson had a shutout going. With the lopsided score, things were getting a little dull in his own end apparently. Near what appears to have been the student section, a fan decided to reward the home team's goaltender. He came armed with a can and a plan.
Anderson was handed a beer over the glass by an exuberant fan, quickly removed his mask, cracked open the presumably cheap can and chugged it right there on the ice. There was nothing subtle about it and the refs didn't let it slide. Anderson was tossed from the game and received a five-minute major according to the postgame recap.
Here's how the UVA hockey team website's official game recap broke down the shenanigans on the ice:
Jake Anderson had a shutout through two periods until he was disqualified for consuming an alcoholic beverage on the ice. This selfish act drew eerie parallels to the maturity of a middle schooler desperate for attention from his crush and led to a five minute major penalty to begin the third period, which Virginia killed off successfully. Tommy Graber finished the game in net and did so admirably, only allowing one goal in the final frame.
Virginia held on for a 10-1 win. So I believe that means Anderson still gets credit for the W, but I do appreciate the extra analysis from the club.
UVA's hockey team plays in the American Collegiate Hockey Association's Division II ranks. Collegiate club teams tend to be as serious as the players want to take it, basically. Teams in Division I in the ACHA operate more like their NCAA counterparts albeit on a much smaller budget. Recently successful ACHA programs at Penn State and Arizona State made the jump to the NCAA from the club ranks. It gets a little less restrictive in ACHA Division II and then Division III is a few steps away from men's league.
It's a great way for players to stay in the game, but it's also something most of these players are paying to participate in and it's not cheap. The lower-division clubs are often run by fellow students and the organizational structure is a bit looser (but a lot of them still get pretty awesome jerseys at least).
Getting back to the incident at hand, the ACHA does follow NCAA rules for hockey, and wouldn't you know it? I couldn't find anything in the 2014-15/2015-16 NCAA rulebook that specifically says you can't drink a beer that enters the field of play. I checked other guidelines and couldn't find anything either.
However, I also checked USA Hockey's rules as a point of reference and found out that under their rules (601 G, to be exact), a player found to be drinking a beer on the ice or bench is to be warned by an official first and then a bench minor can be enforced if the player or coach in question doesn't comply. That's probably meant for men's league more than college hockey, though. They don't call it beer league for nothing.
Obviously this becomes a safety issue and was probably punishable under the broader scope of what constitutes unsportsmanlike conduct. Drinking a beer in the midst of a blowout is probably somewhere between taunting an opponent and actually spitting in his face. Your scale may vary.
In all seriousness, this was probably not the best idea. It's more than a little disrespectful to the opposing team and it's probably not the safest idea. I wouldn't be entirely shocked if there wasn't some further discipline on the horizon for the netminder.
Either way, these kids pay their money and can take it as seriously or not seriously as they want. And it looks like those in the student section enjoyed the show. College, man.
[h/t Streaking The Lawn, Barstool U]
CommentsWrite a Reply or Comment:
You must be logged in to post a comment.