When the nawabs played hockey: Rise and fall of hockey in Uttar Pradesh – The Indian Express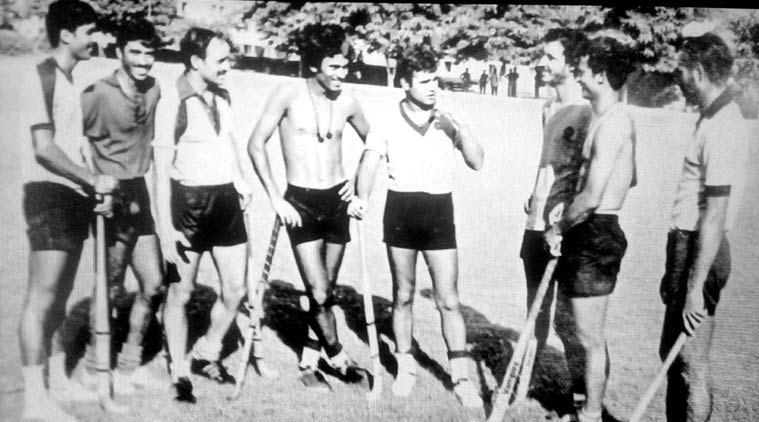 (L-R) Marcellus Gomes, Mervyn Fernandes, MK Kaushik, Mohd Shahid, Syed Ali, Charanjit Singh, Zafar Iqbal and Surender Sodhi during a camp in Patiala for the 1981-82 World Cup. Dhyan Chand, Shahid, Ali and Iqbal are all products of hockey nurseries in UP.
The stadium had lost its voice. But Syed Ali couldn't care less. He is on his feet, shaking his head in disbelief and applauding a fine goal. He is perhaps the only person in the stands who is celebrating a goal that has put India behind.
It is the 11th minute of India's group stage junior World Cup match against England. Liam Sanford picked the ball inside India's half. He looked left and right, searching for support. But there was no white shirt in his vision. So Sanford did what few English players can do.
He body-dodged five Indian players, slicing open the defence with such flair that it made Ali nostalgic. "Aahahahaaa…" Ali gushed. As if appreciating a piece of shaayri.
He didn't care which team scored. In his playing days, and even in the era before that, they never did. To Ali and many in this region, what always mattered most was artistry.
***
Lucknow takes pride in its tehzeeb. Even in everyday conversations, the people are poetic. At a crowded traffic signal, the smiling cop waves the cars on with adab. The city known for its 'pehle aap' chivalry even allows you to jump the queue at an ATM. Lucknow shows heart for a visitor desperate for cash.
These qualities define their hockey as well. It's very lyrical, the way this region plays its hockey. Think of Dhyan Chand or his son Ashok Kumar. KD Singh Babu or Mohammad Shahid. Zafar Iqbal or Ali himself. All so stylish. They were the wizards who gave Indian hockey its identity.
If Punjab is about brawn and Coorg/Tamil Nadu is about brain, beauty defines a player from Lucknow, or Uttar Pradesh in general, the best. It's ingrained in their DNA. "Agar koi UP ke player ke paas skill nahi hai, toh woh gadha hai (If a UP player doesn't have skills, he's a fool)," Sujit Kumar, a stylish right out in the 1980s, says. "India khelna, aur style mein khelna alag cheez hai. (Playing for India and playing in style are two different things)"
***
The city's love affair with hockey is as passionate as its love for kebabs. That Lucknow has a cricket stadium named after a hockey legend (KD Singh Babu) goes to show the quality of players it has produced. In fact, the city's three main outdoor stadiums (two hockey and one cricket) are all named after their hockey greats: Dhyan Chand, KD Singh Babu and Mohammad Shahid.
During the junior World Cup, thousands walked through the turnstiles in biting cold and almost zero visibility due to fog at the Dhyan Chand stadium in the city's outskirts. Such is the craze that several hundreds turned up even for India's practice sessions at the newly-constructed Mohammad Shahid stadium. The junior World Cup, involving 16 countries, was the biggest sporting event ever to be held in Uttar Pradesh. With state elections just around the corner, there's a political tinge to it. Huge hoardings of Akhilesh Yadav wishing the team luck in 'Umeedo ka Pradesh' are sprinkled across the city.
For the former greats from the city, though, these were nostalgic two weeks. Reliving their sepia-tinted memories. They are fascinating storytellers, although you'll never know where fact ends and fiction begins. But somewhere in between lay the unending romance.
***
"Shahid ball leke chalta toh teen-teen gore bhaagte uske peeche. Ek baar aise usne break maari ki do gore flag pe jaa gir pade."
Syed Ali is describing Mohammad Shahid's artistry, which is perhaps as tough as trying to stop him from dribbling. "European players used to tear his t-shirt in desperation to stop him from beating them," Sujit Kumar adds. "Back then, rules were not as strict as they are now. Today, a player would get a red card for that, but not in those days. Shirt, pants…whatever they could grab to stop him."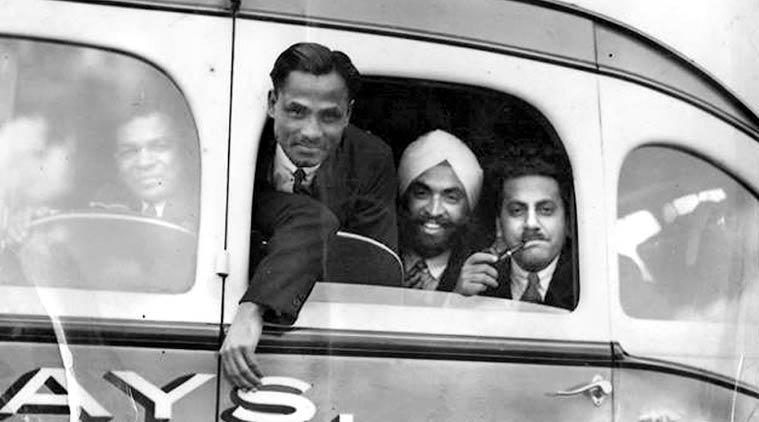 Dhyan Chand (L), en route to the 1936 Berlin Games.
But there was also grudging admiration for Shahid's skills. His ability to win penalty corners was so legendary that even the mighty Dutch looked at him with awe. In 1989, India travelled to Amsterdam for the BMW Trophy. Even before the team checked into their hotel, the organisers asked if Shahid was a part of the travelling party. "When they were informed that he had retired a few months earlier, they were extremely disappointed," Sujit says.
Holland, back then, had Floris Bovelander, one of the finest exponents of drag-flicks. But they did not have anyone to win them penalty corners. "Shahid used to get us 8-9 corners in one match. They said they needed a player like Shahid, who could compliment Bovelander," Sujit adds.
But not everyone was as smitten. Ali points at his thumb, knees, toes and teeth to show how every part of his body was broken at some point in his career because of the rough tackles made by the opponents to stop them. "Every time I ran with the ball, the defenders used to shout 'maaro'. They used to be very afraid of me," Ali says. "Saale, maarne mein lage rehte the. Chot toh bahut lagti par humne bade sardar gira diye hai."
***
The wizardry was learnt at the once-famous Lucknow sports hostel. Ali recalls his chance meeting with Dhyan Chand, who was in his 70s when he dropped by at a training session at the KD Singh Babu stadium.
Ali says: "He picked up a stick and told me to hit the ball hard in his direction. I thought budhe hai, zor se kya maarenge…toh liyaaz rakha. But he taunted me, saying, 'Haven't you eaten anything? Is this the best you've got?' I hit a little harder. But he still wasn't impressed. 'Maza nahi aaya yaar, kaise khiladi ho tum.' So I took a couple of steps forward and unleashed a powerful hit on his left. It was so quick, he couldn't even get his stick down in time. He smiled, and told me, 'you are a brainy player, you'll play for India some day.'"
Babu himself coached the Indian Airlines team till the 70s at the ground named after him. The former India captain, they say, was as stylish off the field as he was on it. Hailing from a royal family, he was a professional hunter, had a thing for hats and enjoyed smoking cigars. During training sessions, he used to sit on the topmost tier of the stadium, recalls former Lucknow hostel trainee Romeo James, with a mike in his hand and puffing a cigar.
Every time the players made an error, Babu used to bellow out: "Aye Baangdoooos…" It didn't really mean anything (even if it did, the players never dared to ask him) but that was the sign to stop play. Babu used to walk all the way down to the pitch and explain to them their mistake, in his trademark witty way. "If we over-hit the pass, he used to remark, 'give him a scooter as well if you want him to get that ball,'" James, who was coached by Babu briefly, says. "He demonstrated and corrected our mistakes then and there. So it stuck with us forever."
***
After Babu, legendary coach Jhamanlal Sharma carried the baton. The KD Singh Babu Stadium had concrete galleries, which were uneven and not too wide. Sharma, a Padma Shri awardee, made his players dribble the ball on it, thirty-five rounds every day.
The players had to bend and run. It gave them a peripheral vision of the ground, being able to look up and also focus on the ball simultaneously.
Sharma followed the players with a stick in his hand. Every time a player lifted his back, he used to get one on his backside. By controlling the wobbling ball, their stick-work got better as did their dribbling skills. "We have been taught since the beginning that if you can't control the ball, you are useless," Sujit says.
At the Meerut hostel, the players used to sneak into the badminton hall every night at 2 and hit the cork ball against the wall until 6am, Sujit adds. "Your reflexes get better by hitting the ball against the wall. Roz ball faad dete the."
***
After decades of neglect, 70s and 80s were easily the two best decades for UP hockey. Hockey historian K Arumugam says the power equation in Indian hockey back then was such that lobbying played a key role.
In 1952, opinion was divided over the captaincy for the Helsinki Olympics between the Punjab and UP lobby. The players voted but it was still equal. "Finally, the secretary of the Indian Hockey Federation cast his vote. He was from UP and preferred KD Singh Babu. That is how he became the captain," Arumugam says. "That changed once Ashwini Kumar became the president."
Another hurdle for the UP players during that time was that for the three Olympics between 1952 and 1960, no Muslim player was selected because a few of them had migrated to Pakistan after taking part in the 1948 Games. It ended with Ali Syed's (not to be mistaken with Syed Ali) selection for the 1964 Tokyo Olympics. "Families of many players were divided after partition. I remember during one of our tours to Pakistan, Abdi's sister came to meet us in Karachi. Abdi was from Varanasi but a part of his family had moved to Pakistan," Sujit says.
The tide turned in the 1970s, though. Indian teams were virtually made up of players from here. For a European tour of the junior India team in 1982, 11 players out of 16 were from the Meerut sports hostel. They included goalkeeper RS Rawat, fullback MP Singh, midfielders Sujit, Abdi and Mir Ranjan Negi, right-out Mukesh Kumar, right-in Shafique Ahmed Khan, centre forward Naeem, left-in Fahim and left-out Yasin Zafar.
At the 1988 Seoul Olympics, six players in the squad were from the Lucknow hostel: Rawat, MP Singh, Sujit, Vivek Singh, Jagbir Singh and Shahid. Between 1976 and 1996, the state produced around 60 internationals, including a dozen Olympians.
They acquired fame domestically and internationally with their body dodges and ball control. Wherever the Lucknow sports hostel team went, they attracted thousands of spectators. "There are two types of fans. One, who wants his team to win, no matter how. Then there are those who are ok with their team losing but appreciate the way they played. We had more of the latter," Sujit says.
They were individualistic in nature, the inventors of 'jalebi' style hockey. And their carefree attitude and bravado endeared them even more. But it would also contribute to their slide.
***
The overbearing attitude of the players fostered indiscipline. When MP Ganesh once tried to substitute Shahid (this was an era when there were football-like subs in hockey), he turned to the coach and expressed his displeasure by saying: "I am Padma Shri (which he won in 1981) and you are not."
That was the beginning of the friction between the two and at the 1988 Seoul Games, Ganesh did not start Shahid in a crucial match against Great Britain. India needed a draw in that match to progress to the semifinals but eventually lost 3-0.
Zafar Iqbal recently joked about Shahid's reluctance to pass the ball. When he was called for a tournament launch, Zafar enquired who the other guests would be. When told Shahid would be one of them, he laughed: "Why have you called us? Game mein ball nahi deta tha, yahan mike nahi denge."
Back at the Lucknow sports hostel, they never evolved their coaching techniques after the game shifted from grass to turf, which led to further decline. The last big player from UP was right-out Pawan Kumar, who played at the Atlanta Olympics.
Once Jyothikumaran began his second tenure as IHF secretary, the power equation again came into fray. This time, players from Tamil Nadu were given preference while UP's slide continued.
***
They never really recovered from the slide. Today, Danish Mujtaba and Amir Khan are two players from UP in the senior squad while Ajit Kumar Pandey and Sumit Kumar were currently part of the junior World Cup team. But none of these players are the products of the Lucknow sports hostel, which is stuck in time.
They hope that the junior World Cup will be a catalyst to help the state find its lost status as the cradle of Indian hockey. Syed Ali, who organises the KD Singh Babu Memorial tournament every year, spends hours on the maidan trying to spot the next Shahid. "These players these days," he says, shaking his head, "jalebi banane nahi aati. They can't dodge."
The pain in his voice is apparent. But the bond between his city and hockey is such, he says, that a talent will soon emerge. In typical Lucknowi style, Ali sums up hockey's love with the city, and vice versa, with a fine 17th century couplet by Sheikh Imam Baksh Nasikh Lakhnawi. "Lakhnau mujh par fida hai, mein fida-e-Lakhnau. (I am in love with Lucknow, and Lucknow is in love with me)."
The glory days may exist no more. But the romance lives on.
CommentsWrite a Reply or Comment:
You must be logged in to post a comment.