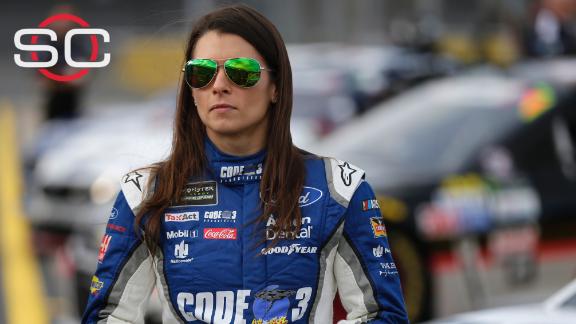 Danica Patrick has said she doesn't want to live a miserable life of racing in the back half of the NASCAR Cup field. If she can't race competitively, she doesn't need the money.
She has other interests. Among them, she is the proprietor of a vineyard, has a clothing line, and has authored a fitness/nutrition book coming out next year. She didn't embark on those ventures thinking 2017 would be her last year in racing. She pursued them because she has passion in those areas, and it just seemed right at the moment.
But if 2017 is her last year in NASCAR, and it looks as if it could be, Patrick can find a happy place. She has lost her ride at Stewart-Haas Racing after this year. Originally, her sponsorship deal extended through 2018, but sponsor Nature's Bakery dropped her, so the relationship will end a year earlier.
Patrick said Wednesday she wants to race if she has a team behind her and can remain competitive. If not, she's ready to move on.
It's likely she wouldn't be perfectly happy with perfecting yoga poses and posting Instagram photos of Dallas, the dog she and boyfriend Ricky Stenhouse Jr. dote on. From what she has said in the past, she would miss the competition and the challenge.
She also would miss the instant gratification she gets when young girls' eyes light up as she meets them weekly at the race track.
But she won't miss running 20th to 25th in many races. She won't miss wrecking. And she won't miss the weekends when the car rolls off the truck, is a beast to drive and doesn't get any better through Sunday.
Her chances of finding a ride are minimal at best. Any sponsor willing to commit to Patrick would have to recognize it would likely be a one-year venture, or two years at the most. Sure, she could win a race on strategy and get in the playoffs, but more than likely, it will be more of the same with maybe a slight improvement.
She doesn't really worry about anyone who says she is done as a NASCAR driver. She knows what the public discourse is on her career.
"I'm sure they're saying everything from really great to really awful, and that's just part of my daily life," she said.
Patrick's weekly struggles in NASCAR were typical of the ones open-wheel drivers face in NASCAR.
For instance, after a solid 13th-place finish at Michigan in her first full season in 2013, she talked about how she finally had a day when she felt comfortable with the car.
When told of the comment, her then-crew chief, Tony Gibson, understood what she was saying but noted that the key to being fast is to be able to drive the car when it's uncomfortable.
"I don't think you ever get comfortable in these things," Gibson said that day. "It's a controlled wreck all day long.
"You're only going to get it so good, and they don't drive very good in traffic because you can take the air off of people really easy, and she's still learning that."
The problem is that in IndyCar racing, uncomfortable means a wreck. In NASCAR, uncomfortable means fast. Patrick, who grew up racing open-wheel cars before making the transition to NASCAR, never found that consistent spot where she was comfortable with the uncomfortable in a stock car.
"If you look at our stats of our first few years," Stenhouse said, "they didn't really look that much different for all the success I had in the Xfinity car and winning races and championships, so it's just tough to make sure that you have the right people behind you — the right people on your team that believe in everything that you can do.
"I think she's put a lot of work in, and I think she can drive a car when it's the right car."
Patrick could end up in the NASCAR Hall of Fame. She is still the only woman to be on the pole for any of the 2,524 Cup races. Her eighth-place finish in the Daytona 500 in 2013 is the best of any woman. And her seven top-10 finishes is also a standard for women. Granted, her 180 career starts — 190 at season's end — will be over 100 more than the 15 other females who have raced in the Cup combined.
She has set the bar for women drivers, and frankly, there aren't many in the NASCAR pipeline who appear ready for Cup in the next three years. Soon to be 26, Julia Landauer (a Stanford grad) might be too old to get a good shot after her good-but-not-great performances on the NASCAR regional level.
Patrick has dealt with incredible pressure in her NASCAR career – partly because of the scrutiny of being a woman driver and the questions about whether she deserved her ride or was primarily a marketer filling a race car seat. Few will remember that even before she raced in IndyCar, the motorsports community was buzzing about a young girl from Illinois who had gone to Europe and was holding her own. She earned her way to race IndyCar and proved her worth with a win in Japan and a third-place finish in the Indianapolis 500.
She made no apologies for using her femininity and her uniqueness to continue to get opportunities. And she definitely portrayed a willingness to learn about stock cars, while not worrying about the perception if her questions seemed totally bizarre or ignorant of what stock car racing is all about.
And through it all, she has lasted five full-time seasons in a Cup car. She made her enemies, and has given a scornful look to fans who caught her on a bad day at the track. But many who knew Patrick in her IndyCar days would say she has either matured or just enjoyed NASCAR more.
Speaking of IndyCar, some might think she will return. When she met with reporters last month and was asked about a potential IndyCar and NASCAR mixed schedule for 2018, Patrick said she had not heard of any talk of that type of plan. She said Wednesday that while she won't rule it out, IndyCar isn't in her sights.
She knows this is a business, and with no sponsorship right now, she has no ride. Whether that changes in the next few months will determine whether she dons a firesuit in 2018. For the first time in her career, she faces being released with no ride in sight.
"I've been on the good end of sponsorship and money for a very long time, basically my whole career," Patrick said. "So this is definitely a different position.
"But it's the way it goes. It is just a business. If the money is there, then teams are going to move forward. Money is harder than ever to come by. … It's a tough world. I've been on the good side for a really long time. I've always been grateful for that."