CBS Sports 128: Ohio State holds at No. 1, Alabama jumps TCU for No. 2 – CBSSports.com
Coaches' Poll: Alabama up to No. 2 | Dodd: Power Rankings
With Cardale Jones as the starting quarterback and Braxton Miller emerging as the most dangerous offensive weapon in the country, Ohio State holds a firm grasp on the No. 1 spot in the CBS Sports 128 heading into the second week of the season.
There was shuffling in the top five, with Alabama (No. 2) and TCU (No. 4) switching spots from their preseason positions. Baylor is holding tight at No. 3 and Oregon, with Vernon Adams settled in at quarterback, has moved up two spots into the top five.
Arizona State and Louisville lost to their SEC foes as underdogs, but the way that the games played out resulted in different movements in the rankings. Arizona State dropped from No. 12 to No. 23, while the Cardinals actually moved up from No. 25 to No. 20 following its seven-point loss to Auburn in the Georgia Dome.
One of the biggest disappointments of the weekend, Stanford, was listed at No. 19 in the preseason but has fallen out of the Top 25 and all the way down to No. 34.
Here's a breakdown how each conference fares in the top 25 of the CBS Sports 128 (highest-ranked team in parenthesis).
SEC: 8 (No. 2 — Alabama)
Big 12: 4 (No. 3 — Baylor)
Pac-12: 4 (No. 5 — Oregon)
ACC: 4 (No. 10 — Florida State)
Big Ten: 3 (No. 1 — Ohio State)
Mountain West: 1 (No. 24 — Boise State)
Independent: 1 (No. 6 — Notre Dame)
Here are the biggest movers and shakers after Week 1.
Top five risers: Hawaii (+43; No. 76), Northwestern (+42; 30), Temple (+32; 33), Charlotte (+31; 97), Iowa State (+30; 70), FIU (+30; 75)
Five biggest fallers: UCF (-42; No. 93), Washington State (-40; 119), Utah State (-33; 83), Southern Miss. (-29; 99), Penn State (-27; 55)
Coaches' Poll: Alabama up to No. 2 | Dodd: Power Rankings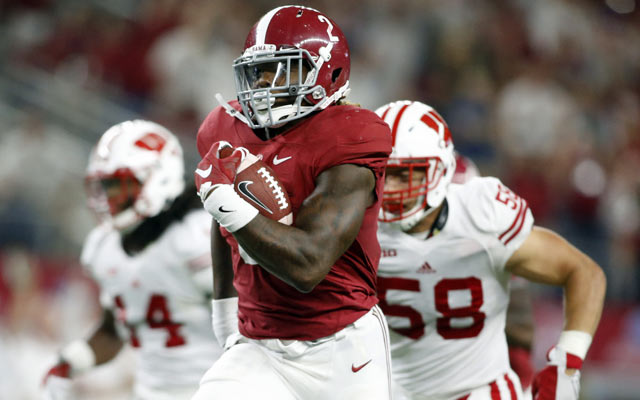 Coaches' Poll: Alabama up to No. 2 | CBS Sports 128 Rankings: 1-25 | 26-128
CommentsWrite a Reply or Comment:
You must be logged in to post a comment.