Chip Kelly: Tim Tebow not 'good enough' to be our third-stringer – CBSSports.com
After Matt Barkley was traded to the Arizona Cardinals on Friday, it looked like Tim Tebow had a good shot of making the Eagles roster as the team's third-string quarterback.
That didn't happen though.
In somewhat of a surprise move, Tebow was cut by the Eagles on Saturday.
It was a surprise move because with Tebow out, Philadelphia only has two active quarterbacks left on its roster. And one of those quarterbacks, Sam Bradford, has suffered so many injuries in his career that he's missed 31 games over the past four seasons.
So why did the Eagles dump Tebow even though they're dealing with Bradford's tenuous injury situation?
According to Chip Kelly, Tebow had to go because he wasn't "good enough" to be Philly's No. 3 quarterback.
"Tim's really progressed but we didn't feel like he was good enough to be the three right now," Kelly said. "He just needs to get out there and get more reps."
Although there's a chance that the Eagles could re-sign Tebow later in the season, Kelly didn't make it sound like that was high on his priority list.
Right now, one of the highest things on Kelly's priority list is adding another quarterback who's not Tebow.
Multiple sources tell me the #Eagles have interest in Christian Ponder. Team always maintained it's about putting together "the best 53".

— Rand Getlin (@Rand_Getlin) September 5, 2015
"We're not done," Kelly said of making moves. "Whether we add a quarterback to the practice squad or the active roster, we will have a third quarterback in here."
If Tebow is done in the NFL, at least he went out on top. The former Eagles quarterback threw for 189 yards and two touchdowns during his final preseason appearance on Thursday.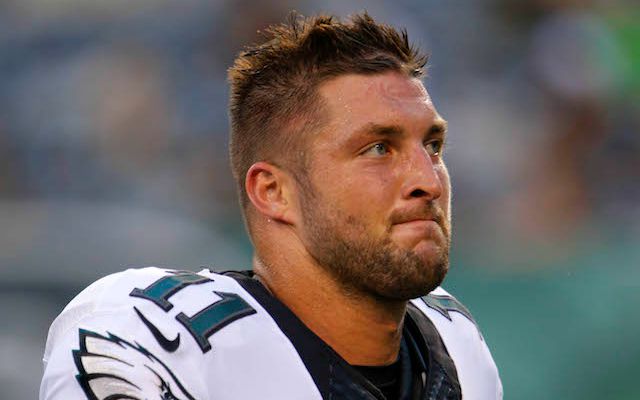 CommentsWrite a Reply or Comment:
You must be logged in to post a comment.