Entire World Cups are shaped by weekends like this. This was not just one of the most epic games in the history of this tournament but one to create ripples across the globe. Never has there been a bigger shock at this level. If there is a contest even half as extraordinary between now and the end of October the tournament will be truly blessed.
The Brave Blossoms were more than gallant, they were utterly sensational. Brighton, hitherto a football town, rocked like never before as the Japanese took a vastly experienced South Africa side to the edge of reason and beyond. Right up to the closing seconds, though, it seemed they might fall short, only for the replacement wing Karne Hesketh to dive over in the corner with the final act of the game to clinch a supposedly impossible triumph. Crazy does not begin to cover it.
There are not enough words to praise the effort of the Japanese players, for whom the full-back Ayumu Goromaru scored 24 points, or their head coach, Eddie Jones. The pack were inspired, the midfield tigerish, the whole occasion almost surreal. How often in life do you encounter Japanese families and South African expats strolling happily together beside the English Channel, united by a sport not played professionally in the area?
It was a stunning day on the south coast, too, a sparkling blue sea doing its best to rival anything Durban might offer. As they munched their fish and chips on the shingle and lapped up the sunshine, however, no one envisaged such unprecedented pier pressure being heaped on South Africa. Japan, ranked 13th in the world, had previously won just one World Cup match, against Zimbabwe way back in 1991. This was the first time they had ever faced South Africa; tier-two nations are not meant to inhabit the same league.
It did not take long to explode that cosy old assumption. Japan turned the Boks over no fewer than three times in the first five minutes and would have had a sensational early try had Goromaru not delayed what should have been a scoring pass to Akihito Yamada. They were sharper in midfield, varied things smartly in the lineout and were generally a credit to the coaching brains of Jones, Steve Borthwick and Marc Dal Maso.
Surely, though, it could not last? South Africa had never lost an opening game in a World Cup, averaging 44 points in the process.
This was the most experienced Bok side in history, sprinkled with World Cup winners. It was not immediately obvious as cherry and white shirts poured forwards, passes were flicked confidently behind backs and South African found themselves hammered backwards in the tackle.
Even after François Louw had restored a degree of order by finishing off a driving maul, Japan stormed back again and were denied a mauling score of their own only by the television match official.
It proved only a temporary reprieve, South Africa's supporters being treated to the truly staggering sight of their heroes being mauled back over their own line to yield a try for the underdogs' outstanding captain, Michael Leitch.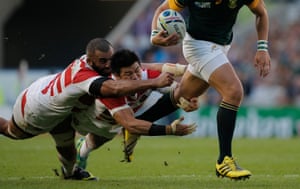 While the Boks did bite back almost immediately through Bismarck du Plessis, their half-time lead of 12-10 did not last long. The calm, authoritative Goromaru chipped over another penalty, only for a missed tackle by loosehead Masataka Mikami to send the 6ft 9in Lood de Jager rampaging over from 30 metres out. Move like De Jager: there's a No1 hit in there somewhere.
More impressive still, though, was the pace and technical accuracy of the Japanese, both forwards and backs a blur of industry. Back they came again, smashing it up and generally causing panic in opposition ranks. Lambie, to an increasingly excited crowd's dismay, landed a long-range penalty but the Boks, with Jean de Villiers enduring a tough day on his return from a broken jaw, were by now desperately killing the ball at the breakdown and Goromaru dragged the scores level again at 22-22 with 20 minutes to play.
Another glaring missed tackle by a front-row forward, however, allowed Adriaan Strauss to waltz straight upfield for a very similar score to De Jager's. It mattered not; Japan conjured the move of the game, a sweet inside ball to the onrushing wing Akihito Yamada creating space for the unstoppable Goromaru to score a try for the ages.
As it turned out, it was only the prelude to something even more staggering. It will surely be enough to prompt the Japanese authorities to get their act together and ensure they remain as hosts of the 2019 World Cup, rather than ceding it to South Africa because of worries about infrastructure and costs. Their insanely brave on-field representatives deserve nothing less.