Johanna Konta's tense 6-4, 6-3 win over Caroline Wozniacki in the final of the Miami Open – much tougher than her quick dismissal of the former world No1 in the third round of the Australian Open in January – was an achievement that announced her arrival at the next level of her sport.
Konta, who lost in the quarter‑finals to Victoria Azarenka on her tournament debut last year, joins Andy Murray as a British champion at Brandon Park but, more significantly, she moves to No7 in the world and second place on the Road to Singapore, where the best play the best at the end of the season. There is a way to go, but this was a victory as well-timed as her wicked serve. She hit big when in tight corners, ignoring her occasional setbacks.
"She has been keeping her head so well the whole tournament," Martina Navratilova told BT Sport. "She's ice-cool. Very few can hit Caroline off the court like that: Serena Williams, Muguruza, Sharapova." She is in pretty good company.
With the absent Serena Williams teetering on the verge of history and retirement (if the 35-year-old American passes Margaret Court's all-time tally of 24 majors this year, it is difficult to see her playing much beyond the US Open in September), the official world No1, Angelique Kerber, alternating between awesome and fragile, and other aspirants queueing up without total conviction, the crown is there for someone to grab over the next year or so. If Konta were to seize the ultimate prize and Murray were to simultaneously extend his reign on the ATP Tour, British tennis would be in the peculiar position of standing at the summit of both strands of the game after several decades of frustration and underachievement.
All that could be dismissed as flag-waving speculation, a sentiment that has never plagued Konta (or Murray for that matter). There are few more level-headed athletes in professional sport than the 25-year-old smiler from Eastbourne. During her association with her life coach, Juan Coto, she reached for quietude rather than hubbub. Coto's death last year hit hard but she responded with the sort of calm of which he would have approved, and needed that several times against Wozniacki.
While Konta reaching the semi‑finals of the 2016 Australian Open alerted the game to her qualities, only ardent supporters and close family would have predicted her dramatic metamorphosis over the past two years. It did not happen accidentally.
It was Coto who drummed into Konta the concept of process: getting the method and the preparation right and trusting her talent on the day, existing "in the moment" rather than surrendering to the shackles of the scoreboard. Such a disciplined strategy certainly dampened expectations, as well as making every press conference sound like a loop from a self-improvement conference, but it brought a serenity to her game that her latest coach, Wim Fisette, has encouraged to great effect. "Be happy," was his on-court advice after a tense first set. She nodded, smiled and returned to finish the job.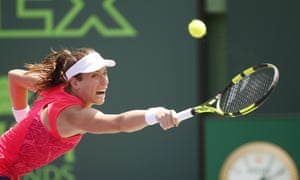 Two Christmases ago, as she was finding the best bits of her game on a regular basis, Konta told a few of us: "It's exciting because of more players knowing more of who I am. It's more me being the hunted rather than the hunter. However, I have no fear of that."
While there is much to admire about Konta away from the court, her rivals have come to fear her when she fixes her game-face on them. Apparent for all to see is a rock-solid determination to ignore the bad moments and build on the good. There were plenty of both in the hour and 35 minutes it took her to stop the stubborn Dane's excellent 2017 hardcourt run on a hot and windless day in Florida.
Nerves struck occasionally. In the second set, she refused a pair of routine volleys, tightened up on a couple of serves and squandered two break points before going 4-3 up. However, when she played a drop-shot and lobbed on the line for her concluding break of service, she looked as cool and ruthless as Maria Sharapova.
Gone is the debilitating introspection that threatened to strangle her talent in the barren years between 2008, when she completed her first campaign ranked 668 in the world, and the conclusion of the 2014 season, when she had edged up to 150 in the world. Her domestic ranking was hardly mentioned.
British hopes resided then with the precocious power-hitting of Laura Robson and the light-touch athleticism of Heather Watson. Robson remains in comeback limbo; Watson has slipped outside the top 100. Konta – regarded for years by casual observers as a little‑known if promising in-comer from Sydney – has established herself without challenge as the best woman in British colours since Jo Durie.
Navratilova added: "Jo Konta can beat anybody on a given day. She's definitely on the right track. If you put in the work, it will pay off."