Sports broadcasts — long viewed by the entertainment industry as a way to lure viewers and ad dollars — are losing some luster.
American media companies including Walt Disney Inc., Time Warner Inc. and 21st Century Fox could see their profits shrink due to the surging cost of broadcasting professional sports at a time when subscriber numbers are falling and viewership is hitting a plateau.
TV networks including Disney's ESPN, Fox Sports and Time Warner's TNT and TBS will spend a combined $12.5 billion in the next year for rights to carry professional football, basketball and baseball games and the Summer Olympics, according to Bloomberg Intelligence. Those long-term contracts are based on industry assumptions that may prove too optimistic amid evidence of shrinking demand for cable TV.
"Everyone thought sports rights were the Holy Grail," said Brandon Ross, an analyst at BTIG Research. "But if your revenues are not as high as you expected and you've signed long-term, high-priced agreements, that makes things tough."
Live sporting events are a top reason people still pay for cable, so media companies battle each other for rights to broadcast athletic events. Sports traditionally have boosted ratings coveted by advertisers and driven up the fees paid by pay-TV operators such as Comcast Corp. to carry channels.
Yet sports haven't shielded TV networks from subscriber casualties. ESPN has lost 3 million subscribers in the past year and Disney cut its profit forecast earlier this month, sparking a massive selloff in U.S. media stocks. TNT and TBS, which carry basketball, baseball and golf, each shed more than 2 million, and Fox Sports 1 lost 440,000, according to Nielsen data.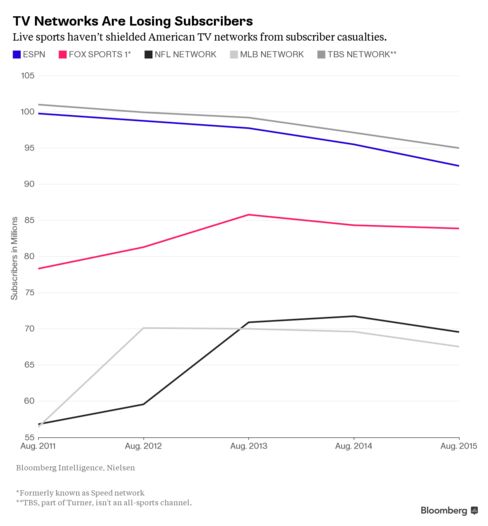 The high price tag for sports may actually be fueling the industry's troubles. Network owners pass on the cost of broadcast rights to pay-TV providers, which in turn transfer the costs to subscribers. Those rising bills — close to $100 a month on average — are trying consumers' patience, leading many to cut the cord and sign on to cheaper online alternatives like Netflix Inc. and Dish Network Corp.'s Sling TV, which offers a so-called skinny bundle: 20 channels, including ESPN, TBS and TNT, for $20 a month.
In the most recent quarter, pay-TV services posted their biggest-ever drop in customers, according to SNL Kagan. That's a problem because it affects the two revenue sources media companies rely on to cover their pricey sports contracts: fees based on how many people subscribe to cable and satellite TV, and advertising based on how many people watch their channels.
Wells Fargo analyst Marci Ryvicker downgraded Rupert Murdoch's 21st Century Fox this month, saying it's unlikely that Fox's regional sports networks will be included in skinny bundles entering the market.
"This can end up being a real problem," Ryvicker wrote.
Fox Chief Executive Officer James Murdoch, on a Aug. 5 conference call, suggested he wasn't concerned about potential disruption from newer consumer alternatives, saying Fox's sports networks are "well positioned" and their content has "a passionate following."
Representatives of Fox declined to comment beyond what Murdoch said on the call.
The subscriber losses in the U.S. contrast with Europe, where companies like Sky Plc, which is also controlled by the Murdochs, and its British rival BT Group Plc have gained customers while spending billions on sports rights, most notably to air English Premier League soccer. Last month, Sky posted its biggest customer growth in 11 years in the U.K., its largest market.
In the U.S., however, TV ratings are "flatlining across all sports," Barclays Plc analyst Kannan Venkateshwar said this month in a note to clients. Regular season NFL audiences fell last year from a year earlier at NBC and Fox and were flat at ESPN, according to Nielsen data.
Sports Glut
The ratings stagnation is partly because there's just too much to watch, Venkateshwar said. The amount of sports content has more than tripled in the past decade while the time people spent watching TV increased just 6.4 percent, he said.
Another dent may be coming as sports audiences become fragmented across devices. The increasing number of cable subscribers who watch ESPN on its mobile app aren't included in the ratings, which hurts ad dollars based on television viewing. And now that Verizon Communications Inc. owns the rights to stream National Football League games on smartphones, it could further erode TV ratings.
To be sure, televised sports are still enormously popular — especially when two big teams play each other — letting networks that carry them charge higher advertising rates. Sports ad revenue rose 8.2 percent a year between 2009 and 2013, more than double the 4 percent increase for the TV industry as a whole, according to Bloomberg Intelligence, which cited ESPN data.
Almost all sports are watched live "and this is particularly valuable in today's rapidly changing advertising marketplace," Disney CEO Bob Iger said Aug. 4 on a conference call defending ESPN.
ESPN's ratings are still up compared with last year. What won't change is how passionate sports fans are about their teams, games and the discussions around them, ESPN spokeswoman Amy Phillips said in an e-mail.
"ESPN connects to that passion and effectively monetizes across multiple platforms better than anyone," Phillips said.
Unlike ESPN and other all-sports networks, Turner — the Time Warner unit that owns TNT and TBS — is creating original dramas and comedies to help retain viewers. Through its long-term agreements with professional basketball, baseball and golf as well as college sports, Turner is "well-positioned to offer high-quality programming that provides considerable value to our viewers, advertisers and distribution partners," Lenny Daniels, president of Turner Sports, said in a statement.
While ratings may be peaking, sports aren't expected to get any cheaper. TV rights are projected to rise 9 percent a year to $19.3 billion in 2018, according to a study last year by PricewaterhouseCoopers.