The chairman of Sports Direct has criticised MPs, trades unions and the media for waging a campaign against the business as the retailer reported a 57% drop in first-half profits.
The sports retailer, reeling from a year-long scandal over working practices, said underlying profit before tax slumped to £71.6m from £166.4m in the six months to 23 October.
Chairman Keith Hellawell, a former police chief who has been widely criticised by shareholders, said an "extreme political, union and media campaign waged against this company" had damaged its reputation, influenced customers and had a negative impact on the morale of Sports Direct's staff.
He added: "I begin to question whether this intense scrutiny is all ethically motivated."
Hellawell said the directors accepted "responsibility for our shortcomings, but there has also been disproportionate, inaccurate and misleading commentary".
The retailer's staff, he said, were "increasingly upset and angry at the barrage of detrimental comments about the company which in their view is unjustified".
An undercover Guardian investigation last year exposed how Sports Direct workers were being paid less than the minimum wage. A scathing parliamentary committee report later compared conditions at its Shirebrook warehouse to a Victorian workhouse. Since then the company has been forced to pay £1m in back pay to staff and offer more staff guaranteed working hours. But it has come under mounting criticism from unions, politicians and shareholders.
Speaking on Radio 4's Today programme, Simon Walker, director general of the Institute of Directors, said the company was making changes, but that they did not go far enough. "It's a start … and it has to be a good step, but they continue to have real problems."
He noted that Sports Direct's share price had more than halved since last December from 650p. "This is a reflection on what happens when a company lets its governance systems collapse."
In the wake of the Guardian's investigation Walker called Sports Direct "a scar on British business".
Sports Direct's shares fell by 10% to 280p on Thursday. The company suspended its planned share buyback "until further notice".
The retailer said its profit margins had suffered due to the pound's sharp decline since the Brexit vote.
However, Sports Direct added that it is also about to take delivery of a new corporate plane, worth $51.1m (£40m). The company already has its own helicopter, a fleet of vehicles and also owns an inn in Worksop.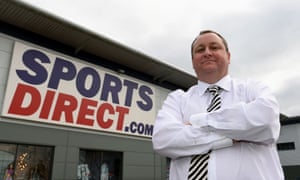 The company has also done a deal with a beauty company run by the youngest daughter of Mike Ashley, the billionaire founder of the company.
Double Take – a cosmetics company owned by Mike Ashley and where 20-year-old Matilda Ashley is a director – is licensing the rights to a beauty brand called Sports FX to Sports Direct. Royalties and other fees may be paid to Double Take, but not until after 2019.
This is not the first deal to involve members of Ashley's family. The retailer has a deal with a company called Barlin, which is 100% owned by Mike Ashley's brother John. Barlin processes international sales for Sports Direct and the arrangement is under investigation by City watchdogs. In its half-year profits update Sports Direct said the Barlin deal "was entered into under market terms, and makes good commercial sense".
George Salmon, equity analyst at Hargreaves Lansdown, said: "The tone of Sports Direct's first-half results is conciliatory to its staff, describing them as its number one priority. However, the availability of the group's new $50m corporate plane for staff hire is probably of little interest to the vast majority.
"The eye-catching number is the 610 basis points fall in UK margins, primarily driven by adverse currency movements over the half. While hedges are now in place for 2017, the group was unhedged going into the period. The sharp drop in sterling therefore caused a real-time hit to the group's buying position.
"In addition to a new plane to go with the corporate helicopter, Mike Ashley is spending £300m on the group's store estate. He's also moving the focus away from discounts and towards higher quality promotion of desirable brands, evidenced by new deals with Nike and Adidas. Success here could change things, but for now conditions remain challenging and profits have again been revised downwards."Ashley said: "The last six months have been tough for our people and performance. Our UK sports retail business continues to be the engine of Sports Direct, but our results have been affected by the significant deterioration in exchange rates, and our assessment of our risk relating to our stock levels and European stores performance.
"What matters most to me is how tough the last year has been for the people who work at Sports Direct. Our people have once again found themselves in the spotlight through no fault of their own, yet they remain hard working and loyal. It is for this reason that my immediate priority will be to protect the people at Sports Direct."
He said the company would underwrite the value of the share awards to staff, that are due to vest in September 2017, "to reduce the impact of recent volatility on the financial outcomes for our people".
Ashley said that in the long run Sports Direct wanted to become the "Selfridges of sports retail". He added: "We are changing our retail channels for customers in the UK, and we will be changing our approach to our customers in Europe, which will take time."
The company has appointed investment banker David Brayshaw to its board and audit committee with immediate effect. He has more than 30 years' experience with firms such as Barclays Capital, HSBC, Citigroup and glass manufacturer Pilkington.
Hellawell said: "David's expertise, especially in finance and treasury, will complement the board very well, bringing significant benefits to the company."
Brayshaw said he was "delighted to be joining the board of one of the UK's most dynamic companies".
Clive Lewis MP, Labour's shadow business secretary, said: "It is not surprising that Sports Direct's profits have taken a hit given the revelations that employees have been paid less than the minimum wage for years, made to work in Victorian conditions, and the collapse of corporate governance structures that followed.
"The reputational damage caused to the company is entirely of Mike Ashley's own making. He should focus his energies on reforming his business, instead of blaming those who have held him to account in the name of the public interest."
Neil Wilson, senior market analyst at forex and spread-betting firm ETX Capital, said: "The company is blaming everyone else and it's true that negative PR of this scale is very hard to shake. But Sports Direct has had lots of chances to get its house in order and is paying the price today for failing to really overhaul its corporate governance.
"But if chairman Keith Hellawell does eventually go on 5 January [at a shareholder meeting] and someone like independent director David Brayshaw steps in, then we might see investors warm a little more to the stock and this could be the nadir."
The Financial Reporting Council said it had discussed certain issues with the company following its review of the 2015 annual report and accounts. The main issue was whether the retailer's strategic report complied with the Companies Act 2006 requirement to be balanced and comprehensive.
The financial reporting watchdog noted that there was no discussion of Sports Direct's international stores, which are a significant part of its business. The company included information about stores in Austria and the Baltic states in Thursday's results and the FRC said its inquiries had been concluded.
The regulator is also investigating the accountancy firm Grant Thornton over its failure to report a deal that Sports Direct struck with Barlin Delivery, a company owned by Ashley's brother John.