Tweet of the year
@SeppBlatter feeling good about the world in May – six days before the first of 2015's FBI raids: "Fifa is 111 years old today. The next 2 months will showcase some of our key events."
Single best Fifa performance
Came from Concacaf – making it three presidents in a row arrested on corruption charges. Jeffrey Webb replaced Jack Warner in 2012 pledging "a new dawn, a new chapter", then pleaded guilty to racketeering in December; and Webb's successor, Alfredo Hawit – who took the job in May with a dig at Webb's loose ethics – was charged with bribery six months later. He denies wrongdoing.
Plus: film of the year
United Passions, the Fifa movie – a fast-paced story of football administration. It cost $27m and returned $918, making it the lowest-grossing film in US box office history. Tim Roth played Sepp: "The film is awful, I hated doing it. But I had two kids in college. I did it for my family."
Manager of the year
José Mourinho – who pledged to starve the press of "good and funny headlines" in October. He kept his head down after that.
Best TV interviews
In a strong year for José, October's monologue following Chelsea's 3-1 defeat to Southampton stands out. Sky's Greg Whelan: "José, what did you make of your team's performance today?" The answer was still coming seven minutes later. Also making an impression on camera: Louis van Gaal's take on United's defeat to Southampton in January: "They played in the same play style as Queens Park Raisins;" and Leicester's Nigel Pearson – sacked in February, reinstated hours later, and sacked again in June, soon after calling a reporter an ostrich and storming out of a press conference. "I think you're an ostrich – your head must be in the sand. Is your head in the sand? Are you flexible enough to get your head in the sand? My suspicion would be no. I can. You can't."
Pundit of the year
BT's Michael Owen, reflecting on Manchester City's problems this month: "When they don't score, they hardly ever win."
Fightback of the year
One-time £100,000-a-year Nike ambassador and IAAF new-broom Seb Coe, warning the media off investigating his sport's doping issues in August. "It is a declaration of war on my sport. I take pretty grave exception to that. There is nothing in our history of competence and integrity that warrants this kind of attack. The fightback starts here." So far, so good.
Referee of the year
Rugby World Cup Refcam icon Nigel Owens had some special moments, including telling Scotland's Stuart Hogg to stop with the diving at Newcastle's St James' Park or "come back in two weeks". Also making headlines: Brazilian football referee Gabriel Murta, who reacted to dissent in September by pulling a gun on misbehaving players. Referees' head Giuliano Bozzano said Murta was misunderstood: "His finger was never on the trigger."
Biggest rule-book sticklers
Italy's referees' association – taking action in October after a referee abandoned an under-14s game on humanitarian grounds with the score 31-0 after 60 minutes. The official was suspended for "an incorrect application of the rules"; regional head Antonio Aureliano explaining: "He needs to pause and reflect."
Best commentary moment …
Came in September, as Japan's J Sports' live commentator Takeshi Yano described the unlikely, blistering closing moments of their Rugby World Cup shock of shocks over South Africa. "Tatekawa … long pass … Amanaki … Lelei … Mafi … and Hesketh! Yes! Yes! Yes! They've done it! Japan have won! Incredible! Oh … incredible! People of the world – THIS is the Japan national team! What do you think about us now?"
… and the worst
Veteran Chinese pundit Dong Lu – sacked in November after falling asleep while co-commentating for LeTV on Real Madrid v PSG. The game kicked off at 3.45am local time; Dong started snoring in the 79th minute.
Apologies of the year
Among 2015's top apologies: a BBC clarification this month after their automated Match of the Day subtitles turned "Great to see Doug Ellis here in his Villa scarf" into "Great to see Doug Ellis here with Hezbollah"; John Inverdale's contrition for his reference to "rose-cunted glasses" on Five Live – the result of mangling the words "coloured" and "tinted"; and a traditional slip from Peter Alliss at the Open in July, as the camera panned towards Kim Johnson while husband Zach lined up a putt. "She is probably thinking: 'If this goes in, I get a new kitchen.'" BBC: "We apologise if anyone was offended."
Best man of the people
David Cameron was left distraught in May after his beloved West Ham lost a crucial game – the blow only cushioned by the fact that his beloved Aston Villa were the team that beat them.
Best photoshoot
Covering the FA Cup final in May, The Observer's photographer Tom Jenkins left his behind-the-goal remote camera unguarded after the final whistle. Santi Cazorla grabbed it and snapped the year's least in-focus but most upbeat celebrity selfies.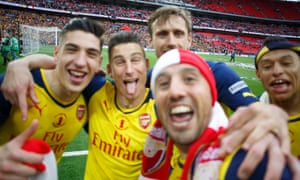 Most understated
Jessica Ennis-Hill, world heptathlon champion 13 months after giving birth, reflecting on a half-decent return to form. "Before I had Reggie, I was selfish. As soon as I had him, he became the priority so I now fit my training around him. But it worked out well this year."
Best record keeping
Stuart Broad – showing his attention to detail in reflecting on the best Ashes figures ever by a fast bowler – eight for 15 on day one at Trent Bridge in August. "It was one of those days you dream of. My previous best was seven for 12 against Kimbolton school under-15s."
Neatest transfer
Came in July: a textbook double U-turn inside a week by Fabian Delph as he left Villa for Manchester City. The move was revived days after he revealed why he had ruled it out. "I'm aware there has been intense media speculation surrounding my future and I want to set the record straight. I'm not leaving. I'm staying. I can't wait for the start of the season to captain this great football club"
Most erratic
Massimo Cellino arrived at Leeds in 2014 with a pledge: "Me, I sort out the problems. The fans, they're tired of eating shit and shutting their mouths. They will enjoy this, I promise." It's a work in progress. He rounded off a neat 2015 of sackings, bans and allegations by imposing a £5 "pie tax" on ticket prices. It all led to some rare self-reflection: "I'm losing my balls. Ten years ago, I had more balls, but since I came here it's been a nightmare. It's like being at a party where you're not welcome. Every night I lie awake, asking myself, 'Am I good enough?'"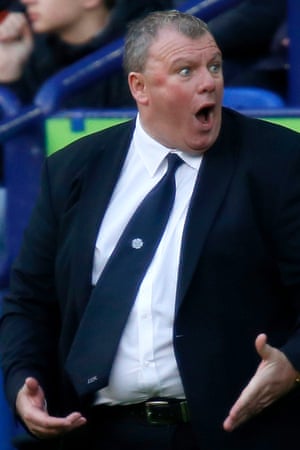 Among Cellino's big calls was giving Steve Evans a bigger stage as coach number six. Evans arrived in October ready to instil his philosophy via the trademark medium of talking in the third person. Evans on morale: "I think the players saw a corner turned when Steve Evans walked in"; on his work ethic: "When Steve Evans asks players to be brave, I want them on the ball"; on his vision: "I'm a realist. Steve Evans doesn't lie in bed and dream"; and on a fake Steve Evans quote circulating on Twitter: "What a scandalous, horrible thing to attribute to Steve Evans."
Also from Evans this year: an emotional retelling of his exit from former club Rotherham in September. He concluded: "Myself and the chairman hugged and embraced and there were tears on both sides. It was a very emotional moment for Steve Evans to watch his chairman shed lots of tears and be very emotional knowing we were going to formally part. But Steve Evans had to make a decision for Steve Evans."
Best showboater
Egyptian club al-Ahly's teen star Ramadan Sobhi said sorry to rival club Zamalek in July for "disrespectful" showboating – standing on the ball with both feet during live play – which provoked Zamalek's captain to kick him to the ground. "I apologise. Zamalek are a great club and I respect them." Three months later, he did it again, also against Zamalek, prompting a 22-man plus coaches brawl.
Most humble
Cristiano Ronaldo continued to relax his defining 2007 pledge: "Humility is one of the values I most cherish. On the day I have a child, these are the principles I will pass on." Among this year's new CR7 developments: another line of Cristiano Ronaldo underpants; a €37m chain of CR7 hotels; a new signature scent "Cristiano Ronaldo Legacy"; a second waxwork of himself for his home; a statue of himself at his CR7 museum; and the lead role in Ronaldo the movie.
Best crusader
In April Diego Maradona set out his pre‑match message to fans before playing in Colombia's charity Match for Peace: "I pray to God for peace in this country, I want peace with all my heart – end the violence in Colombia!" His post-match message: a public apology for hitting a 14-year-old boy during an on-pitch brawl. "Forgive me, man. I never slap kids."
Most overexcited
Hemel Hempstead put in the hard yards in the FA Trophy this month, going from 3-0 down to 4-3 up against Eastbourne Borough. Then they got carried away and lost it 7-4.
Smoothest transition
Sol Campbell eased into his new life after football: telling Shooting Gazette in March about his politics: "I'm helping the Conservatives on various issues"; and about his shooting: "I do like the attire, the style is important to me … This year I shot about 30 birds … a mixture of birds. The banter was just lovely."
Tidiest day's work
Came in April, as England Women's Under-19s turned up to replay the final 65 seconds of their European Championship qualifier against Norway. The first game ended in a farce after the referee disallowed England's late penalty for encroachment, and mistakenly awarded Norway a free-kick rather than England a retake. The two teams returned five days later to replay the final minute: Leah Williamson held her nerve, slotted the penalty, and England went through.
Best mascots
Brazilian club Ceará pledged to make amends in October after official mascot Grandpa upset the family enclosure by tearing his own head off in anger after a disallowed goal. The incident came three years after Grandpa was given a two-match ban for "a series of obscene gestures" at Ferroviário fans, which media linked to a 2009 incident where Ferroviário's mascot "tried to hump Grandpa" on the pitch. Also making waves: German club Uerdingen's mascot Grotifant the elephant, who engaged in a fist fight with a fan who pulled his trunk; and Austria Vienna's mascot Super Leo, who went viral in May after turning up on the pitch pre-match "too drunk to stand".
Best advice
Cardiff owner Vincent Tan finally relented in January and turned the club's red kit back to blue. Why? "My mother, Madam Low Siew Beng, a devout Buddhist, spoke to me on the importance of togetherness, unity and happiness … To paraphrase John F Kennedy: 'Let us never compromise out of fear. But let us never fear to compromise.'"
Best exchange
In October Harry Kane responded to a six-year-old boy's letter online ("To Harry Kane Please can you come to my house to play football with me please. At 4pm on Friday. Love from Oscar") with a gentle let down: "I'll ask Roy Hodgson but I think I'll have to be at Wembley!" He then got Oscar tickets for the match.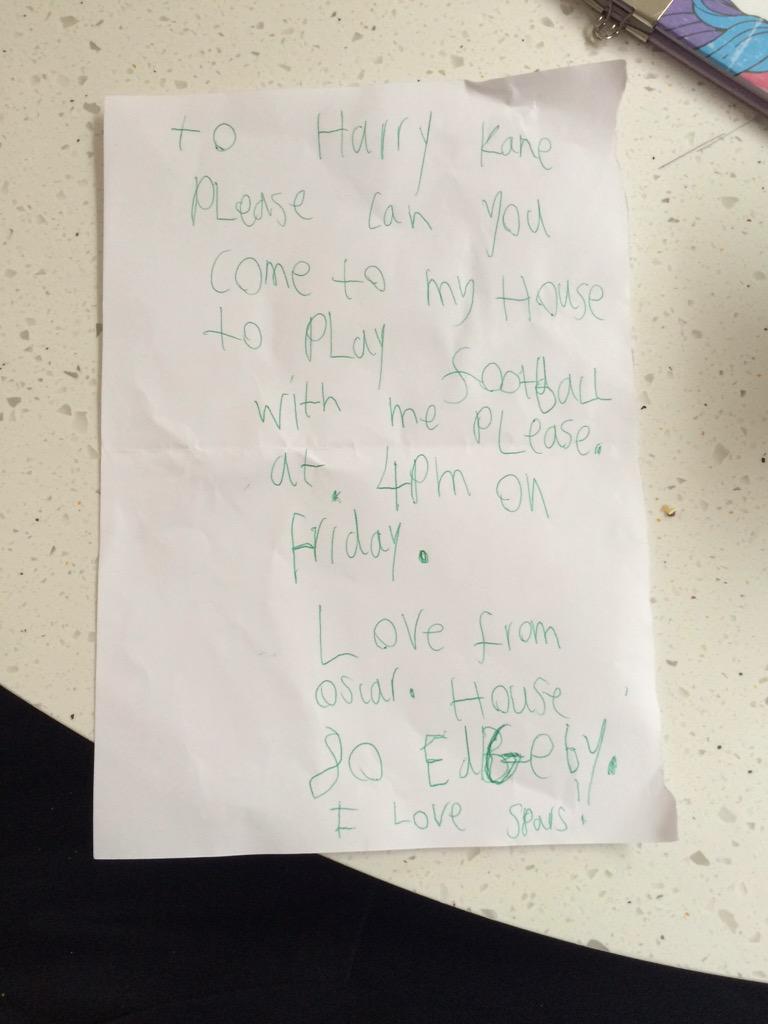 Worst driver
Chinese cameraman Song Tao used a Segway to film Usain Bolt celebrating his 200m gold at the World Athletics Championships in August – then flipped out and flattened him. Bolt took it well. "I'll get over it. The rumour I'm trying to start right now is that Justin Gatlin paid him off."
Worst animals
Headlining 12 months of aggressive animal cameos: a bee nailed Roger Federer during the Australian Open; a dog bit Italy's Martin Castrogiovanni on the nose in February; and two cat pitch-invaders at England's second ODI against Pakistan in November frightened Chris Woakes enough to stop him reaching a six – prompting an awkward burst of "Who let the cats out, who, who, who, who" from David Lloyd. But it wasn't all man versus beast. Norwich's Jonny Howson stepped up in September after a pigeon was left stricken, and gently carried it to the touchline. Manager Alex Neil hailed his player's All Creatures Great and Small genetics. "Jonny's from Yorkshire so he's good boy. He looks after wildlife."
Best cult hero
Northampton fans staged a fancy-dress "John Joe O'Toole Day" in February, celebrating their long-haired cult hero. He was sent off after 36 minutes.
Biggest double take
Seventh-tier Blyth Spartans stepped up in January with a near FA Cup giant‑killing of Birmingham, going 2-0 up. It earned @blyth_spartans a raft of new followers – including, briefly, a follow from @barackobama. They lost 3-2, and the president moved on.
Least likely collaboration
In November Southend's Ryan Leonard revealed how listening to Justin Bieber's music had helped him score more goals. Bieber retweeted the news to 71.9m followers, adding: "Fact. Lol."
Liveliest dress-rehearsal
Came in August as the Barbarians took on Samoa in London, testing out the refitted Olympic Stadium's ability to host Rugby World Cup matches. It was seamless – until the 24th minute, when the sprinklers turned on, and stayed on, giving the players a drenching.
Soundtrack of the year
Was Paloma Faith's version of World in Union – a track that came to sum up the World Cup hosts' despair and humiliation. A petition to force ITV to drop it came to nothing, despite 10,425 signatures.
Best T-shirt
Kim Sears caused a media storm in January, caught on camera during fiancé Andy Murray's Australian Open semi-final against Tomas Berdych mouthing the words "fucking have it you Czech flash fuck". Two days later she reappeared for the final in a "Parental Advisory: Explicit Content" T-shirt.
Fondest farewell
Also came at the World Cup: Namibia honouring Johnny Redelinghuys in his 50th and final Test by giving the 17-stone prop a chance to kick their last points of the tournament. He hit the post – about a foot off the ground.
Most bemused
Andy Murray, in November, not buying media interest in him giving himself a haircut mid-match. "I don't know why such minor things make such a big deal to you guys. I had some hair in my eye, and I just wanted to get rid of it. That literally took two seconds. That was it."
Least-observant cabbie
Tony McCoy arrived back at Dublin airport with his wife Chanelle in February after announcing his retirement, and hailed a cab. The driver tried to strike up conversation with: "Did you hear McCoy is retiring?" Chanelle tweeted: "We roared laughing & said he is McCoy. Nearly crashed."
Most spontaneous
Stuart Bingham, 38, lost for words after landing snooker's world title in May: "Wow. I think it was a 63-minute frame and to go 16-15 up, that changed everything. It calmed me! Unbelievable. Winner, winner, chicken dinner!"
Song of the year
They call us the Royals, by Reading cochairwoman Lady Khunying Sasima Srivikorn, praising "Reading's glory". Rap verse: "How we love the thrill of a good game / How we like the smell of the fame / Doesn't matter if we learn or win / Unstoppably we burn within / Getting ready to shed our sweat / Everybody get ready and set / Let's celebrate tonight / Our blood is blue our wings are white."
And the best poem
Hartlepool's Twitter feed celebrating Valentine's Day with a pre-match verse: "Roses are red, Pools play in blue, We're bad at poems, Pools." They lost 3-1.
Single worst idea
Giving Today at Wimbledon with John Inverdale a Top Gear makeover and rebranding it Wimbledon 2Day with Clare Balding, like a skit from W1A. The format made it through six harrowing nights before executives caved in and dropped the studio audience.
Best comebacks
1) AFC Wimbledon – winning planning permission for a return to Plough Lane – 13 years after an FA commission awarded their league place to Milton Keynes and gave fans this advice: "Resurrecting the club from its ashes as, say, 'Wimbledon Town' is not in the wider interests of football." And 2) the new Hereford FC, attracting 4,060 fans for their first Midland Football League game in August – 732 more than Fleetwood v Southend, six divisions above them. Yesterday they broke the league's attendance record, with a 4,381 Boxing Day crowd.
Most heart-breaking…
England's Women's World Cup exit in July – a brutal semi-final defeat via Laura Bassett's slow-motion injury-time own goal. Coach Mark Sampson summed it up afterwards: "Look, Laura Bassett's name is on that scoresheet but she has epitomised this England team. She didn't deserve that but she'll be looked upon as a hero, an absolute hero. People will remember the Laura Bassett who headed and blocked and tackled, who kept this team together."
… and the most heart-warming
Sonny Bill Williams handing his Rugby World Cup winners' medal to 14-year‑old Charlie Line after November's final at Twickenham. "I was walking around doing a lap of honour and a young fella came running out and he got smoked by the security guard, like full-on tackled him. I felt sorry for the little fella. I just picked the kid up and took him back to his old lady and tried to make the night more memorable for him. Better for it to be hanging around his neck than mine. I'm sure he'll remember it for a while." Organisers gave Williams a spare.