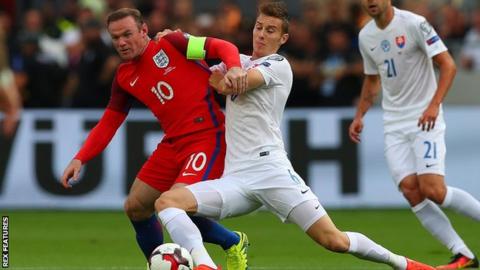 England captain Wayne Rooney says the debate over his role in the team has been an "overreaction".
Rooney, winning his 116th cap, mainly played a deep midfield role in Sunday's 1-0 win over Slovakia, which was new boss Sam Allardyce's first in charge.
Allardyce said post-match it was "not for me to say" what Rooney's position was and he "played wherever he wanted".
But Rooney, 30, said: "I played in that role and helped us win the game – too much is getting made about it."
Speaking to Sky Sports, the Manchester United captain added: "I've done it my whole career and suddenly it's big news. It's not a big thing and I think there's a big overreaction to it."
Rooney's position on the field for club and country has been has been widely discussed this season and England's record goalscorer did not touch the ball once in the Slovakia penalty area during the World Cup qualifier in Trnava.
"With Rooney in a deep-lying midfield role for most of the match, Harry Kane was isolated up front and it killed his game," BBC Sport pundit Chris Sutton said in a column for the Daily Mail.
"Rooney can't pick and choose where he plays – it's not a testimonial. He is a lovely passer and technician but if he's not playing to Kane's strengths then the whole team suffer."
Rooney has said he will retire after the 2018 World Cup finals in Russia, by which stage he is likely to have overtaken Peter Shilton as England's most-capped player.
But the former goalkeeper, who was capped 125 times by his country, told BBC Radio 5 live: "I thought he should have retired after the Euros, I don't think he's a striker any more – and it's not because he can break my record.
"He's not a midfield player for me, he never was and he never will be. He sprays a few passes around but he's not been very effective."
United manager Jose Mourinho has played Rooney behind new striker Zlatan Ibrahimovic this season, while Roy Hodgson, Allardyce's predecessor as England boss, selected him as a midfielder at Euro 2016.
Allardyce said he "can't stop" Rooney from dropping into midfield and the player has a "lot more experience at international football" than he does.
Rooney added: "I'm playing on the pitch for England. I'm captain of the team and I feel I can do a very good job in the role. I am happy where I'm playing."